If you still investigating the root can be visited destinations in Turkey and you want to determine the best route to visit these destinations, you are certainly in the right place. We, as Toursce, are creating the best routes and offering you the fascinating Turkey Tour organizations both in the winter and summer! Today, we will talk with you about one of the most popular historical destinations in Turkey: Hierapolis Ancient City. You can explore our Pamukkale Tour alternatives to visit this destination with licensed tour guides and add a new area to your historical knowledge.
So, today we will talk to you about the Ancient City of Hierapolis. Those who want to explore the history has passed from Turkey's western Aegean coast often visited the ancient city of Hierapolis, Pamukkale which is located quite close to Pamukkale Travertines. Hierapolis Ancient City, known for its high altitude and natural disasters throughout history, carries a great cultural heritage from past to present.
Before visiting Hierapolis Ancient City, we strongly recommend you to see Pamukkale Traventertines. These two destinations will be a great combination to experience and explore the natural and historical atmosphere of the area called Pamukkale. In order to understand what are the main features that make Hierapolis popular, let's take a virtual tour with you.
Main Structures To See in Hierapolis Ancient City
Hierapolis Ancient City is a city located approximately 18 kilometers north of Denizli. To reach the city, you need to take a bus or taxi ride. The city is known as a city built in ancient times and reflecting the most important features of Hellenistic architecture. It was determined as a result of archaeological studies that the city was called Holy City in ancient times. The reason why the city was called Holy City was that it was thought that the most beloved Greek gods visited this city constantly. Especially the god who was in harmony with this region was thought to be Apollo. The reason for this is the presence of a temple dedicated to Apollo in the city. Seeing this city can be a good experience for those who want to understand the ancient life and culture.
Hierapolis Ancient City has been marked as a Phrygian city after many studies. It should be noted, however, that this information is not exactly proven. Hierapolis Ancient City, which is located in a very high area, was therefore safe. It was possible to recognize enemy attacks early and take precautions here. But the people of Hierapolis Ancient City had a basic problem that they could never overcome: Earthquake. When the Great Aegean Earthquake took place in the first century before Christ, almost the entire city was destroyed. Later kings had to rebuild the city.
Frontinious Street: One of the most popular buildings in Hierapolis Ancient City is this street. It was known that the street served as a basic commercial area. There were many shops, buildings, and warehouses in 170-meter-long street. People were spending time on this street during the day and traders were exhibiting their products on this street. Under the street, there was a sewage system, which was achieved thanks to a highly developed city architecture. Pipes passing under the street continued to the point called Latrina, where the sewage center was located. However, after the big earthquake, this street was largely destroyed and shrunk during the new construction process. While the street width was 14 meters in the first period, it was reduced to 8 meters after the big earthquake.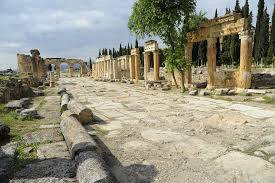 Agora: You can see Agora in almost every ancient city that was built during the Hellenistic period and was affected by this culture. Agora was one of the social areas where decisions in the city can be made by democratic voting and commercial transactions can be done. Agora was a very important area for Hierapolis Ancient City, just like the other Hellenistic cities. Frontinious Street collapses after the big earthquake. During this period, it was decided that part of the street was Agora, and Agora was built in this way. Therefore, the width and length dimensions of Agora are in perfect harmony with the street. Agora is a very large area, 170 meters wide and 280 meters long.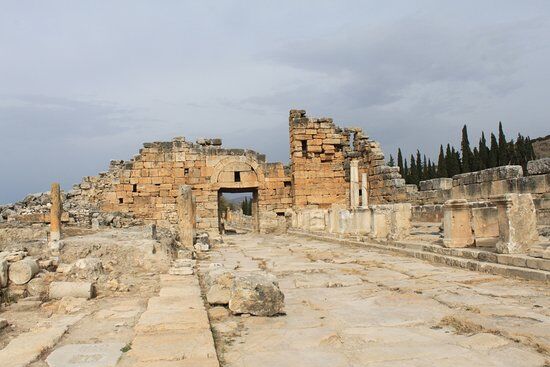 North Byzantine Gate and South Byzantine Gate: Hierapolis Ancient City was protected by two glorious gates. Entries and exits from this door were provided in a fully controlled manner. In this way, the city could be managed completely safely. Two large gates at the south and north points were built to be completely symmetrical. When you visit the city, you will notice this symmetrical order and you will be really impressed. Animal figures are often found on two doors in the city. These animal figures were believed to protect the city from all sorts of trouble, according to the religion of that time. These animal figures were basically indicative of luck. The same figures are found both at the north gate and at the south gate. Arslan, panther, gorgo head, are the most popular among the animal figures used on the doors. It is also possible to say that these doors have small details that are quite impressive in terms of architecture.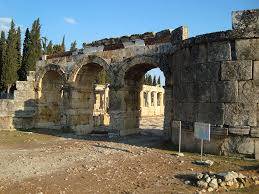 Latrina: One of the main structures that determine the main features of this city is Latrina. Latrina is known as a sewage plant, where dirty water pipes and clean water pipes are organized in an extremely orderly manner. The installation pipes, which were laid underneath the street we mentioned in the first place, were passing through the houses of everyone living in this city and thus a good sewage system was provided. Residents of the region were able to survive in a clean and hygienic way. Latrina's ruins were the most difficult to collect in archaeological studies.