Pamukkale Travertines is one of the most visited destinations in Turkey. Many people who want to spend the summer in a region having a health tourism resort, prefers to Pamukkale in Turkey. The hot springs, thermal centers, and other relaxation activities in this area will make your holiday rebirth of yourself. We strongly recommend that you attend a Pamukkale Travertines Tour in order to go to Pamukkale Travertines. This is because experienced tour guides can make your trip more enjoyable, providing you with information on how to make use of the different facilities in the area and making your transportation and stay easy. In today's blog post, we will talk about how enjoyable it would be to end your holiday in Pamukkale and what are the Pamukkale destinations. Let's start.
Hot Water Sources in Pamukkale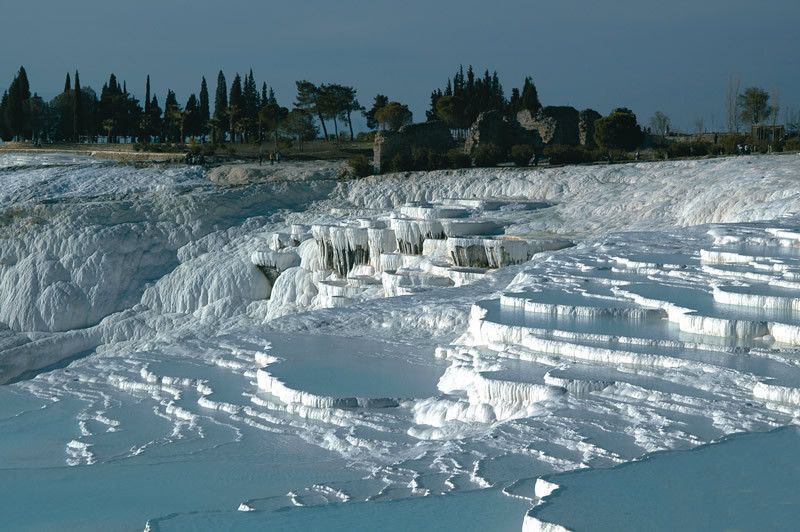 Pamukkale Travertines, also called White Calcium Terraces, are formed as a result of the chemical reaction of calcium, oxygen, water, and bicarbonate materials. When these substances were chemically combined, some substances precipitated in the mixture. This situation caused the formation of travertines over time. In addition, the interaction of the substances has produced considerable heat. This heat caused a large number of sources of hot water to form between the calcium deposits.
There are 17 hot water sources in Pamukkale Travertines. These hot springs allow the thermal waters to flow into the area at a temperature of approximately 100 degrees. These hot water springs, which are generally attracted by tourists, are thought to be healing. Since water contains high levels of vitamins and minerals, they are generally good for health problems in the feet.
The hot springs here can be particularly good solutions for the following health problems:
digestive diseases
respiratory diseases
circulatory diseases
skin diseases
Pamukkale Travertines: Relaxation Center
As you join a Pamukkale Tour, you will notice that there are many thermal hotels in Pamukkale. These thermal hotels can be a good alternative, especially for those who want to spend a few days of their holiday relaxing. The services provided by thermal hotels usually include a traditional Hammam service and a sauna.
Hierapolis Ancient City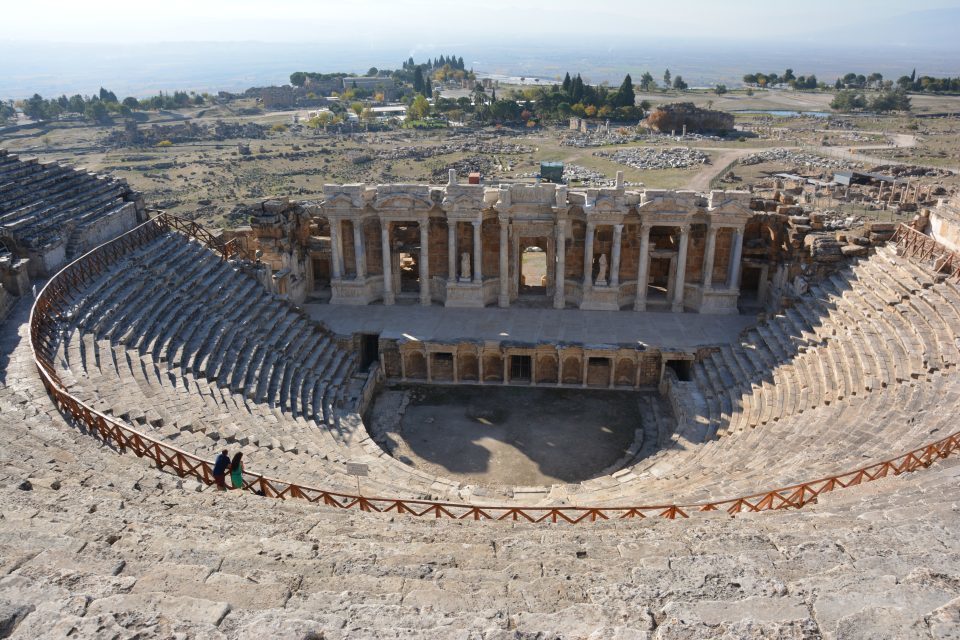 Many tourists who are interested in history, after spending a pleasant time in Pamukkale Travertines, certainly go to the ancient city of Hierapolis. Because these two destinations are very close. Known as a Phrygian ancient city, Hierapolis is actually a little different from other ancient cities. Continuous earthquakes for centuries have led to the continuous reconstruction of Hierapolis.
Hierapolis is called Holy City. Because the city in question is one of the important religious symbols in the area. Many gods are believed to have visited the city. The most important of these gods is certainly Apollo.
You can take a more detailed examination of the region by participating in the Pamukkale Tour. When you make an appointment with our tour agency and visit the area with us, you will be accompanied by a tour guide. With a tour guide, you will have the chance to get detailed information about each building while visiting the ancient city. The Temple of Apollo, built to honor Apollo in the region, is also of great interest.
Historical Monuments in Hierapolis Ancient City
Above, you have examined the basic features of the ancient city of Hierapolis. Let us examine the names of the basic historical buildings in the city.