German Fountain is a historical fountain in Sultanahmet Square in Istanbul opposite the Sultan Ahmed Tomb. German Emperor II. Wilhelm`s gift to Istanbul and Sultana II. Abdülhamit Han. It was built in Germany and was replaced in 1901 in Istanbul. Neo-Byzantine is a fountain in the basilica; It is decorated with gold mosaic inside.
The German Fountain was dedicated to the memory of the second coming of the emperor, who came to Turkey three times in 1898. On the first occasion, the 1889 Ottoman army sold the German rifles. II. Wilhelm pledged to give the Istanbul-Baghdad Railway to German companies during his second visit to Istanbul. The fountain built by the German government in memory of this visit was arranged by way of a pattern of an emperor.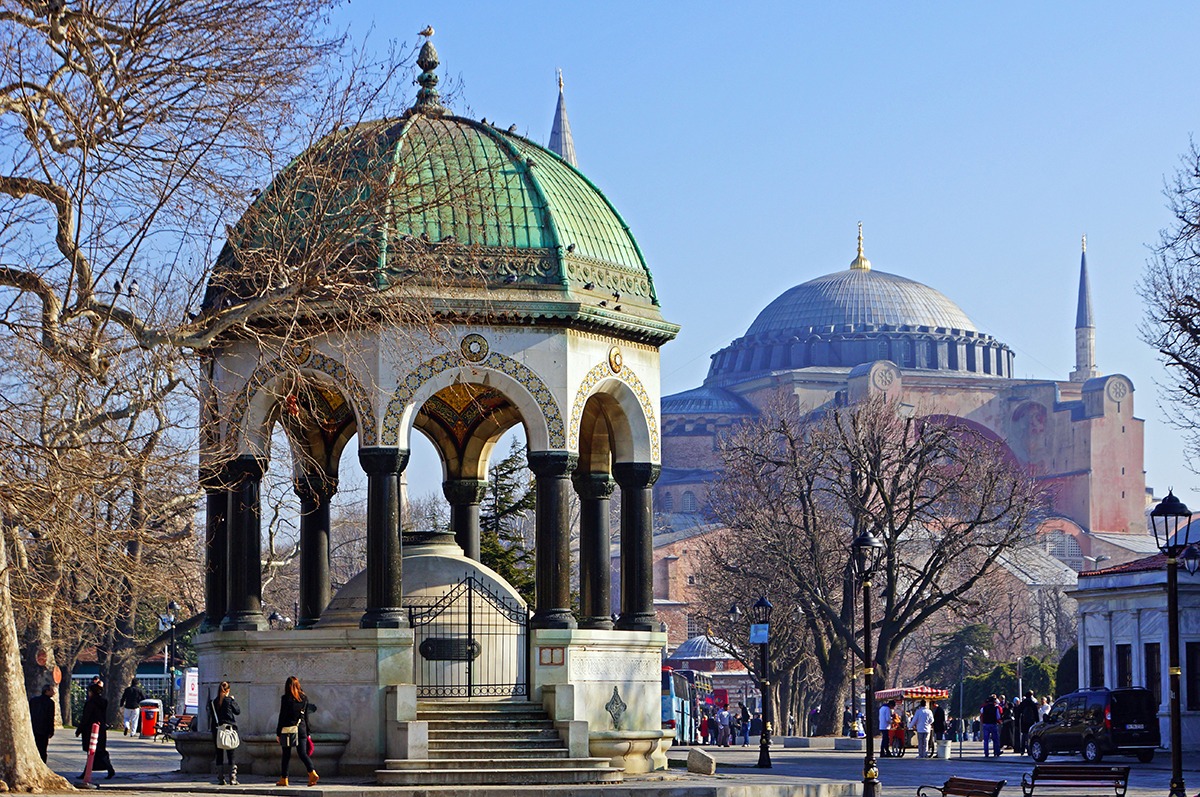 The plan of Fountain was drawn by Architect Spitta, the special advisor of the Kaiser, and was undertaken by Architect Schoele. Two famous architects, Carlitzik is a German architect and Joseph Antony is Italian architect also worked on this project. The German government arranged the area of the hippodrome first, and after the afforestation of the plaza, the fountain prepared in Germany was settled on these bases. Precious stones and great marbles were processed in Germany and brought to Istanbul by ship in pieces.
The fountain, which started in 1899, was built on September 1, 1900, was planned to be trained in the ceremony of Abdülhamid's 25th accession to the throne. However, the construction of the fountain does not reach this date, and On January 27, 1901, II. Wilhelm's birthday, a grand ceremony was held to open the fountain.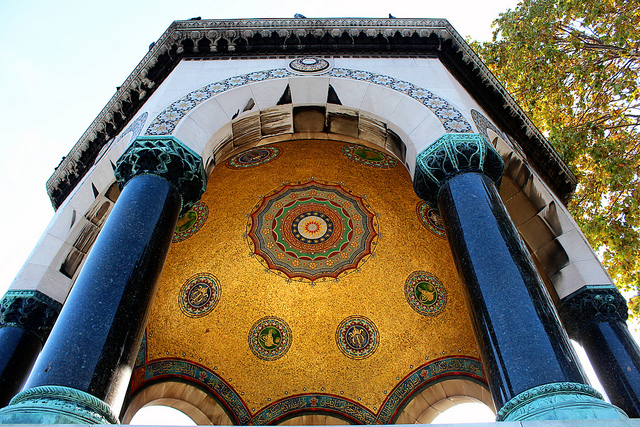 The German fountain is not like the fountains of Europe, nor the fountains of the Ottoman. It is an octagonal structure built on a high base. On the water reservoir is a dome with eight pillars. Tie the pillars together. There are medallions in the pendants on the belts. There is II. Abdulhamid's tughra inside four of the green grounds and there is the number "II" under the sign "W" which is the symbol of II. Wilhelm in the other four on the Prussian blue.
The German Kaiser Wilhelm II wrote in German in the bronze book of the fountain covered with a magnificent dome carved by dark green columns that "this fountain was built by the visit of the Ottoman ruler Abdulhamid II in the memory of gratitude in the autumn of 1898".
There is also an Ottoman inscription in Fountain. It was written by Ottoman hist and at the same time by Izzet Efendi in the letter of beyitim sulus of Ahmet Muhtar Pasha who is a literary man.