Pigeon Valley Cappadocia
One of the most visited valleys in Cappadocia is the Pigeon Valley. This valley is a historically special area, attracting many people. The valley is located in Üçhisar region of Cappadocia. For those who want to enjoy panoramic views of Cappadocia, the valley offers a very aesthetic ambience and has a perfect viewing terrace. Üçhisar Castle, located close to the valley, makes the view of the valley even more impressive. If you wonder why Pigeon Valley has such a name, you can read the rest of our article.
The History of Name of Pigeon Valley
Centuries ago, the Christian people living in Cappadocia were also engaged in agricultural activities in the region. Agricultural activities were concentrated around grape cultivation. Because the people had to produce wine constantly for religious rituals. Fertilizer was needed for the best quality and fast growth of the grapes. In order to attract the attention of pigeons passing over Cappadocia, the people started to build pigeon nests in this valley.
These pigeon nests were carved into the stones. In time, pigeons began to live here. The people who formed the hollow structure of the stones, on the other hand, had the chance to grow better quality grapes than they used by using the fertilizer of these pigeons. Therefore, it is possible to find many pigeon nests in this valley today. For precisely these reasons, the valley is called Pigeon Valley.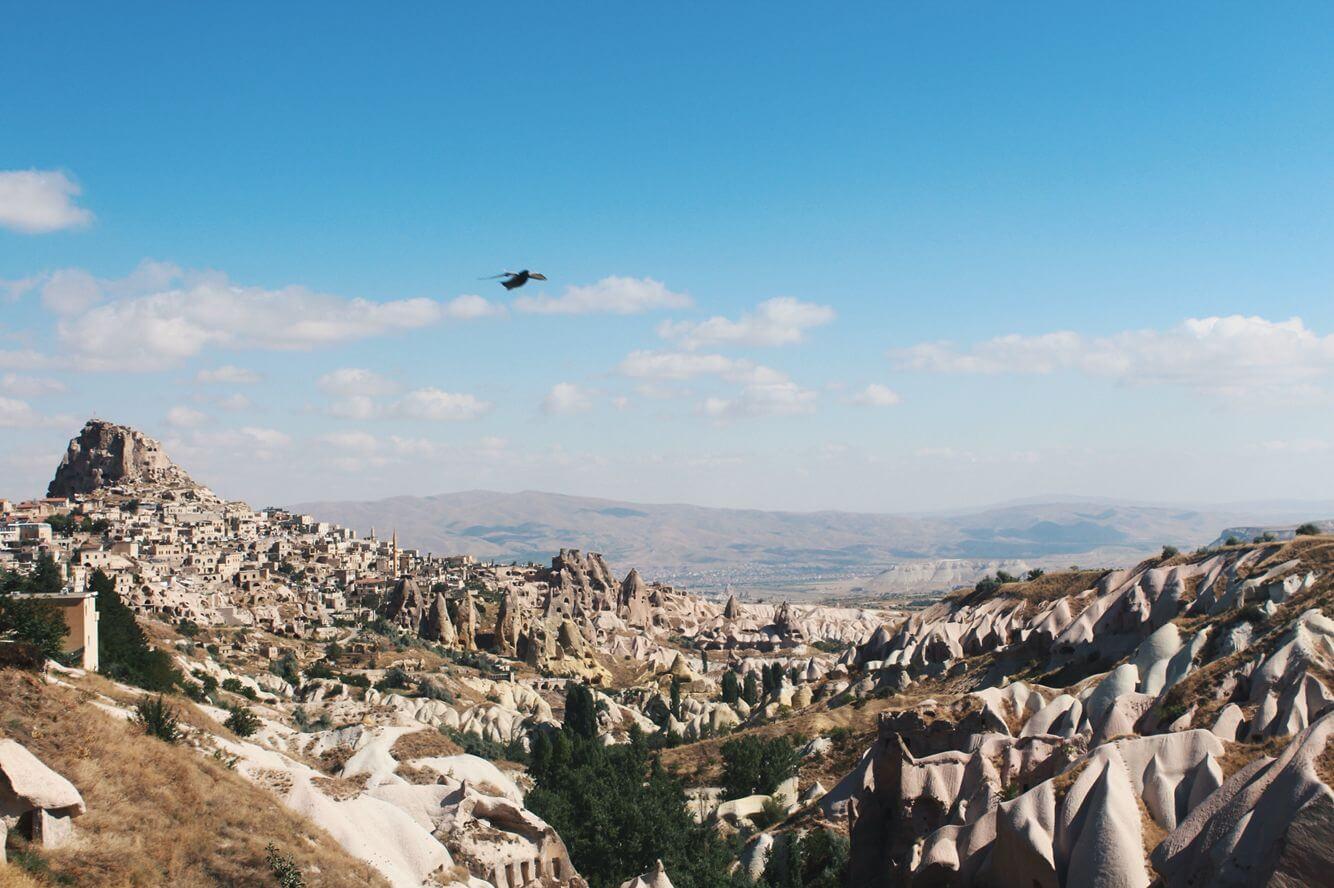 What We Have in Pigeon Valley: Visit Pigeon Valley
Pigeon Valley is one of the regions with very interesting fairy chimneys. The ends of the fairy chimneys in the valley have a slightly more pointed structure than the others. The valley contains many churches. Pigeon Valley, unlike other valleys, also hosts a pretty impressive waterfall. This waterfall is approximately 15 meters high. Due to the habitat created by the waterfall, there is a green area in a part of the valley.
There is a short trekking route in the Pigeon valley. You can enjoy this trekking route. You can also cross this route by bike. It is possible to use the trekking route of Pigeon Valley to get to destinations such as Derinkuyu Underground City from Uçhisar center.
Inside the valley you will see houses built by carving rocks. It is possible to easily select the houses here because of their windows.
After visiting the Pigeon Valley in detail, you should visit also Üçhisar Castle. These two places are pretty close together.
Pigeon Valley is one of the departure points designated for hot air balloon tours in Cappadocia. If you are going to participate in these tours, you can choose here. Even if you don't join the hot air balloon, you can take a pretty impressive panoramic photo from the valley's excellent viewing terrace.
Entrance Fee of Güvercinlik Valley
You need to buy a ticket worth six TRY in order to visit Pigeon Valley in detail. You can benefit from Extra discount at the door for students.