As an Aegean fan, I cannot understand the charm of Antalya's beaches without cove, I came, I saw, I swam. I realized that; the Carettas and the Russians knew their taste well. The waters of the sea and the pine forests have a lot of different enjoyment. The only fault is that the water is not cool. Nevertheless, there are beaches with cool water because they are fed with underground waters like Olympos.
Antalya beaches are the biggest tourist magnet in our country. Already breathtaking photos of Kaputas beach is used frequently in the promotion video of Turkey. Strangely enough, there are foreigners who have come to Antalya 3-5 times, although they never visit Istanbul.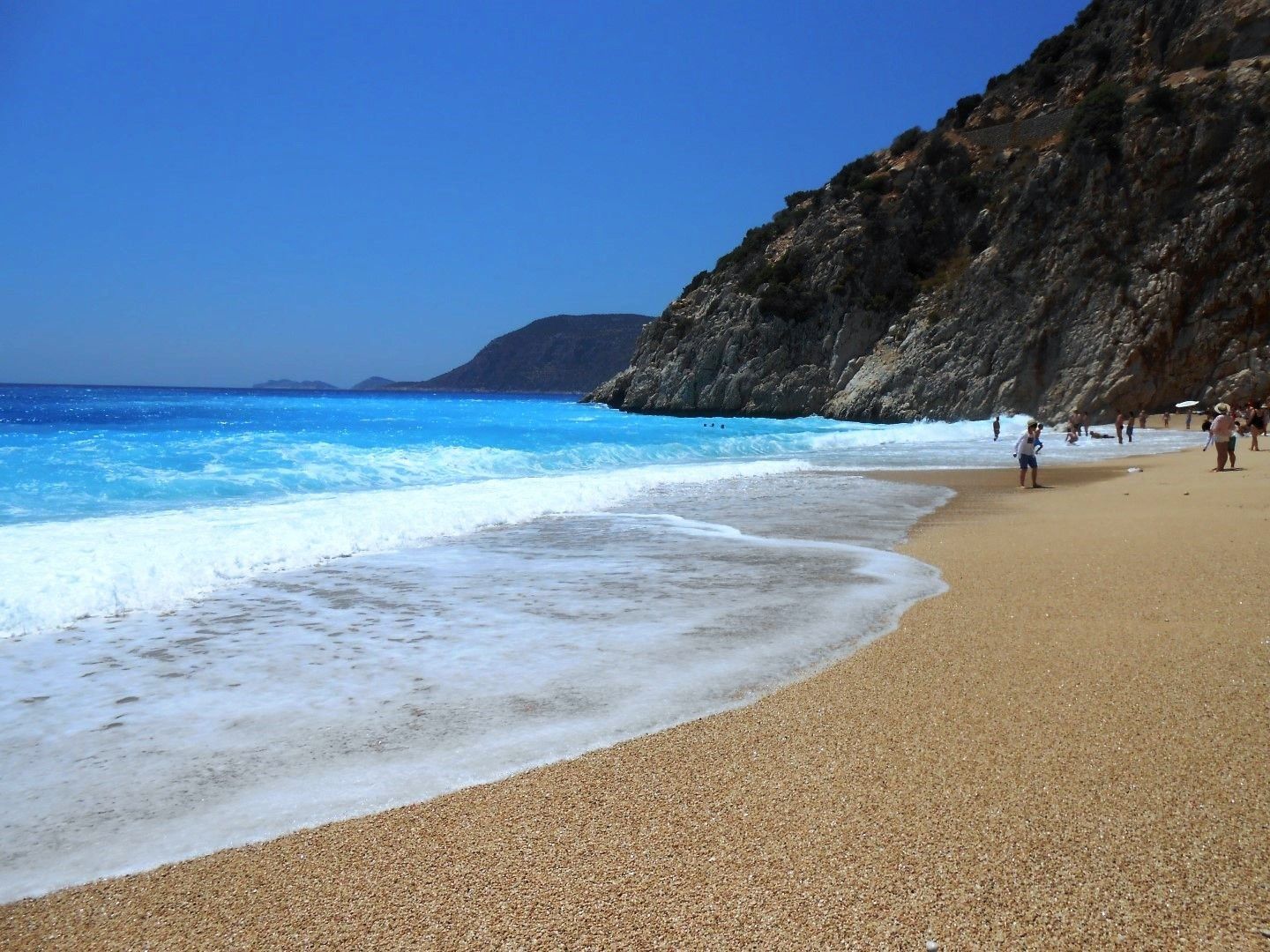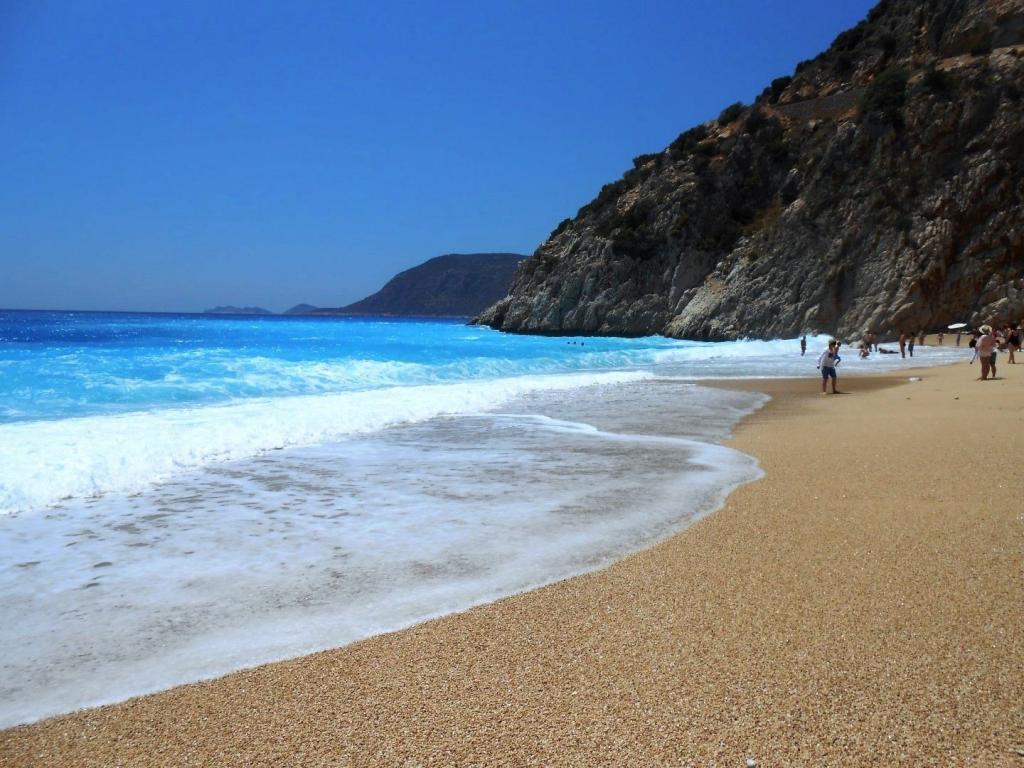 It is swimming in the sea in Antalya from May to the end of October. Our recommendation is to visit at the beginning of the season instead of the summer season due to escape both the stifling heat and the crowds. Below you will find places to swim in Antalya. Some have facilities, some are not touched, but all are very preferred places. We have not missed the blue flagged.
MURATPAŞA BEACHES
Mermerli Beach
Mermerli Beach behind the cliff next to Kaleici Harbor saves lives in the city. This small bay was once used as Lady's Beach because it was a little isolated, but then it has evolved into a city beach after an observation terrace. The beach, which looks empty in the photo, is filled with sunbeds in summer. The beach is located in the Blue-flagged Beach List of 2017.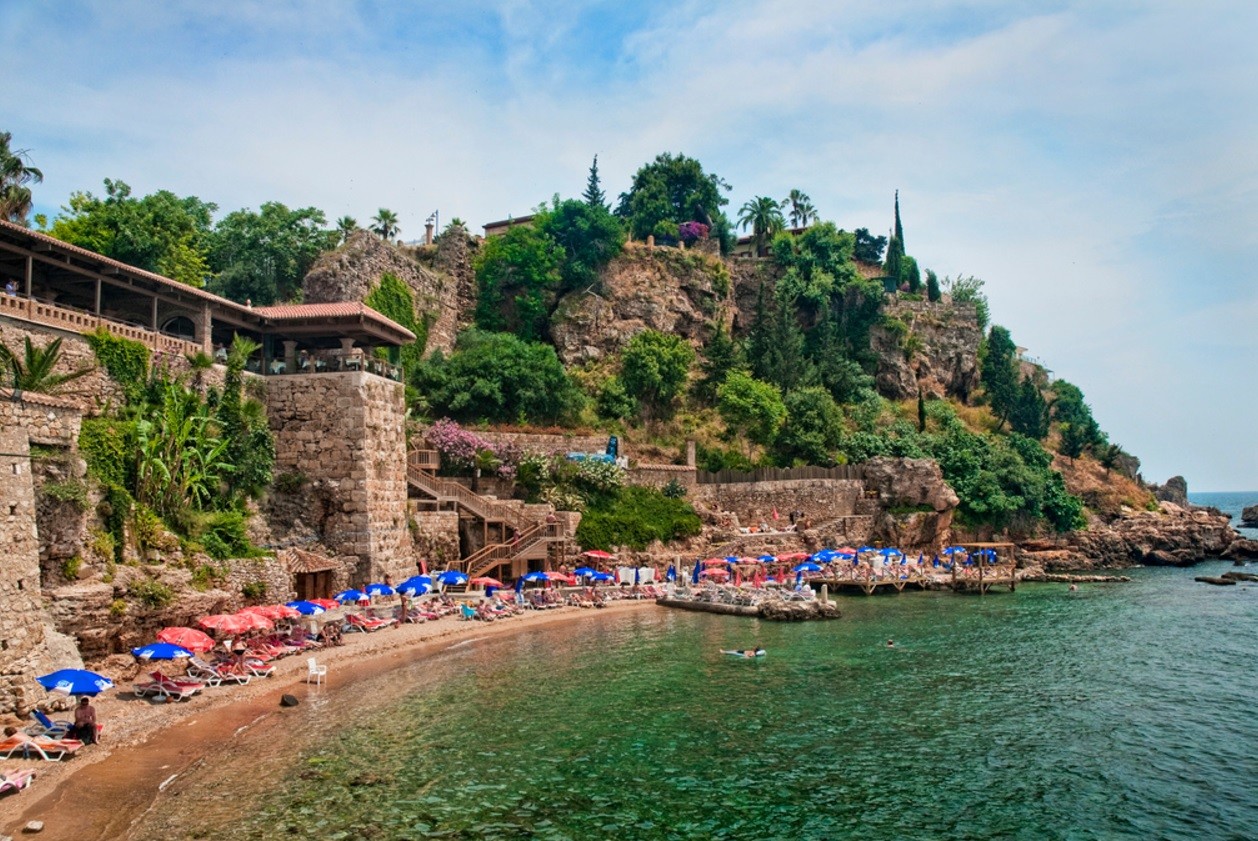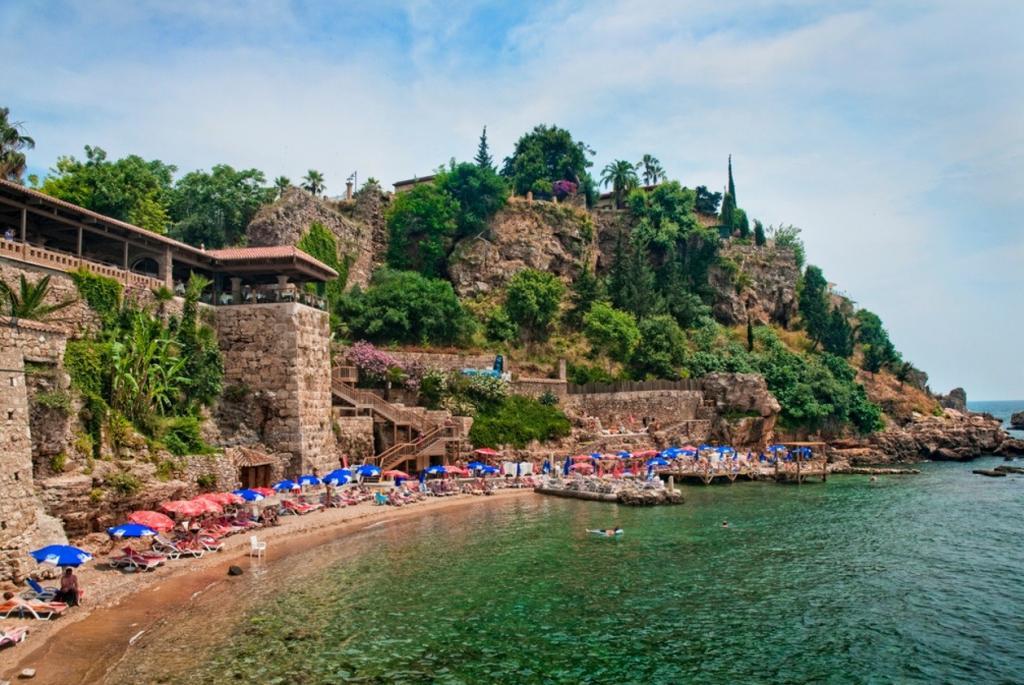 Örnekköy Beach
Again, it is a sandy beach near the center. The beach in the Lara region, where the people of Antalya usually have summer homes, is calm and has a summer resort.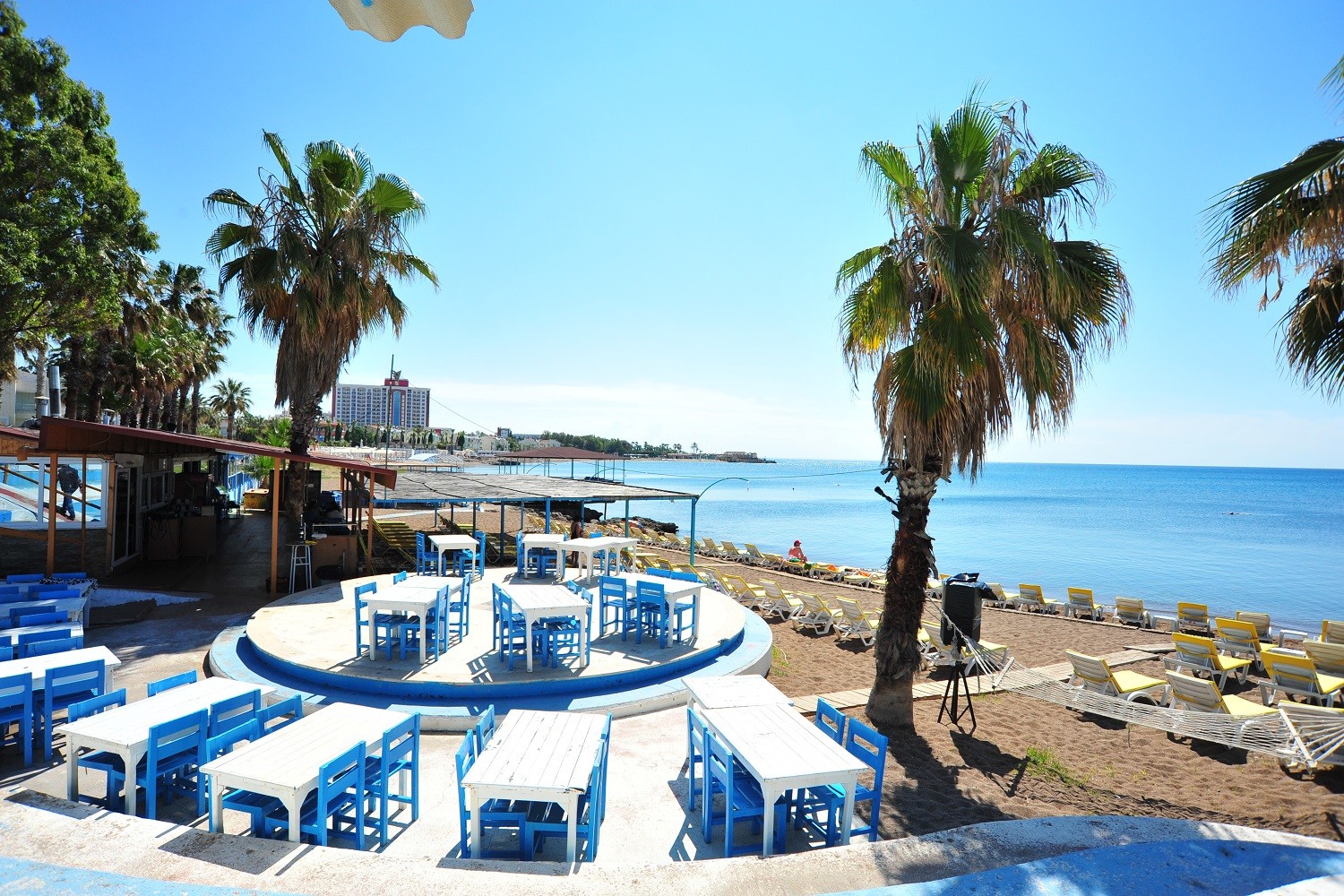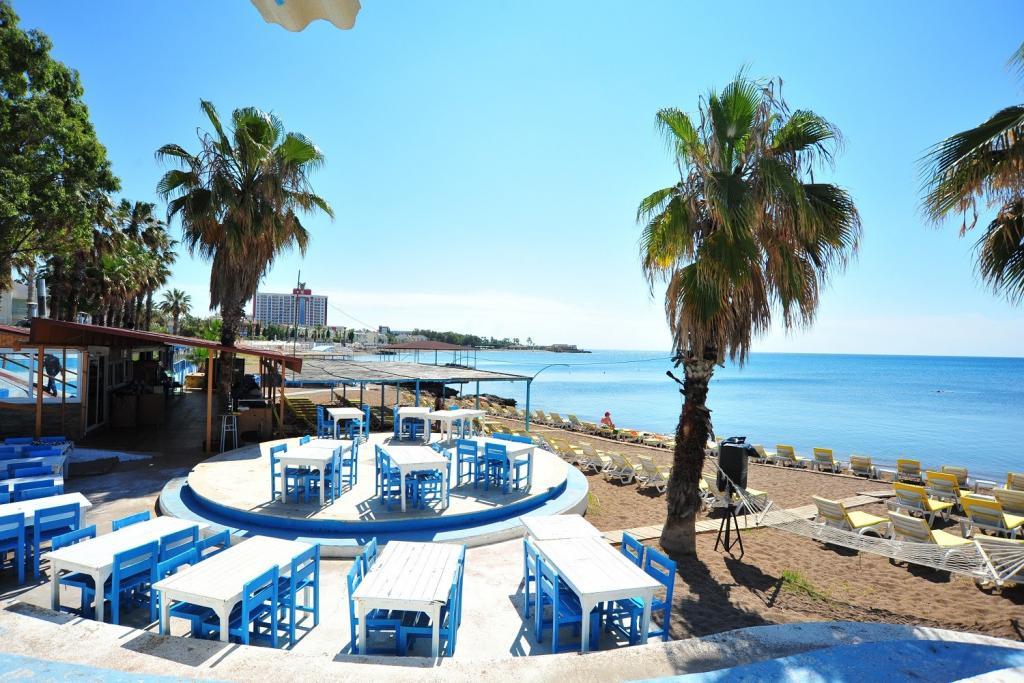 Lara Beach
Lara Beach was one of the most famous beaches of Antalya city center. However, it is already overcrowded in the summer. The beach with as many sandy as you can see is the place where summer training camps are usually set. It is, therefore, a beach with tent camp facilities. It's the water is hotter than Konyaaltı Public Beach's and you are entering the water from the shore, the deepening takes place at a far distance. The beach is added in the Blue-flagged Beach List of 2017.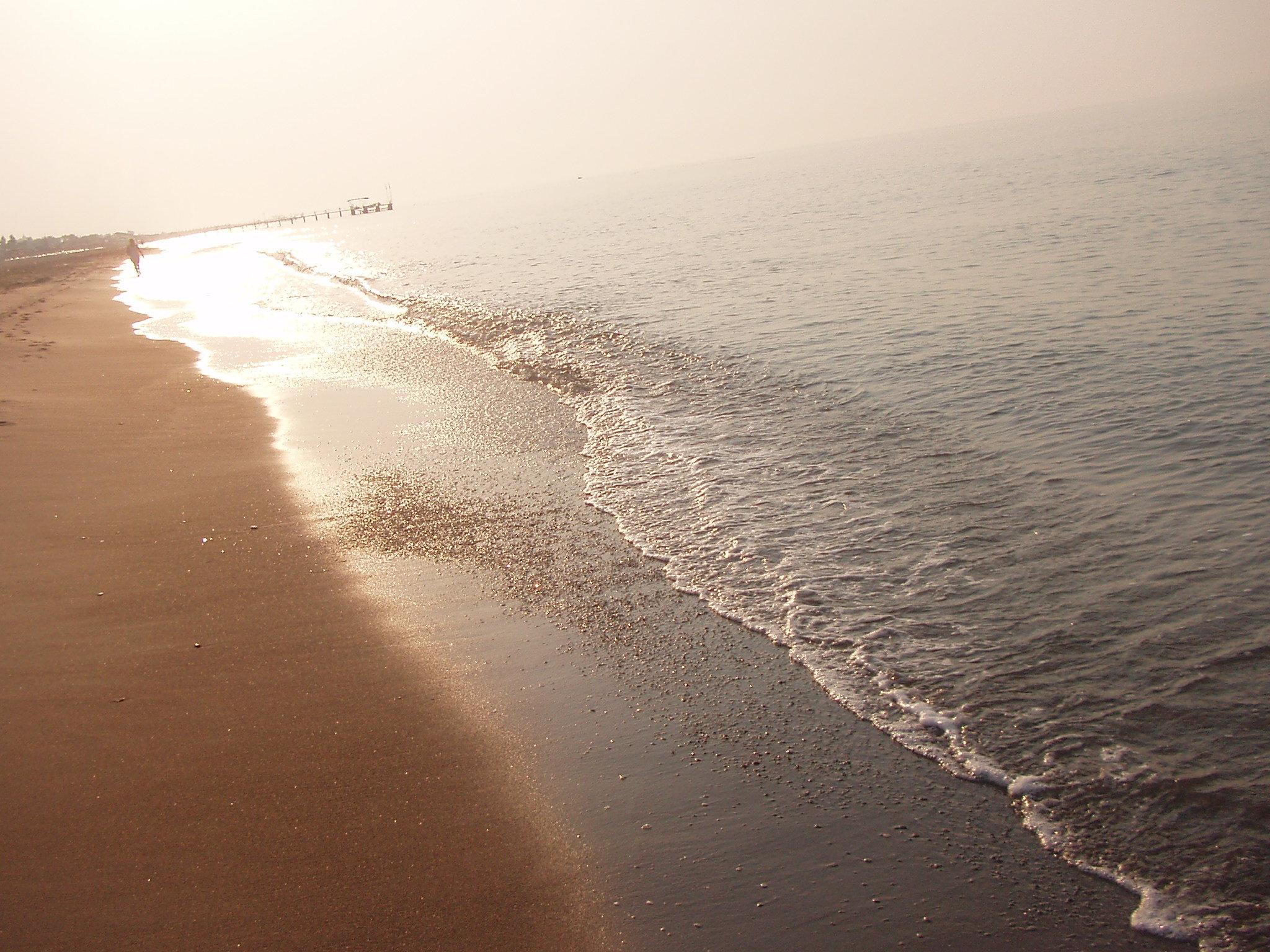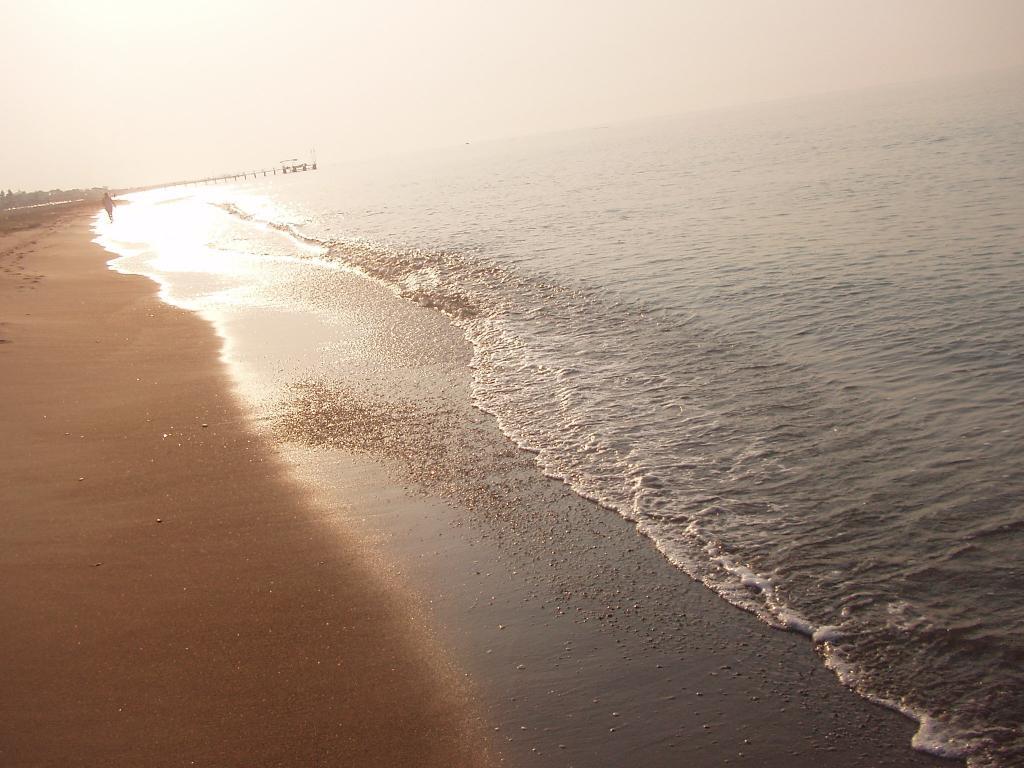 İnciraltı Beach
A successful public beach, managed by the municipality, is where you can swim into the sea from cliffs next to Lara Beach. Although it is a public beach, it is a rare place where you can rest in the center. The beach is located in the Blue-flagged Beach List of 2017.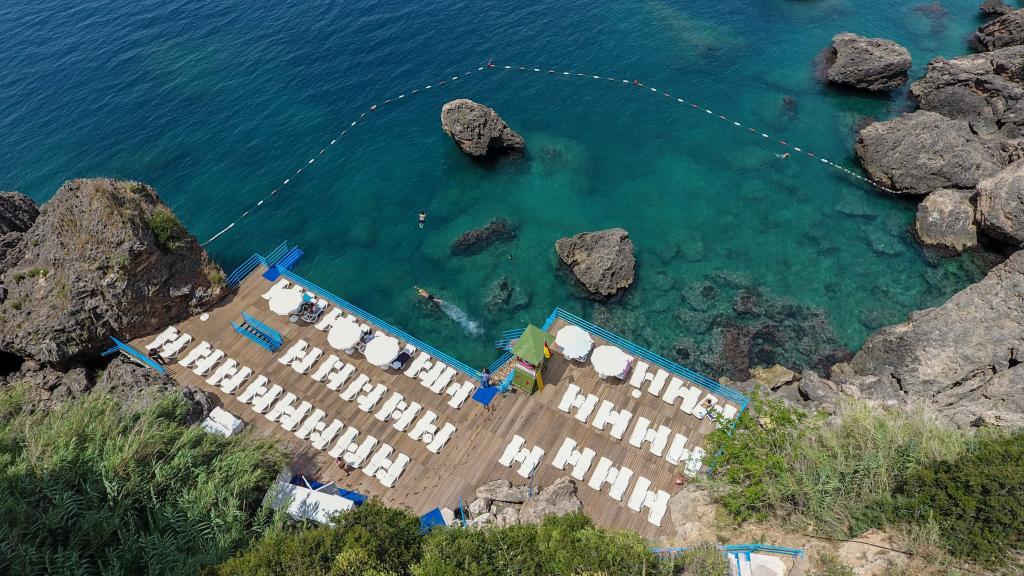 KONYAALTI BEACHES
Konyaaltı Beach
It is stonier than the Muratpaşa beaches. But it is famous for being the beach with the longest coastline. It was also closed to the vehicle traffic. It is a huge beach consisting of at least 5 beaches and all are blue-flagged.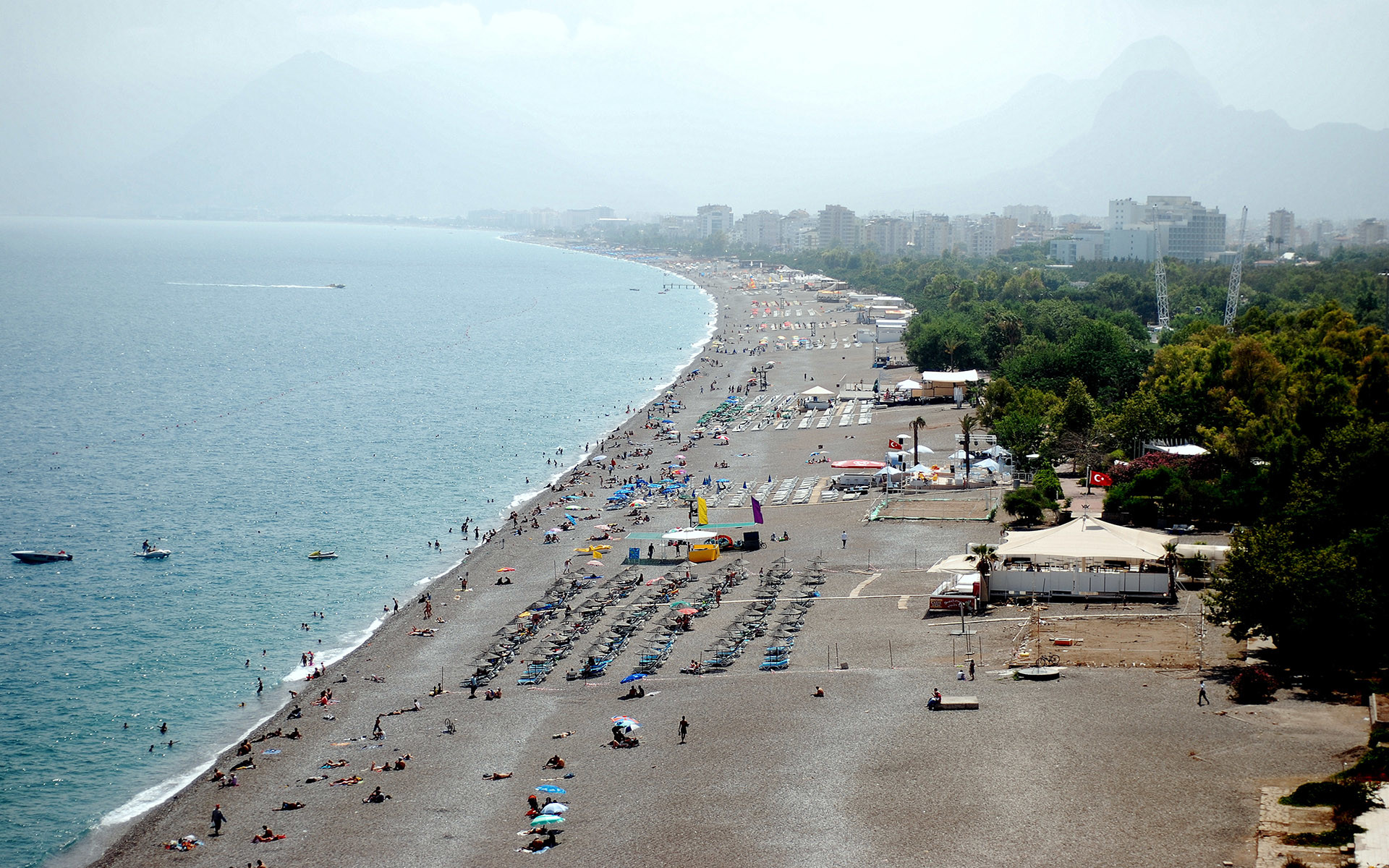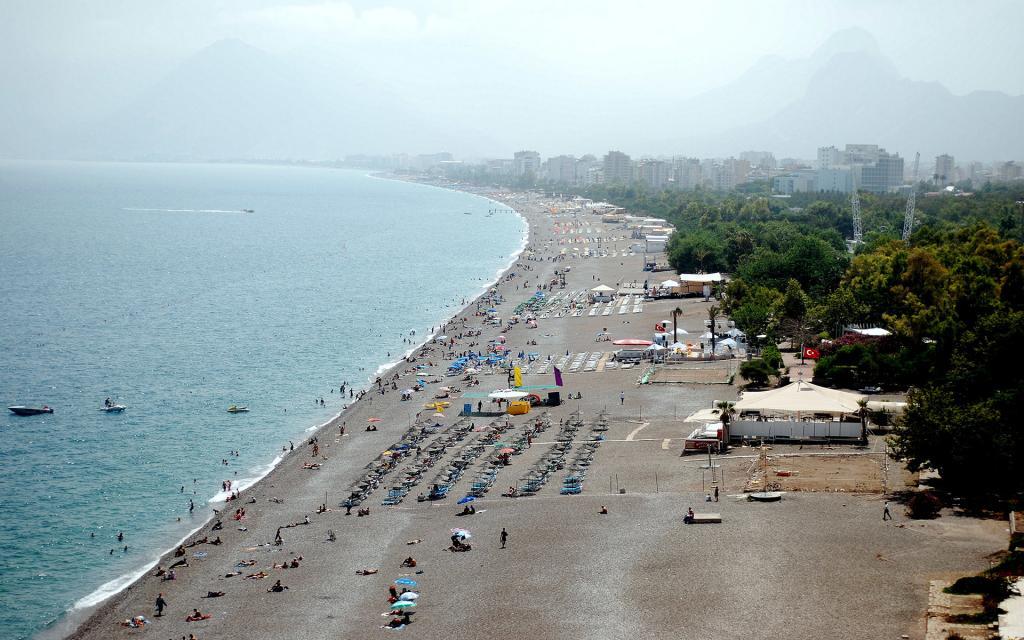 KUMLUCA BEACHES
Olympos, Çıralı
The beach is only 1.5 hours away from the center. Çıralı beach offers a 180-degree experience from the central beaches of Antalya with its clean blue ice-cold water, with its huge stone beach, with the sound of crickets, and natural views without beach clubs. Olympos Beach where Mount Olympus covers is one of the major nesting areas in Turkey for the Caretta caretta. Because of this, there are no services like umbrellas, sun beds in order not to damage their living area on the beach. If you go there by car, you should have a foldable chair, umbrella, and a table.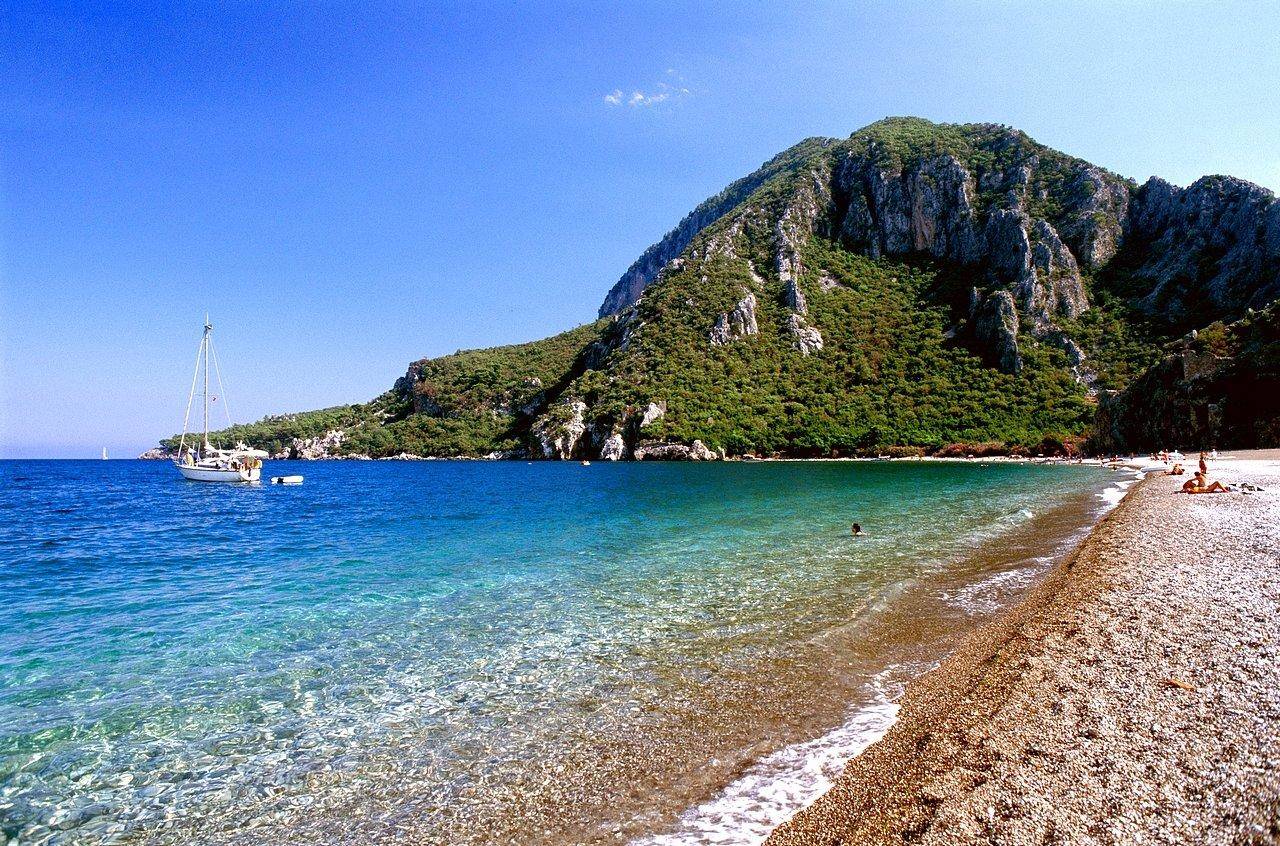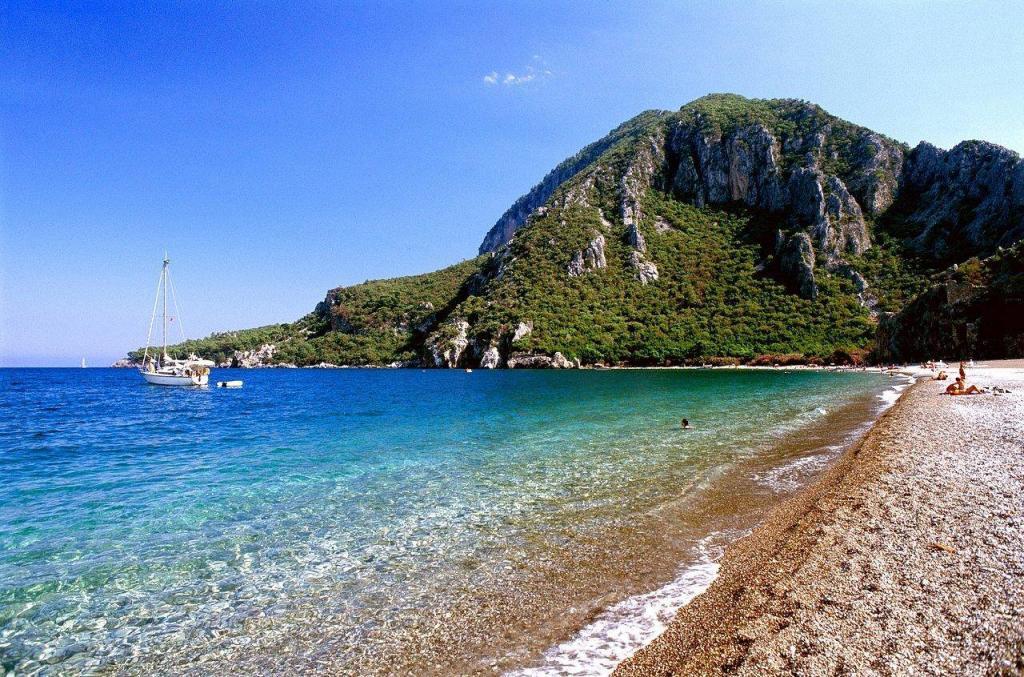 Also, since there is no accommodation place here, you need to walk 5 – 10 minutes to reach the beach. For beach entrance, you have to buy a ticket at the door that you have to pass through the Ancient City of Olympos. You can also buy a single entry ticket for 20 TL, but it is more sensible to buy a 10-entry card for 7.5 TL. If you go by car, there is parking on the right side as you enter the ruins. You can park for 5 TL for 24 hours.
Adrasan Cove
It is located outside the center but in a close location. Çıralı has another wonderful plaza 20-25 minutes away by car. There are buses in Antalya that you can take from the coach station or the airport, and it takes about 1 and a half hours. There are shops and cafes where you can stay along the coast, where you can eat, sit and have a good time. Unlike Olympos beach, it has a shallow and sandy beach. Renting umbrellas and sunbed is 5 TL.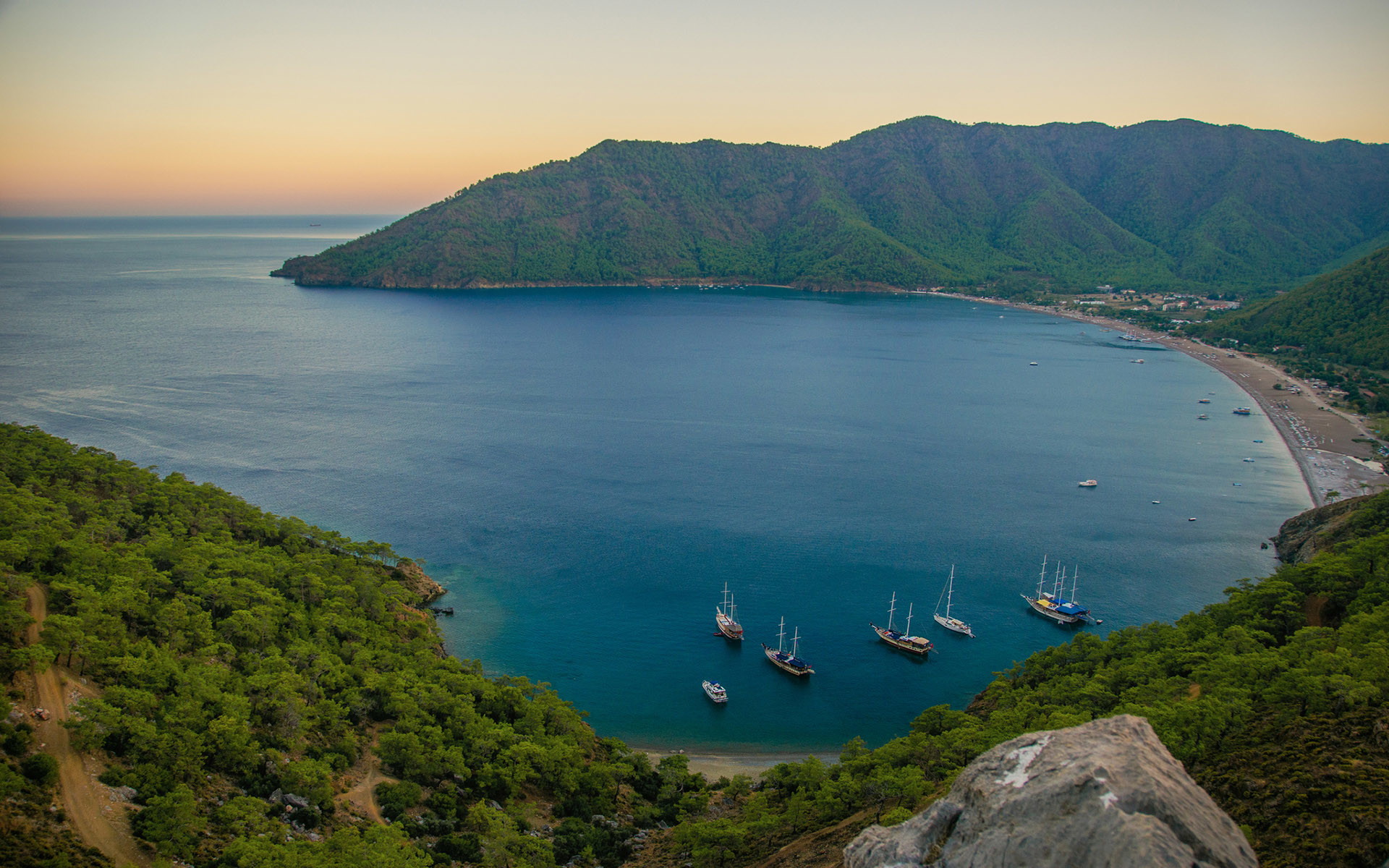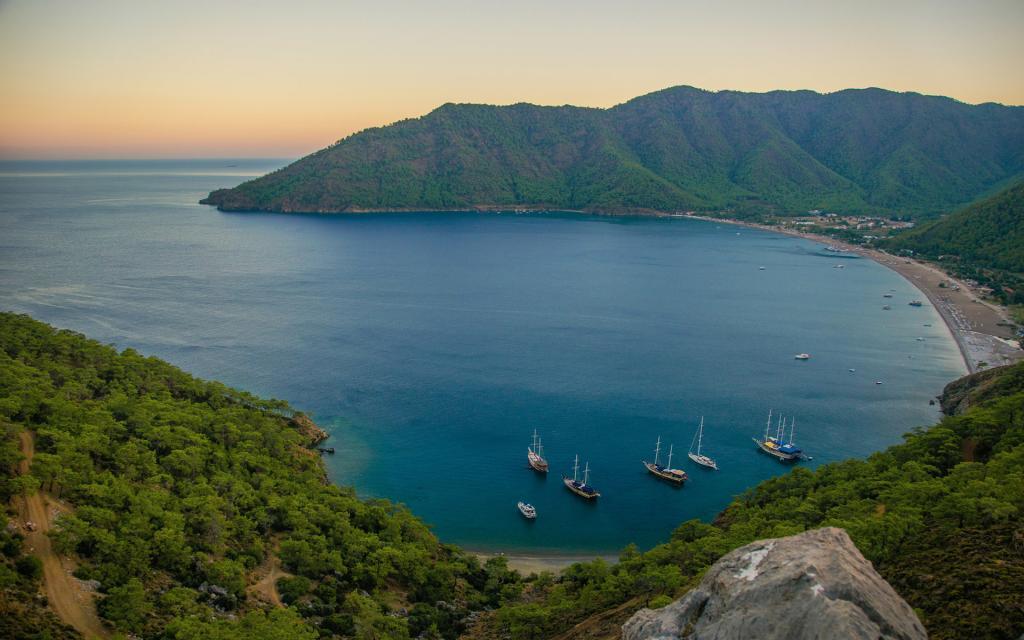 Papaz Bay
Papaz Bay is also called as Papaz Pier, is a place where frequently preferred by camp lovers in the Kumluca region. It is a quiet and peaceful place because it is a wooded area.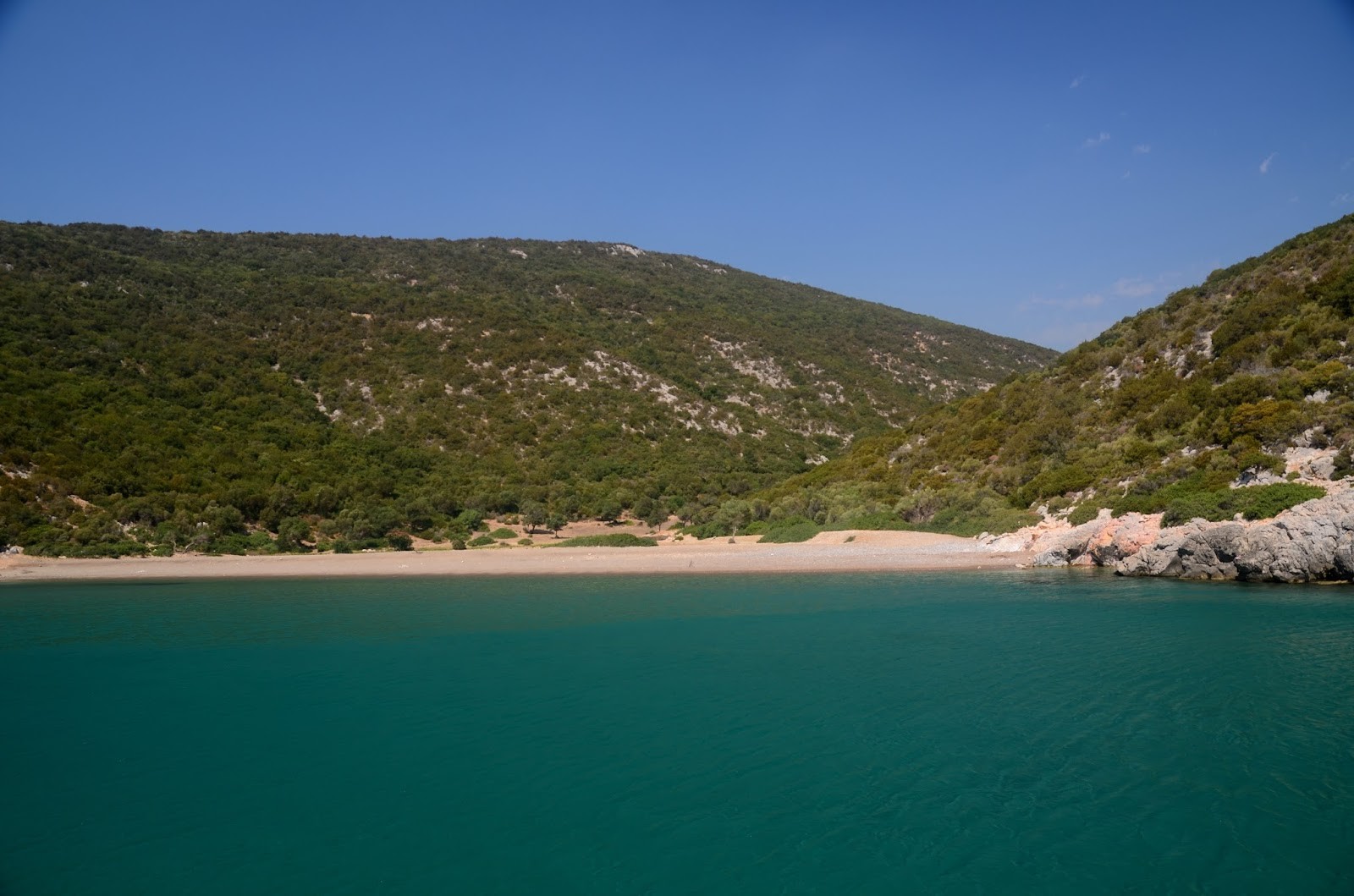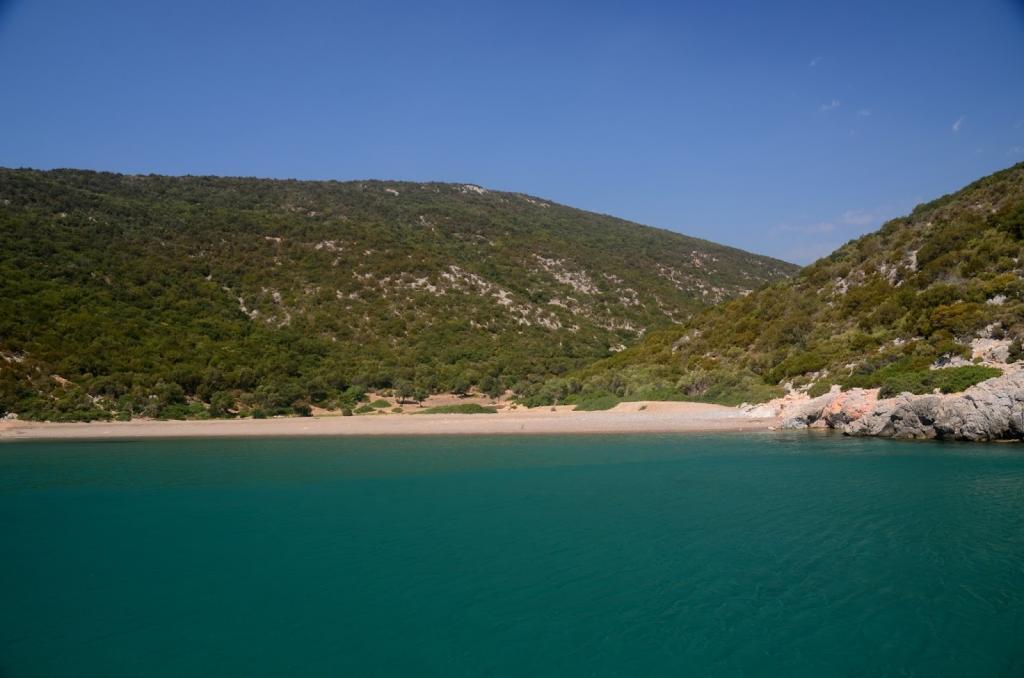 Pirate Cove
This small and untouched bay, located between two large rocks, isolated from everywhere, the forest behind is a pirate cove literally. You must have a private car to get here. It is an ideal place for camping. Trekking in the forest in behind, snorkeling on the rocks is also convenient to do. Only the sea is a bit salty.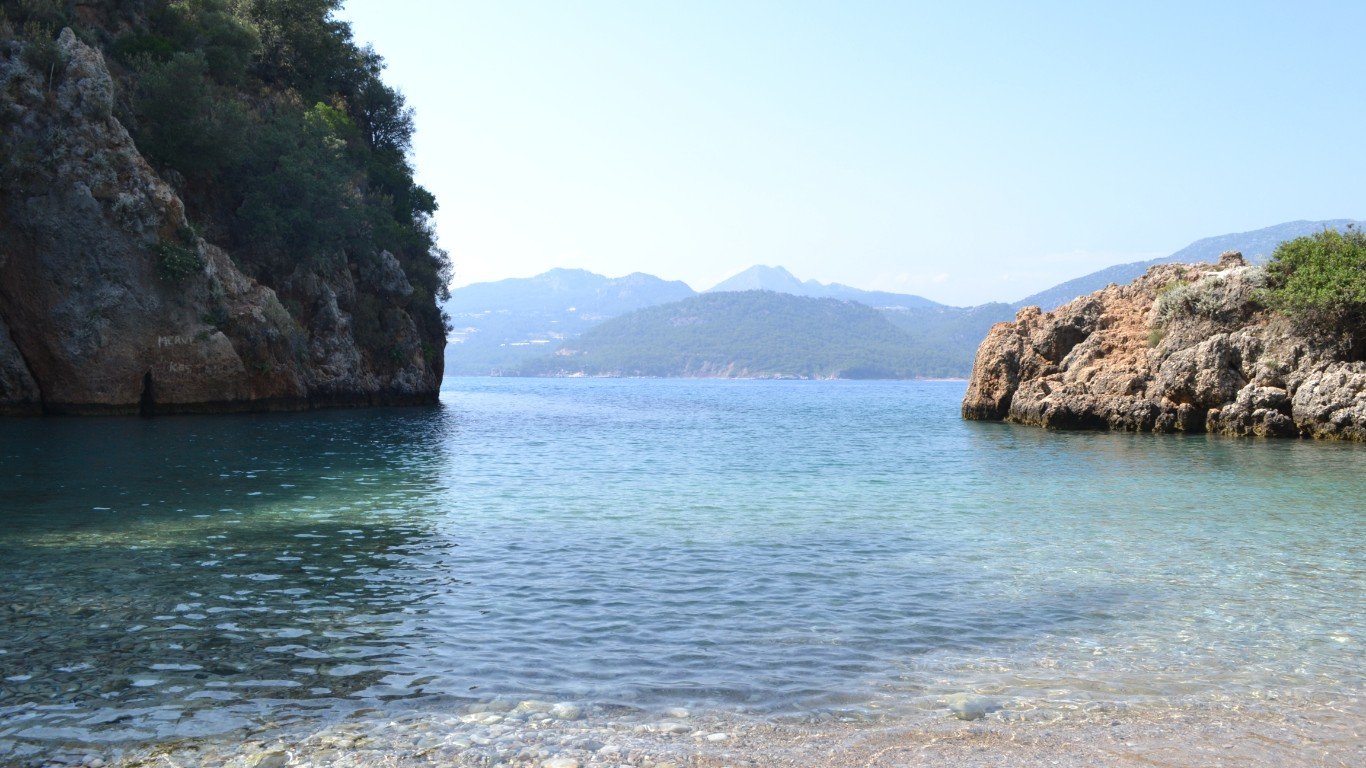 ALANYA
Kleopatra Beach
Kleopatra Beach, a 2 km long, shallow and sandy beach, has a clear sea where you can see the fish with eyes. According to a story, the Egyptian Queen Cleopatra and his beloved Roman Emperor Antonius swam here. The beach is also blue-flagged. And let's also note that there is a spectacular sunset here.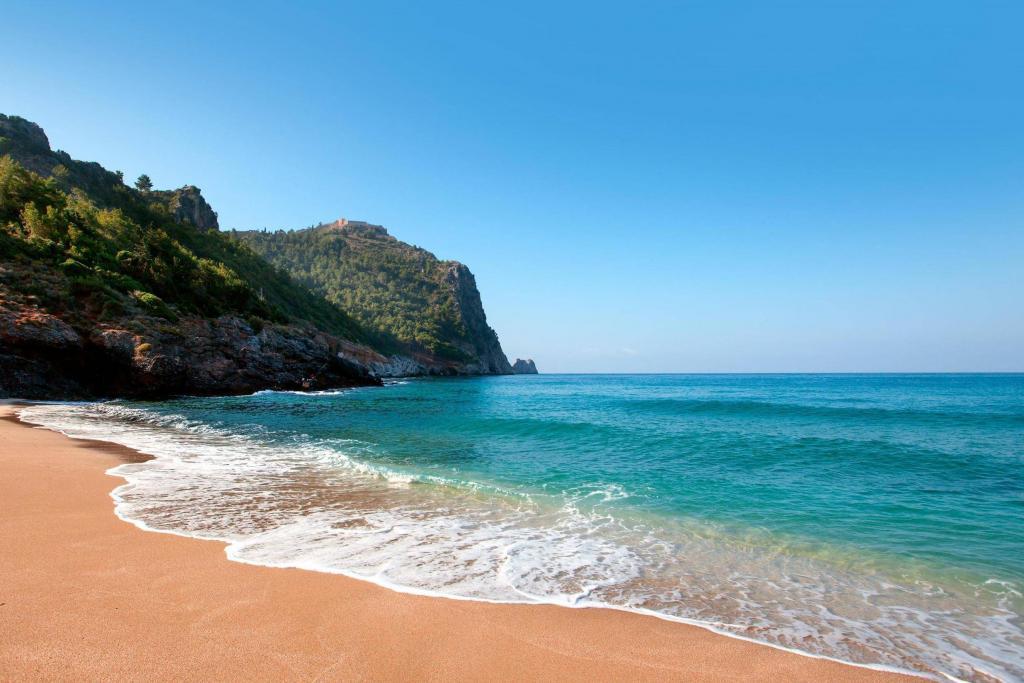 Damlataş Beach
The beach is located on the right in front of the famous Damlataş Cave. It is also from blue-flagged beaches. You can think of it as the continuation of Cleopatra. The entrance to the beach is free but there is a charge for sunbeds and umbrellas.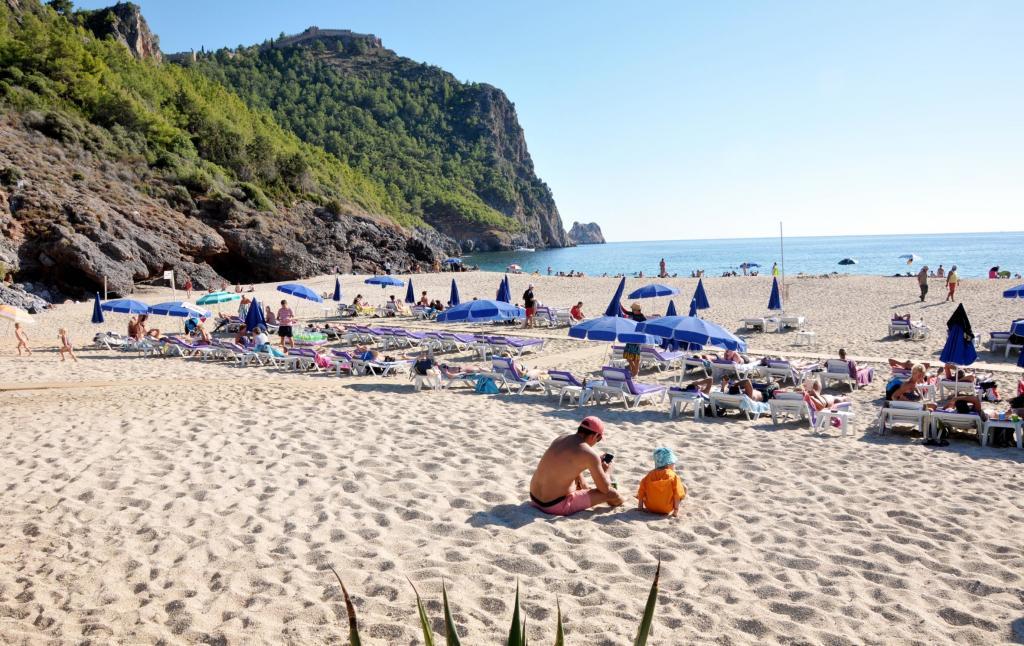 İncekum Beach
It is one of the sea coasts that can be camped in Alanya. There is also Incekum Forest Camp here. There are pine trees around, a golden beach and a blue-flagged sea. The sea is shallow and sand is ideal for families with children.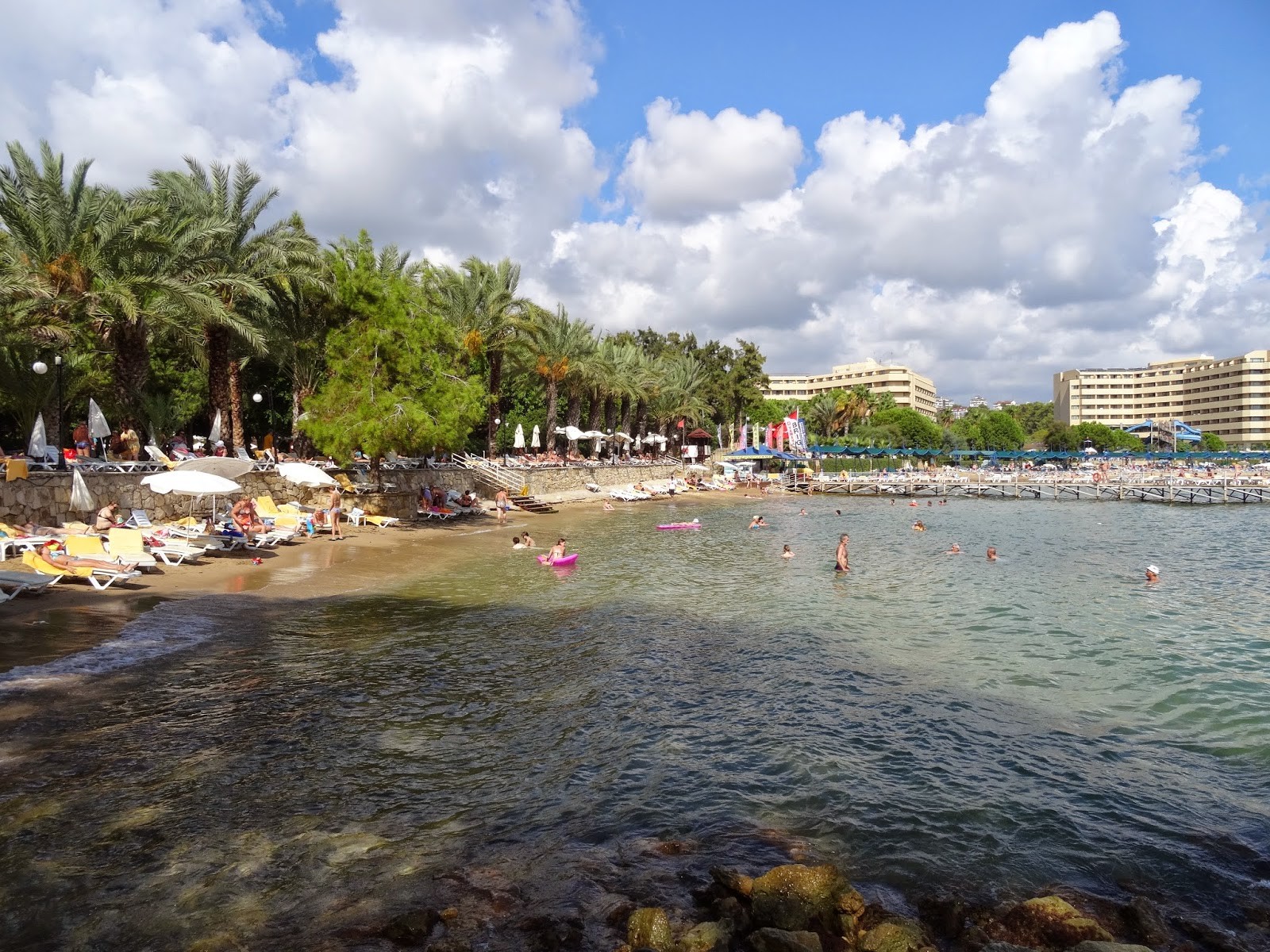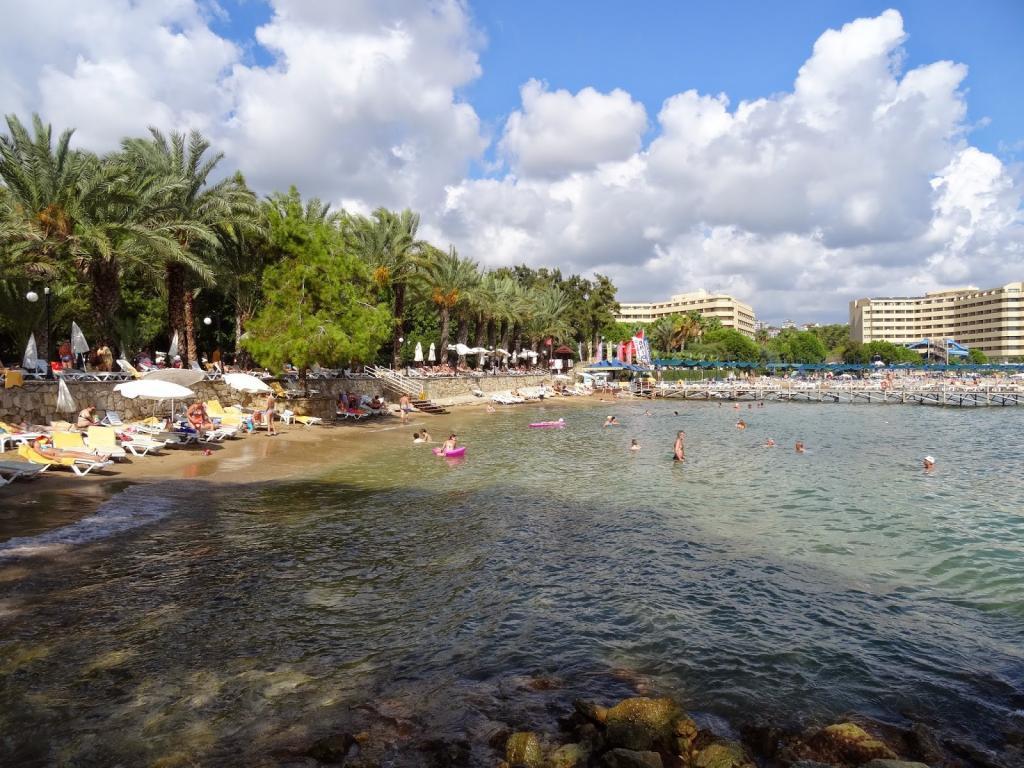 KEMER
Phaselis Beach
In the ancient city of Phaselis, which is our favorite in Kemer, there are 3 small bays where you can swim. Only one of them has a shower and toilet service. No services such as sun beds and umbrellas are available in the other. In the middle bay, there is a buffet where you can buy food and drink. The ruins of Phaselis have an admission charge just like the Ancient City of Olympos. The admission charge is 20 TL but the museum card valid.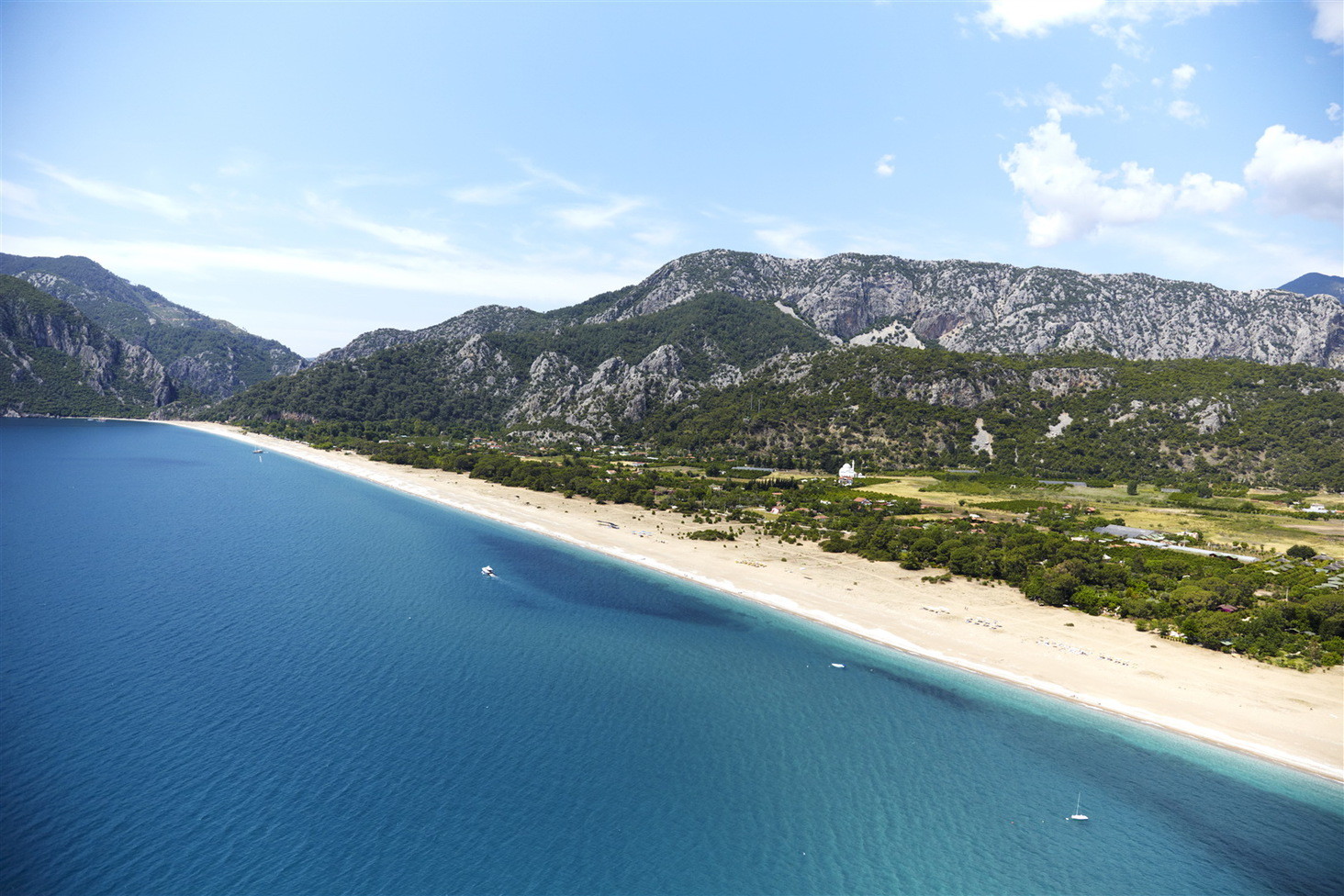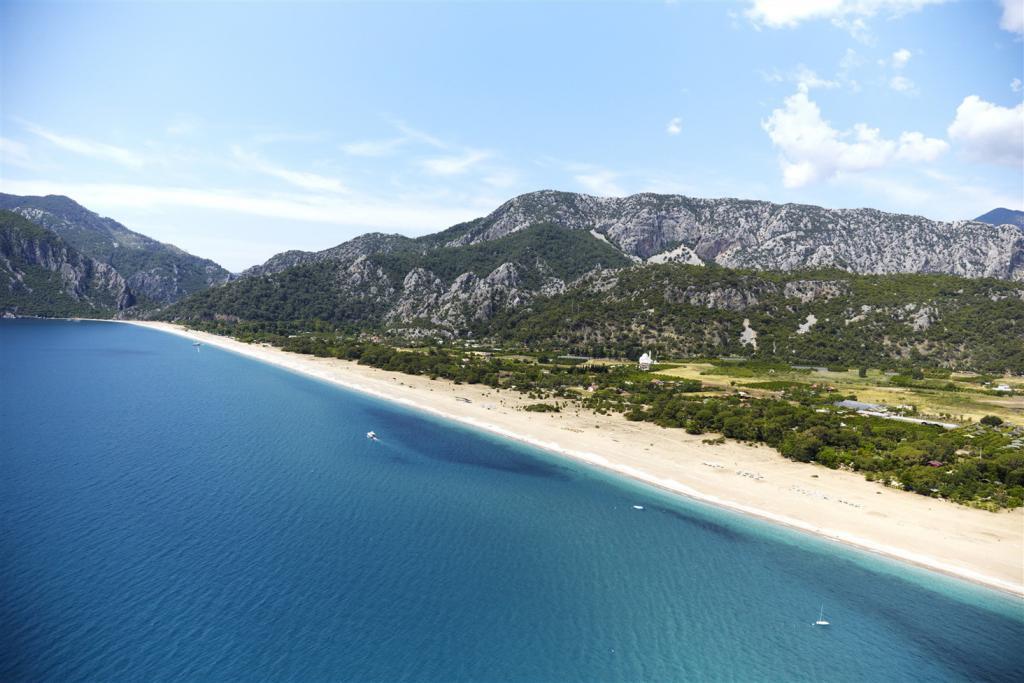 Kiriş Bay
Kiriş Cove, protected against wind and wave, is the ideal point for scuba diving. There are also underwater caves for taking great photos here.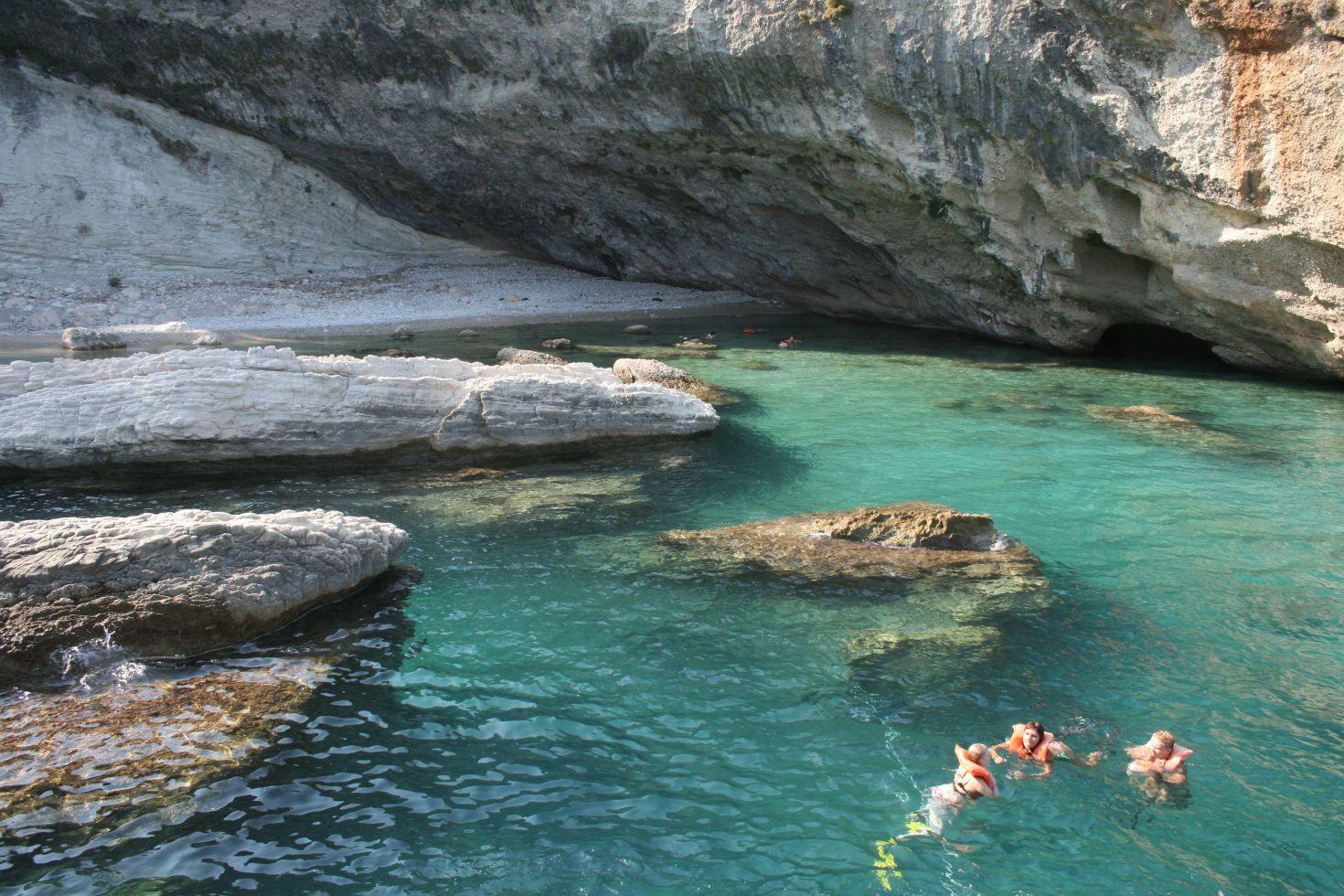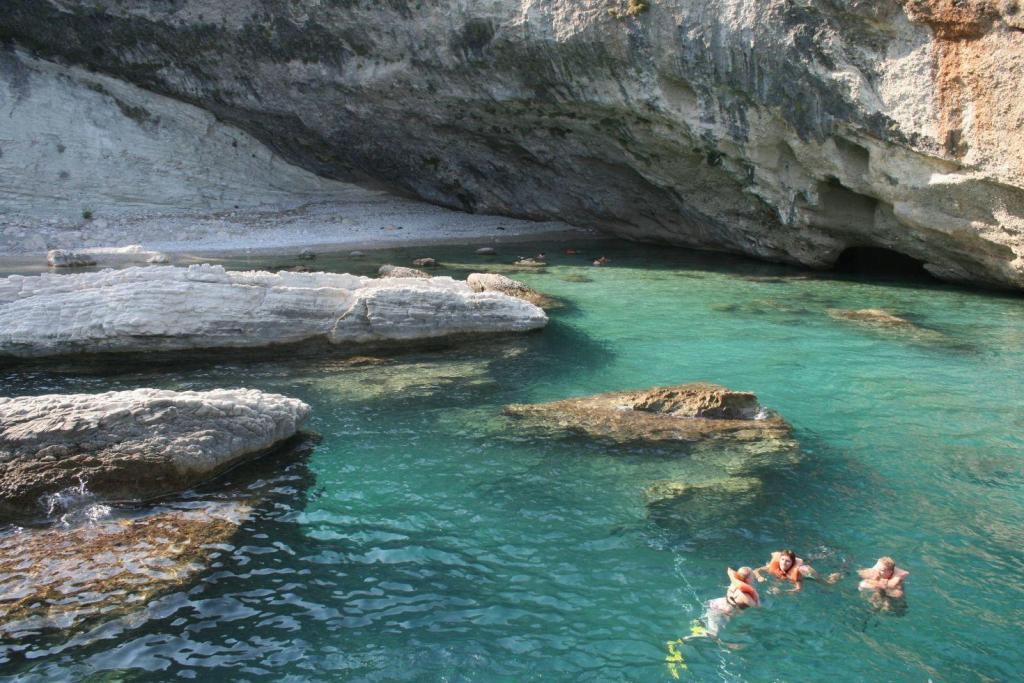 Alacasu Heaven Cove
As its name, it really is a corner from heaven. It is located in Beydağları National Park. The bay is so untouched that there are no facilities here.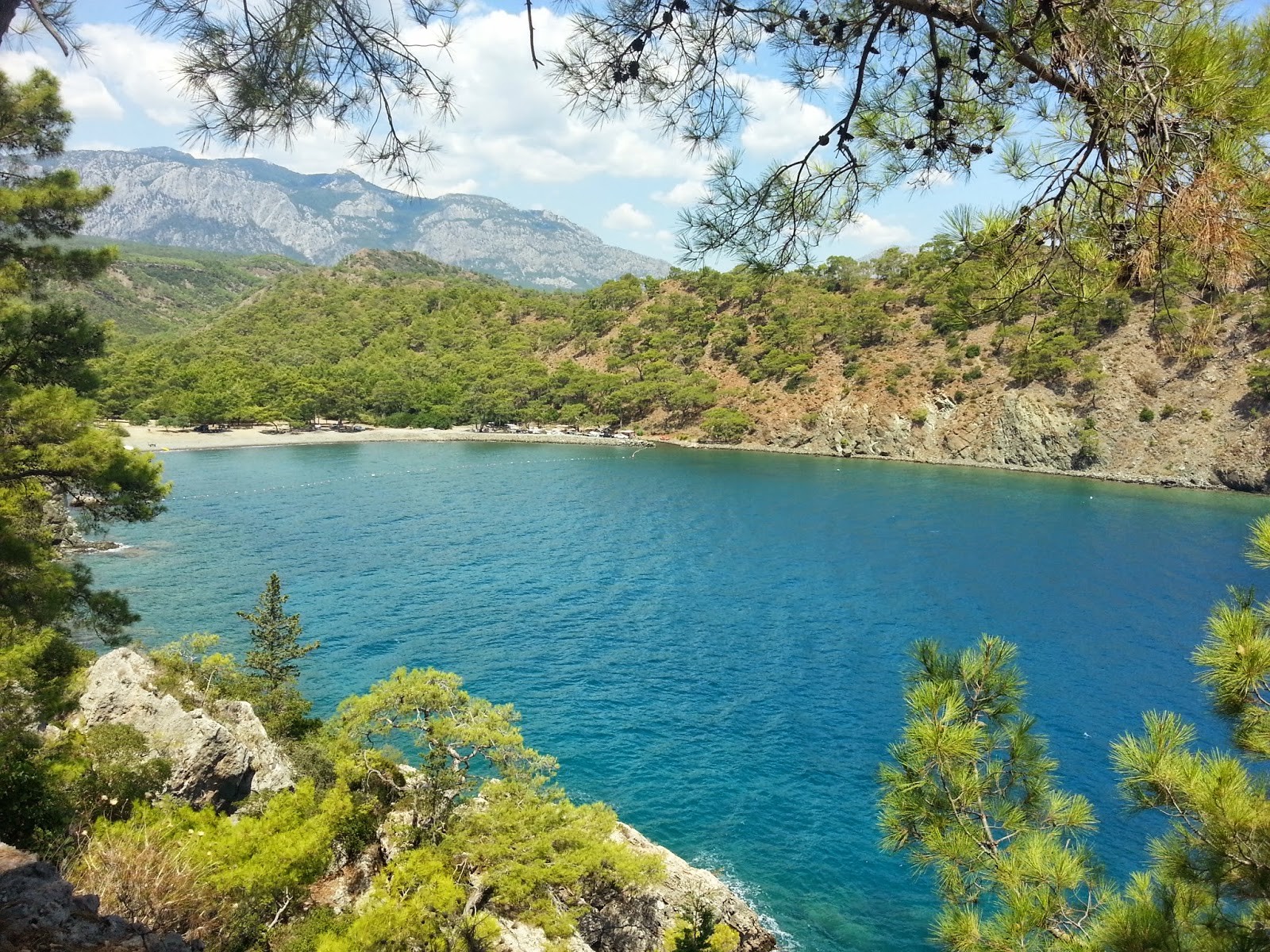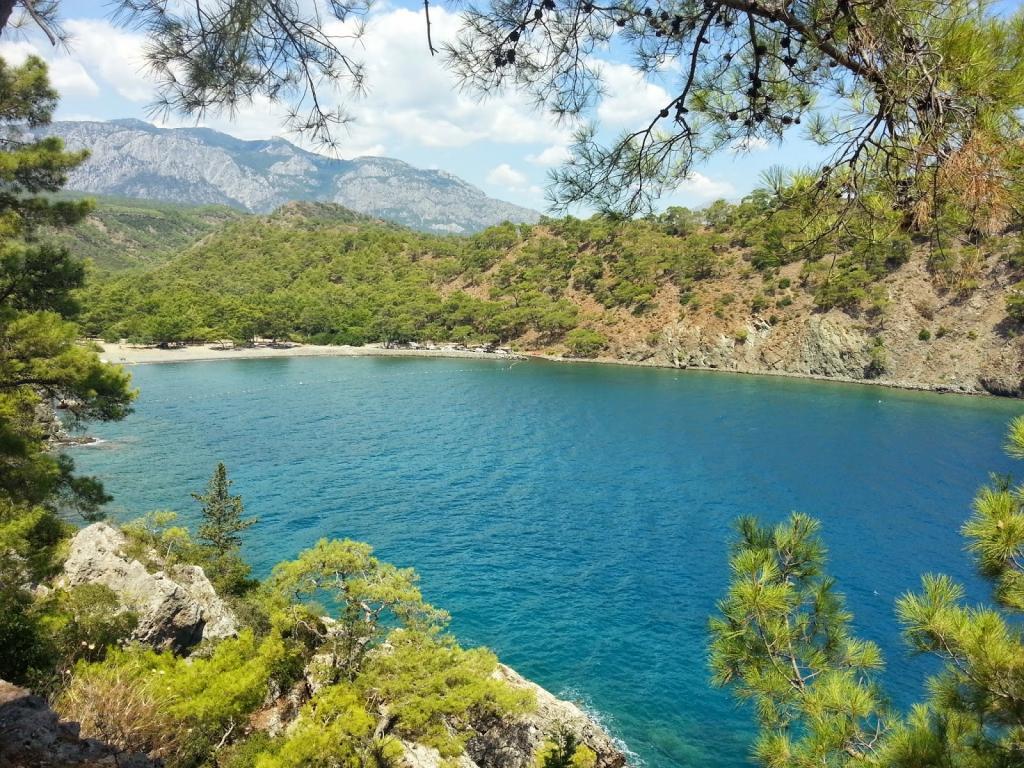 Atbükü (Mine) Cove
Once upon a time, it was used for mining the chromium, the name became Mine Cove. This bay, known as Atbükü Cove, is one of the largest Virgin Islands in the region. The cove in the red pine forest is also a favorite place for campers. At the same time, the cove has a fine pebbled and clear sea, which is also on the Lycian Way. You can reach Olympos in 2 hours by following the Lycian Way by walking.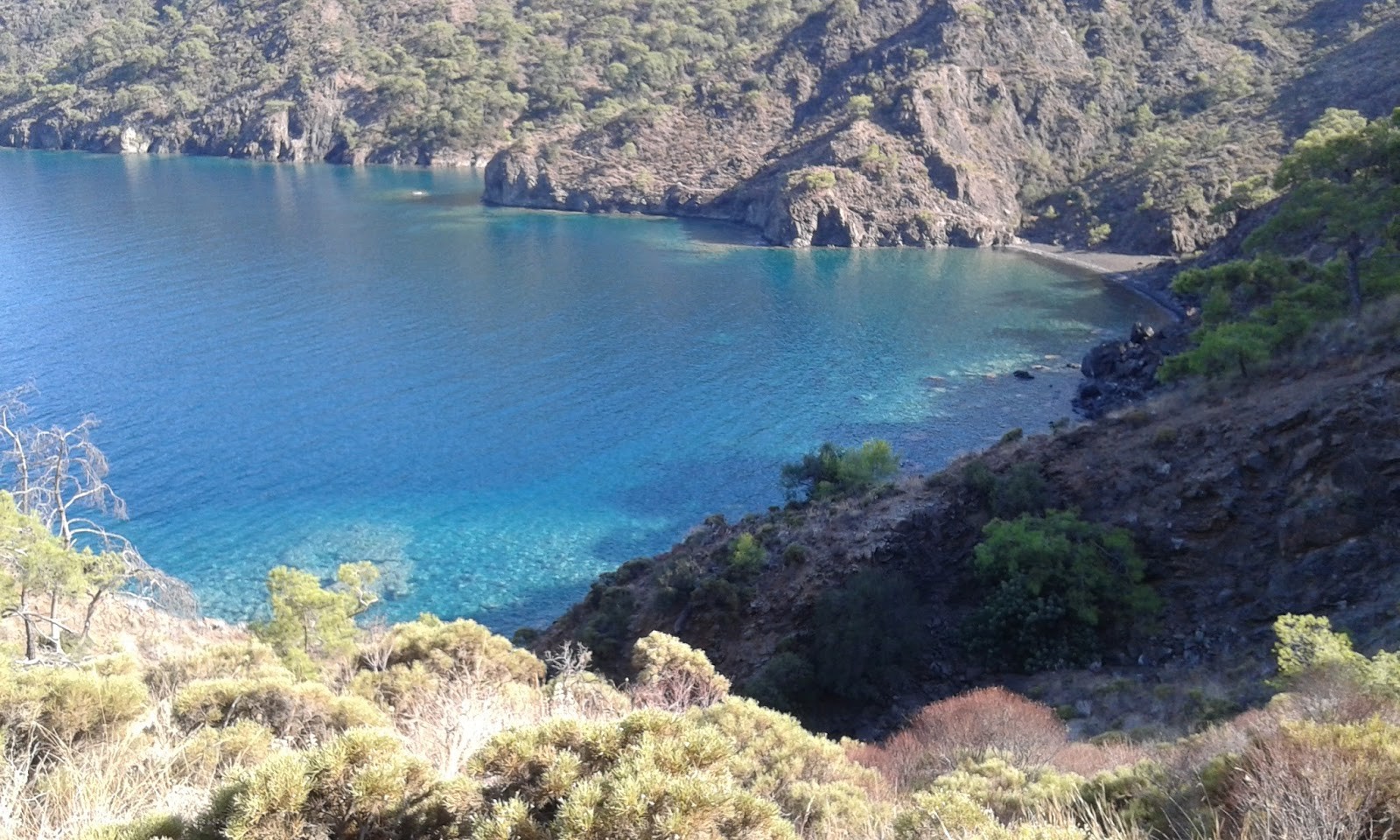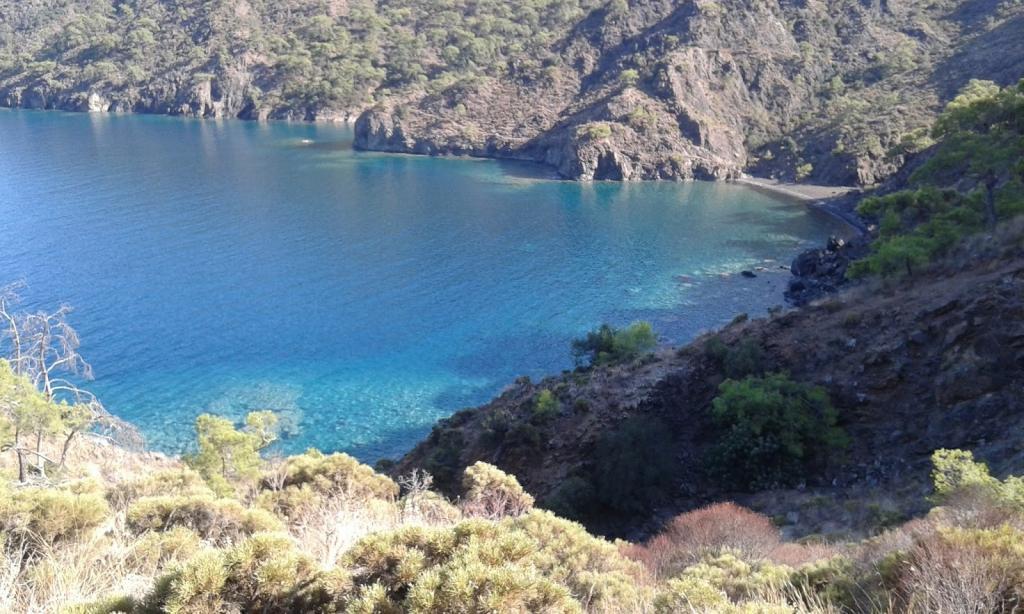 MANAVGAT
Evrenseki Beach, Kumköy, Side
Side is Antalya's famous town with its natural and ancient city. There are many facilities along Side's Kumköy Beach. But Evrenseki Beach is a beach that serves quite well compared to a municipal beach. Especially the toilet and changing cabinet service is very successful. The sea is a little wavy but the sandy.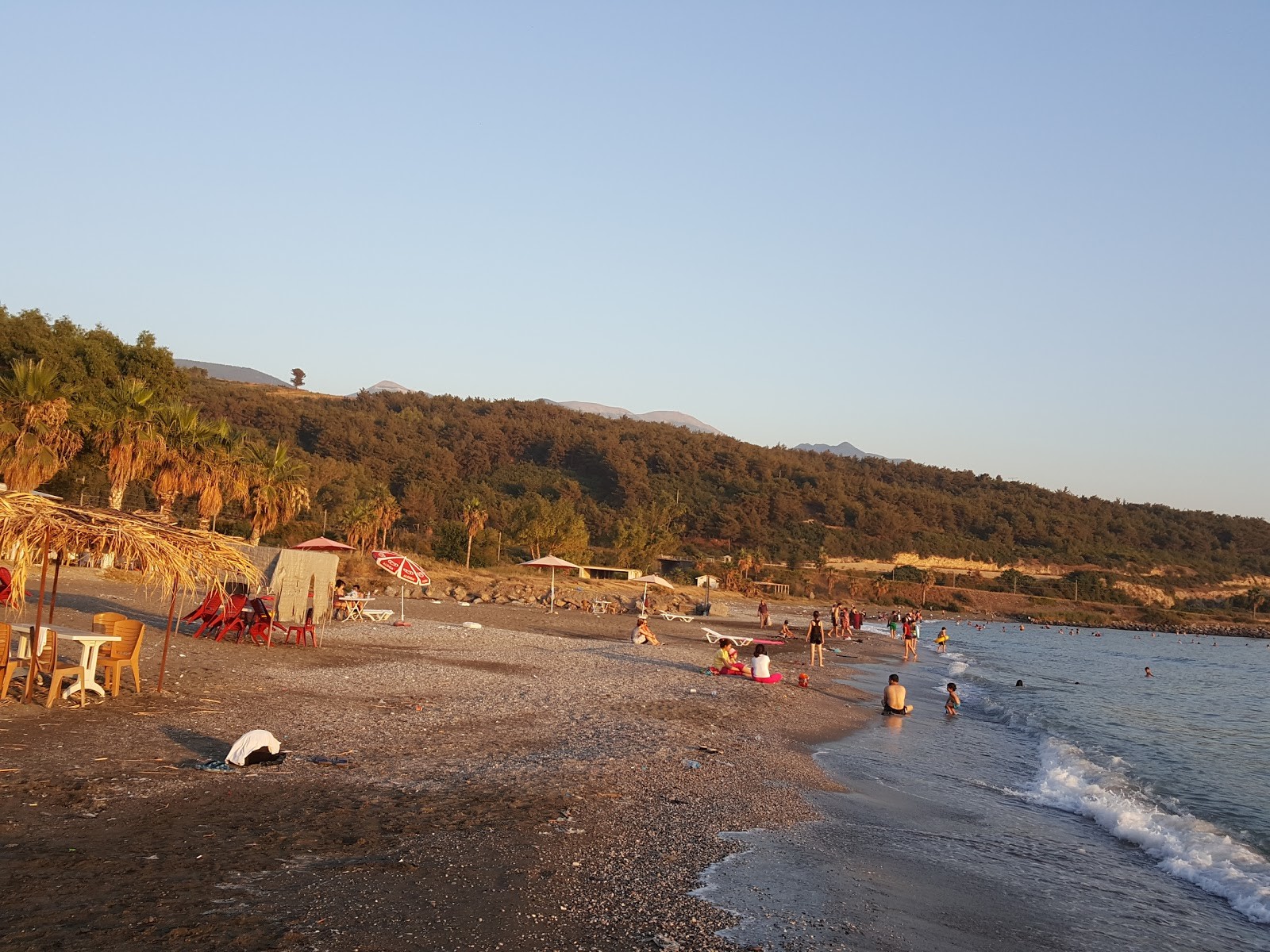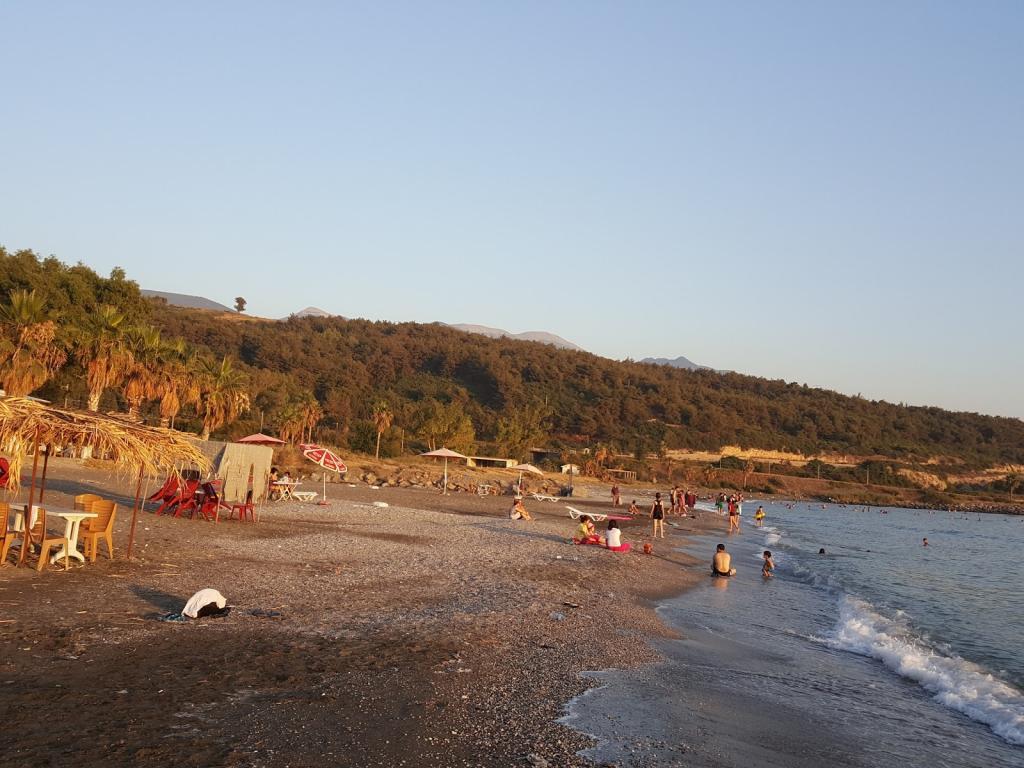 DEMRE
Kekova Beach
Under this rocky island belonging to Demre, which is called Sunken City, there are historical ruins that submerged after the earthquakes in Ancient Age. What if we say, you can swim between these remains! Of course, you cannot swim at the heart of the ruins. However, you can approach Kaleköy just across Kekova from the sea and swim.  You can see Kekova whether boat trips or adventure tours organized by Kaş (also possible to rent a canoe). If you want to go with your own boat, you can anchor the paradise gardens like Tersane Bay and Gökkaya Bay in Kekova.