Cappadocia is one of the most visited destinations in Turkey and located in the middle of Anatolia. Many natural structures emerged as a result of the movements that nature has continued for centuries. Cappadocia is not only famous for its natural beauties, but also for its historical monuments. Especially civilizations that lived in Anatolia for centuries or used this region as a transportation way left various traces in this region. Cappadocia is one of the most visited destinations both domestic and foreign tourists in Turkey. Today we will compile with you the most frequently asked questions about Cappadocia.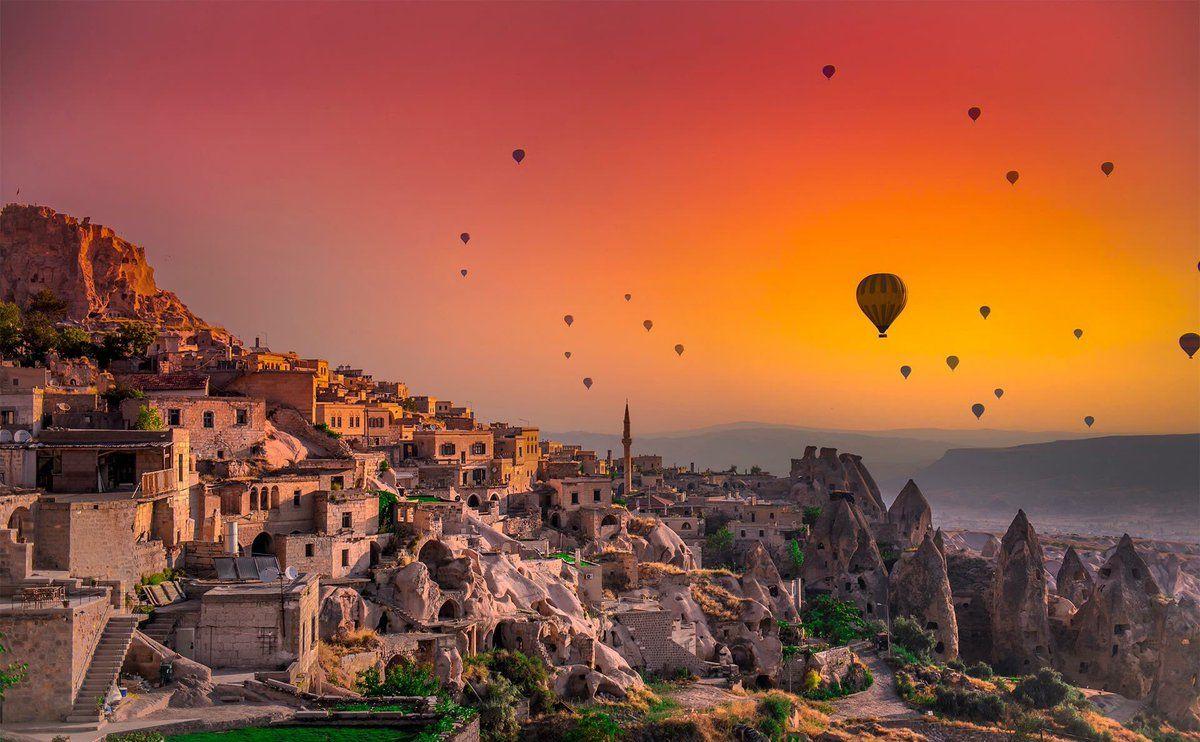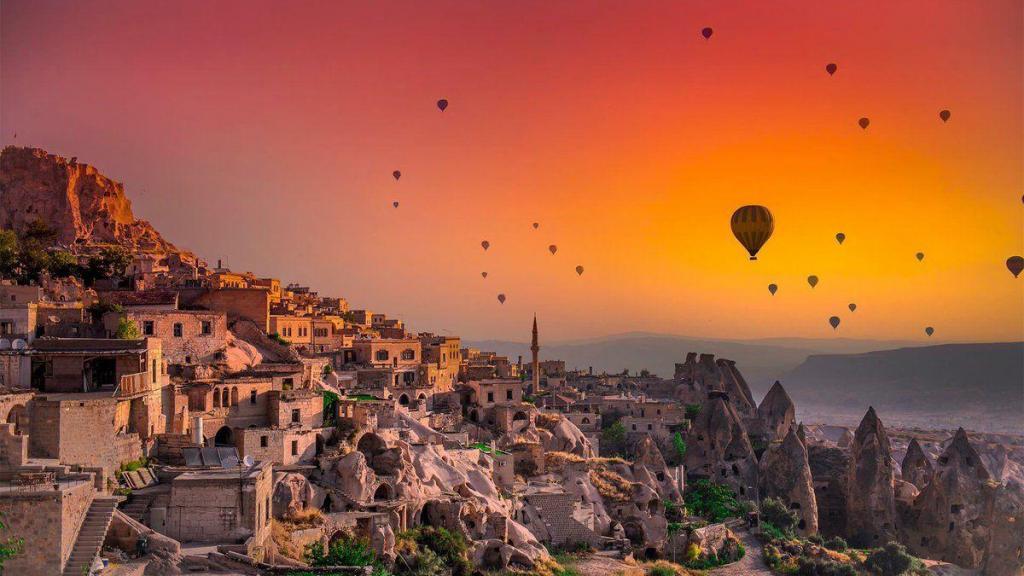 Cappadocia What To Do: The activities you can do in Cappadocia are quite diverse. Here you can go to the Love Valley and participate in hot air balloon tour activities. Visit the various valleys and enjoy romantic dinners at the restaurants in the valleys. You can also visit the museum, the natural area and the underground cities of the magnificent history. Cappadocia will offer you plenty of space to take photos. toursce.com/cappadocia-hot-air-balloon-flights/
Cappadocia What To Visit: Avanos, Ürgüp, Göreme, Üçhisar, Çavuşin and Ortahisar are the main regions to visit in Cappadocia. Most of the valleys, fairy chimneys and historical monuments are within these regions. The area can also be visited by open-air museums, underground cities and some fortresses.
Cappadocia What To Wear: Cappadocia is located in the Central Anatolia region of Turkey. The region has a hot and dry climate in summers. In winter, the region is very cold and rainy. You should choose your clothing according to the season.
Cappadocia What To Buy: When you go to Cappadocia, you can buy small souvenirs, notebooks, fridge ornaments and magnets that symbolize fairy chimneys.
Cappadocia What Language: In Cappadocia, people speak the Turkish language.
What Is Cappadıcia Famous For: Cappadocia is mostly famous for its fairy chimneys and its historical structures. Especially the valleys that it contains are really popular. All the things natural are located in popular valleys such as Love Valley.
What Is Cappadocia Airport: If you are going to come to Cappadocia with the aeroplane, you should use Nevsehir Cappadocia Airport.
What Are The Cappadocia Fairy Chimneys Made Of: Fairy chimneys have been formed by eroding rocks by wind and water in centuries. So to summarize briefly, since the chimneys of rocks, water and wind, we can say. You can check the most famous tour for Cappadocia, toursce.com/tour/cappadocia-tour-istanbul-2-day/
What Makes Cappadocia So Special: Fairy chimneys in Cappadocia are unique structures in the world. These buildings have been included in the list of cultural heritage by UNESCO. In addition, there are many architectural structures belonging to different cultures.
What Province Is Cappadocia In: Cappadocia is located in Nevşehir, Turkey.
What Airport Serves Cappadocia: You should use Nevşehir Cappadocia Airport for reaching Cappadocia.
When To Go Cappadocia: Cappadocia is a convenient place to go any time of year. But if you want to get around easily while visiting different structures, we recommend you to visit here in spring and summer.
When Is Cappadocia Baloon Festival: Cappadocia balloon festival is a festival that can be rearranged every year and its historical changes. Contact your tour agency for information about the festival.
When Was Cappadocia Built: Cappadocia is a totally natural place that is built by nature. We can not indicate an absolute year to this question but it can be said that its building process' duration was approximately 100.000 years.
When Was Cappadocia Discovered: Cappadocia is located in an area where Anatolia meets Mesopotamia. This area has been discovered by people since ancient times and people use it for shelter or transportation.
Why Cappadocia Is Important: Cappadocia is very valuable because of the important structures it contains. The region is also protected by international organizations. The region is on the UNESCO protection list.
Why Visit Cappadocia: There are many benefits to visiting Cappadocia. You can learn a lot about an Anatolian culture by visiting the region. The structures of different nations and religions in the region can take you on a historical journey. Finally, the natural structures in the region will give you clues about the historical development of nature. Also read: toursce.com/plan-your-cappadocia-vacation/
Why Is Cappadocia A World Heritage Site: Because the structure is a witness to historical values that are important for the whole world. A large number of regions, both natural and human-made, are located in Cappadocia and it is important for the world to protect them.
Why There Are Baloon Tours in Cappadocia: Cappadocia region has a unique view. Moreover, because the number of valleys in the region is quite high, balloon flight is very easy in the region. Therefore, those who want to watch the view from a bird's eye view often prefer balloon tours. Even some special balloon tours are demanded people propose marriage. Visit here: toursce.com/tour/cappadocia-hot-air-balloon-flight/
How Cappadocia Was Discovered: Anatolia has been a region where different tribes have encountered during migration from region to region. It is estimated that this region was discovered in that way and started to be used by people.
How To Go Cappadocia: Turkey's Cappadocia is located in Nevsehir province. If you are going to Cappadocia from abroad, you can come to Istanbul first. Then you need to go to Nevsehir Cappadocia Airport by road or airline from Istanbul.
How Many Days To Spend in Cappadocia: We recommend you to spend 5 days here in order to visit all the regions in Cappadocia in detail and to have a pleasant holiday. In fact, it is possible to visit the region in a day with a busy tour program. However, staying in authentic motels of the region, devoting hours to different structures, will make the region more enjoyable for you. So if you want to experience a different holiday, to spend five days in Cappadocia will be a pleasure.
Cappadocia How Far From Istanbul: The distance between Istanbul and Cappadocia is approximately 700 km. If you want to reach the road between the regions, the road will take approximately 7 hours. In addition to that, there is also Nevşehir Cappadocia Airport in Nevşehir. If you wish, you can also provide transportation by air. In this case, you will arrive in one hour.
Cappadocia Where To Stay: There are many motels in Cappadocia where you can stay. In general, the accommodation here has an authentic ambience. If you plan to stay here for a long time, we advise you to make an appointment in advance via the internet.
Cappadocia Where To Go: The number of buildings that can be visited in the region is quite high. To name a few important areas, Goreme Open Air Museum, Love Valley, Stone Bridge, Wooden Bridge, Hair Museum, Devrent Valley, Zelve Open Air Museum, Sakli Konak, Uchisar Castle, Seki Restaurant are some of the examples.
Cappadocia Where To Eat: We searched the most popular restaurants in Cappadocia in terms of both the ambience and the taste of the food. Their names are Lil'a Restaurant, Seki Restaurant, Cappadocian Cuisine Restaurant, Topdeck Cave Restaurant, Pumpkin Göreme Restaurant, Artemis Cave Restaurant.
Where Is Cappadocia in Turkey in the Map: Cappadocia is located approximately in the middle of Turkey, in Nevşehir.
Where Is Cappadocia Hot Air Baloon: Most of the balloon tours in Cappadocia are held in Devrent Valley and Love Valley. You can make an appointment with the balloon tour agencies by going to these areas.
Where Is Near Cappadocia: If you have come to Cappadocia and you want to visit the different regions nearby, we can offer you some suggestions. Turkey's capital Ankara is located in an area close to Cappadocia. This city, Ankara, is in a few hours away. if you wish you can also visit Turkey's capital Ankara and see the extraordinary museums in there.
Cappadocia Which Country: Cappadocia is located in Turkey.