Oludeniz is one of the most special tourism centers in our country. It is located in Fethiye district of Muğla. This unique holiday spot, like a painting, is an attraction center for both domestic and foreign tourists. The white coast slowly turns turquoise, then blue tones towards the sea. As we understand from its name, Ölüdeniz (it means Dead Sea), even a seaweed does not grow on the seaside of the region. Of course, this destination is not famous just for its beaches and fine sand. Ölüdeniz, which has hosted different civilizations from the Lycian Civilization to the Roman Empire in the past, is seen as a historical heritage in places to visit in Ölüdeniz.
If you need information about Fethiye, you can visit our page: https://toursce.com/destinations/fethiye/
List of Places to Visit in Ölüdeniz
In 2006, Ölüdeniz had its name written in gold letters as the best coast in the world. There are many lively beaches and bays that you will enjoy in Oludeniz. It is an indispensable route for sea holiday. It catches the attention with its geographical and natural beauty. If you are ready to learn about the history of Oludeniz, let's take look at the most important and popular places of the region.
Lagoon and Beaches in Ölüdeniz
Oludeniz has a fascinating geographical area with lush trees on one side and a blue sea on the other. Oludeniz beach refreshes in the hot summer days. Whether you can do water sports like diving, or you can sunbathe and just cool off in the sea. You need to remind that the sea level is getting deeper and deeper in this beach.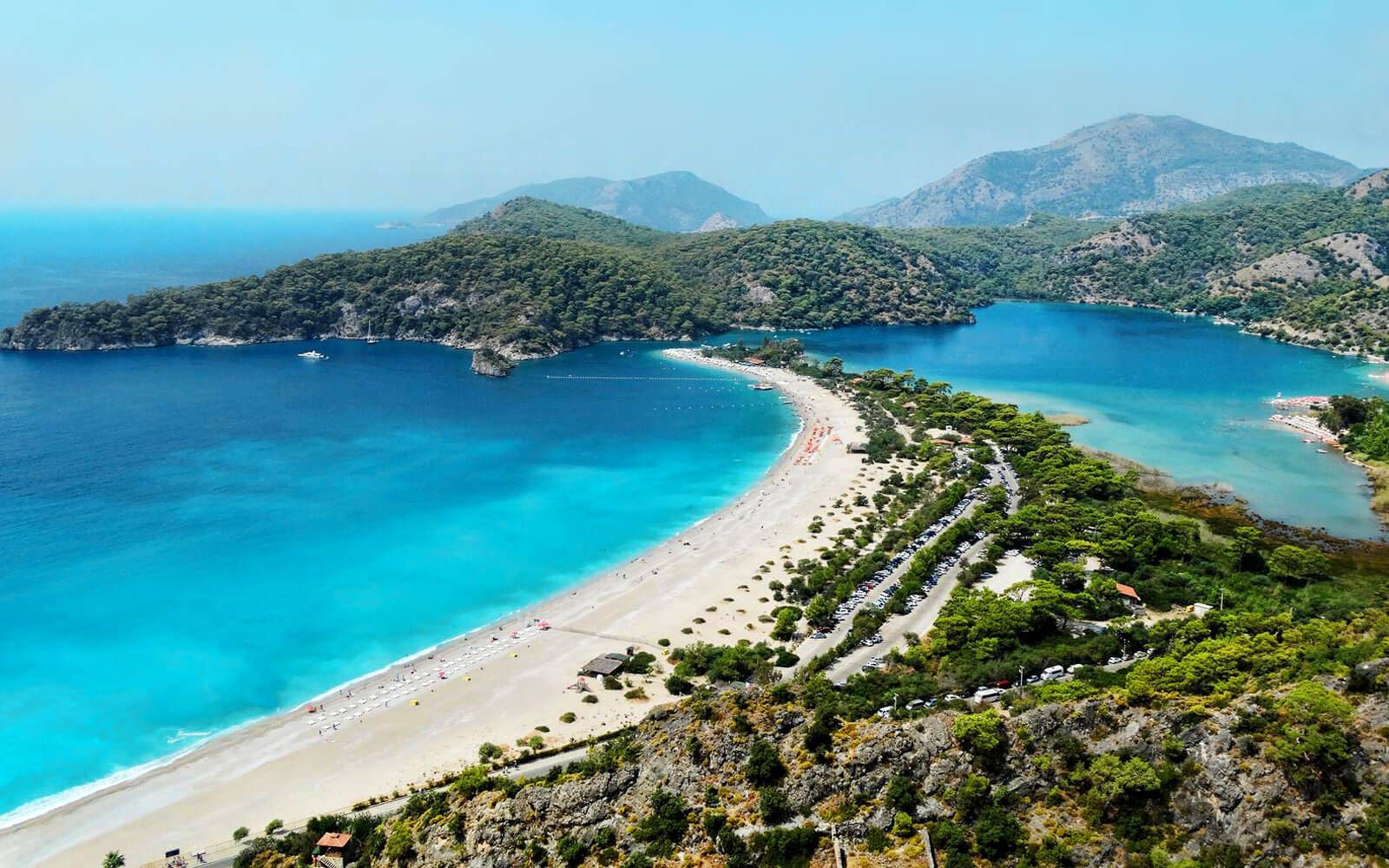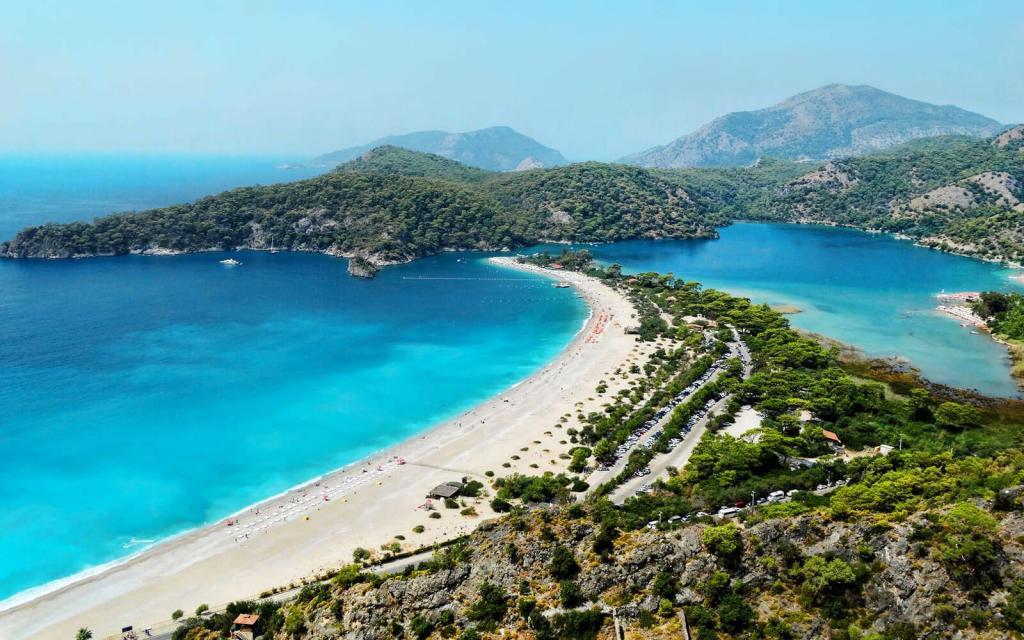 Belcekız Beach
It is a good place both the airstrip of the adrenalin seekers who are paragliding and the cooling off those who do not give up the sea-sand-sun triple. Belceğiz Beach affects the visitors as a point where the turquoise sea meets the long beach.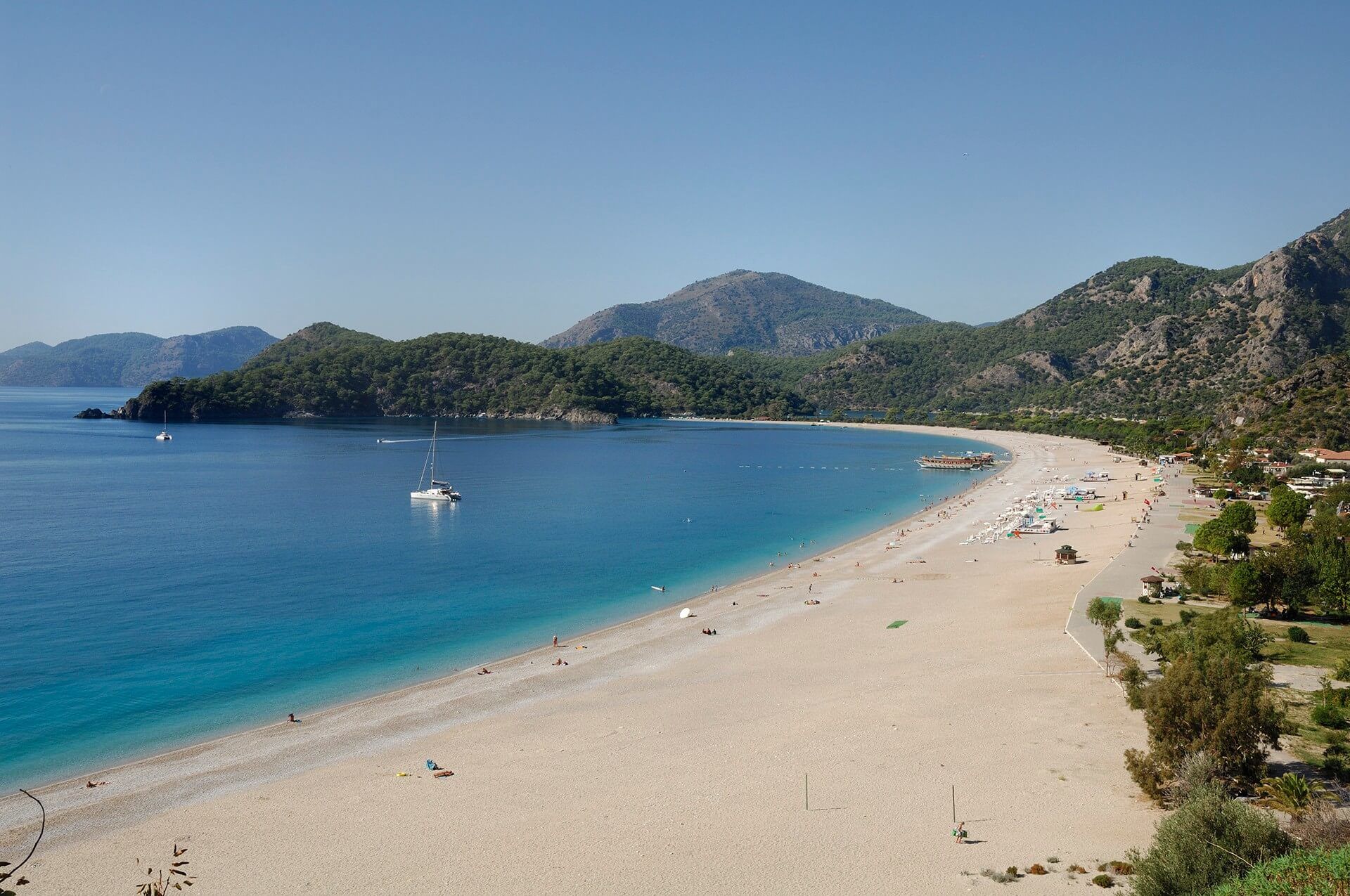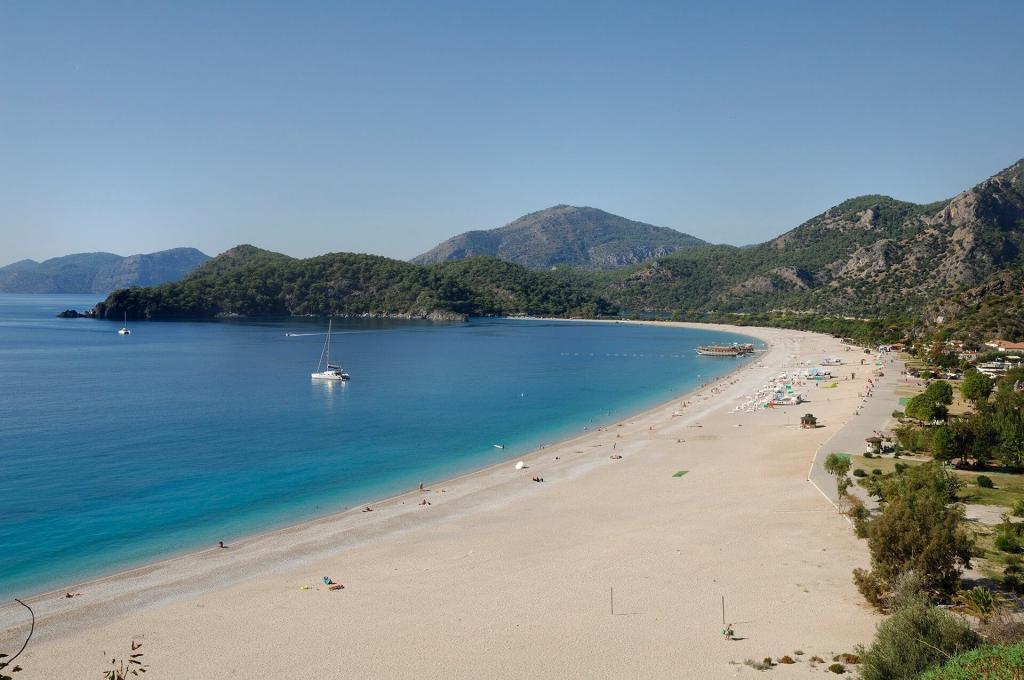 Kumburnu Beach
Kumburnu Beach comes out as a common point of blue and green tones. It is a beach where you can sunbathe in the view of mountains of Ölüdeniz. With its long, white beaches, it presents an ideal alternative for the accommodation options in surrounding of Ölüdeniz.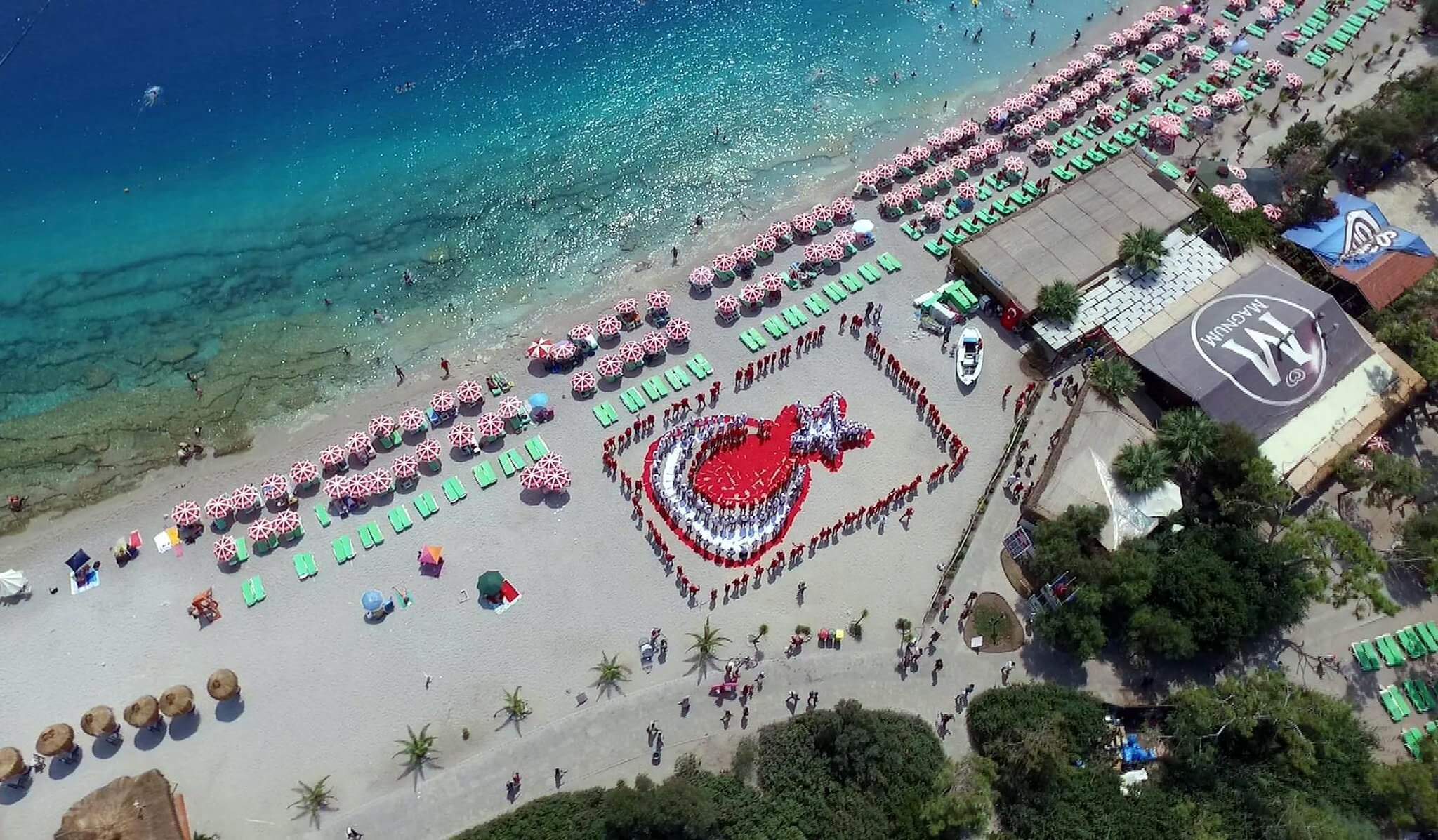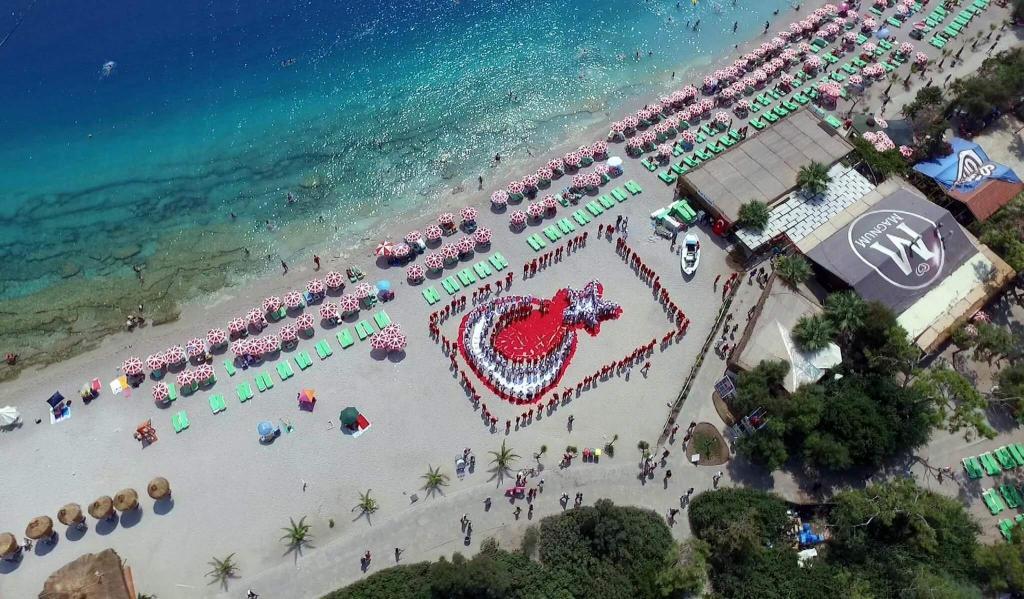 Kıdrak Bay
Kıdrak Bay is approximately 3 km away from Ölüdeniz. It stands out among the pine trees with its picturesque view of the sea and the beach. Especially, domestic and foreign tourists prefer as a picnic area. In Kıdrak Bay, there are many possibilities from barbecue areas to picnic tables.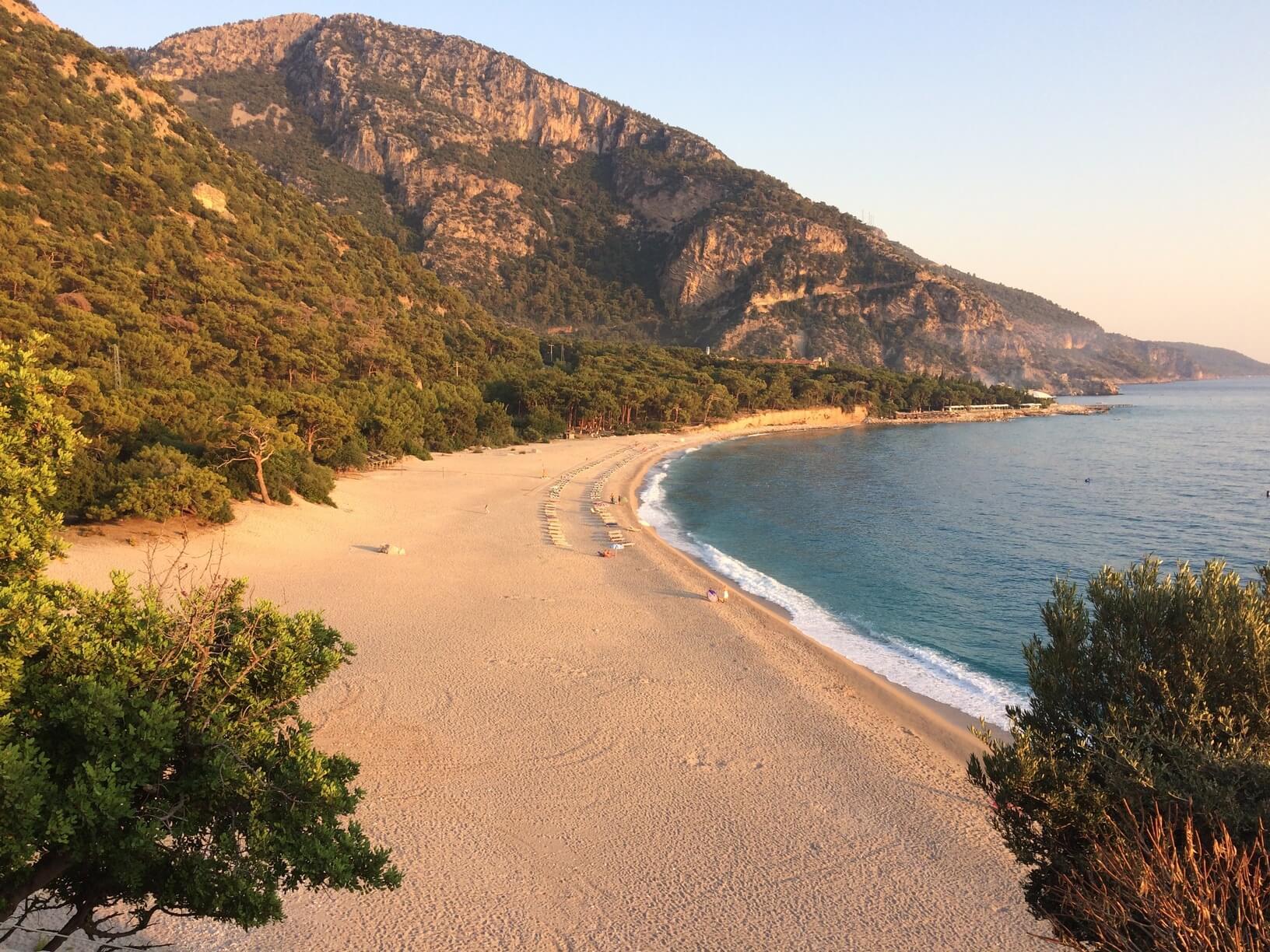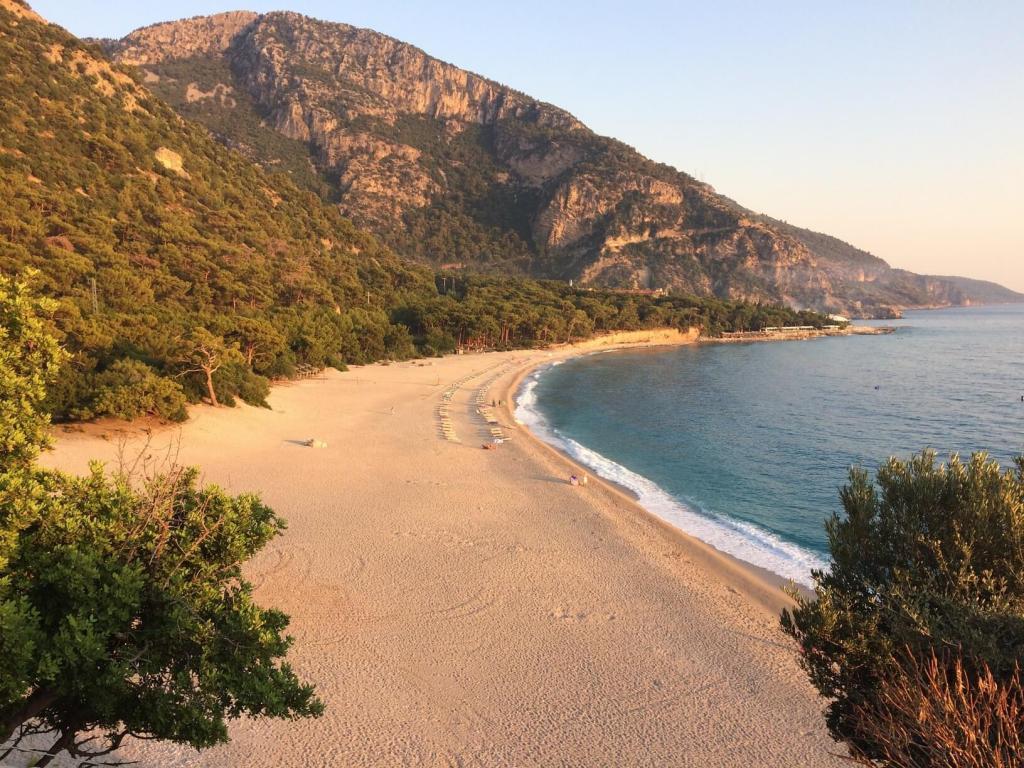 Ölüdeniz National Park
Ölüdeniz National Park is also known as Oludeniz Natural Park. The national park hosts to visitors since 1978. It brings trees and sea together with Kıdrak Forest Park. You can swim in very clean water and listen to the sound of nature in the shade of trees. You should definitely add this natural park to your list of places to visit in Oludeniz!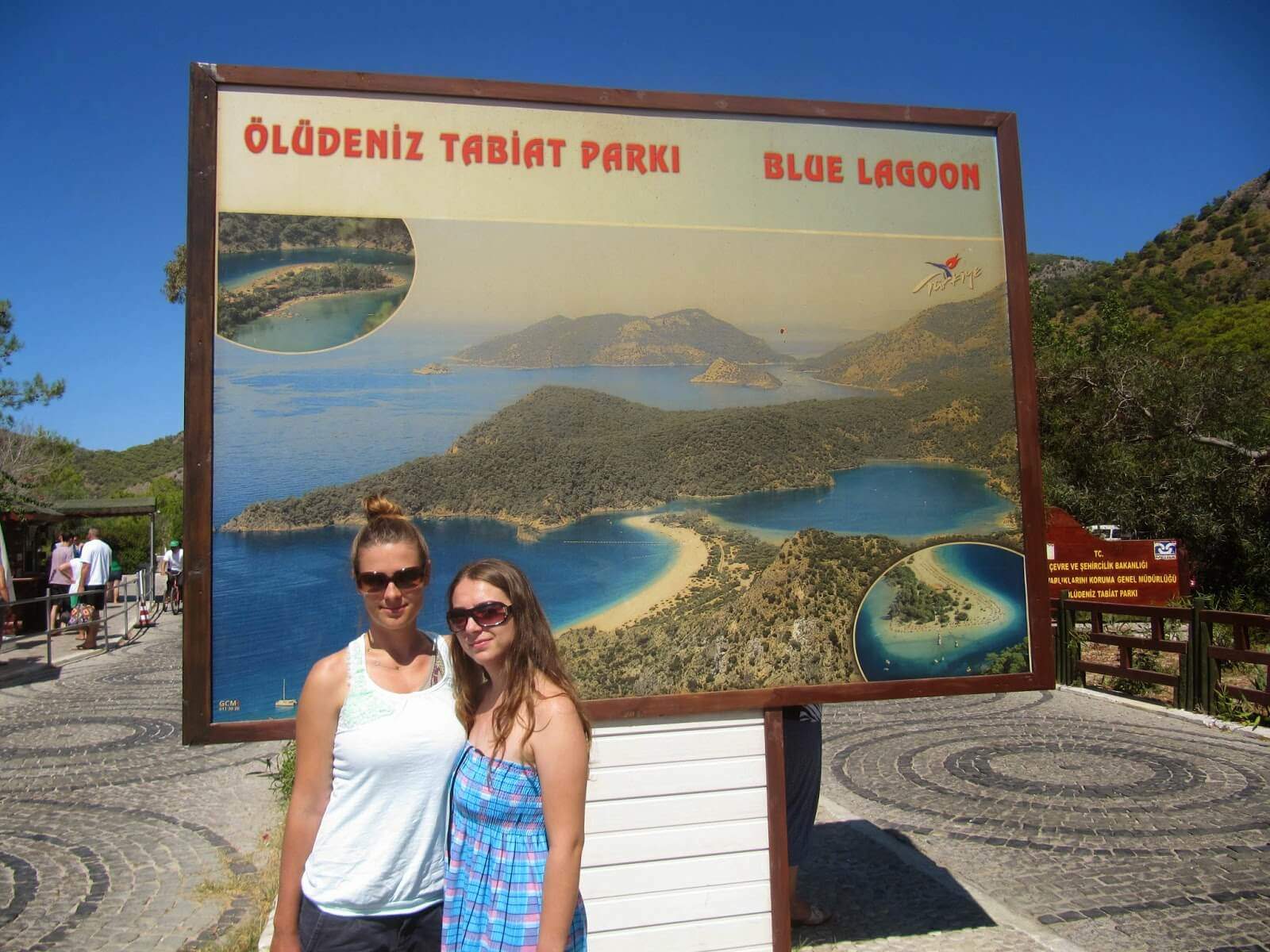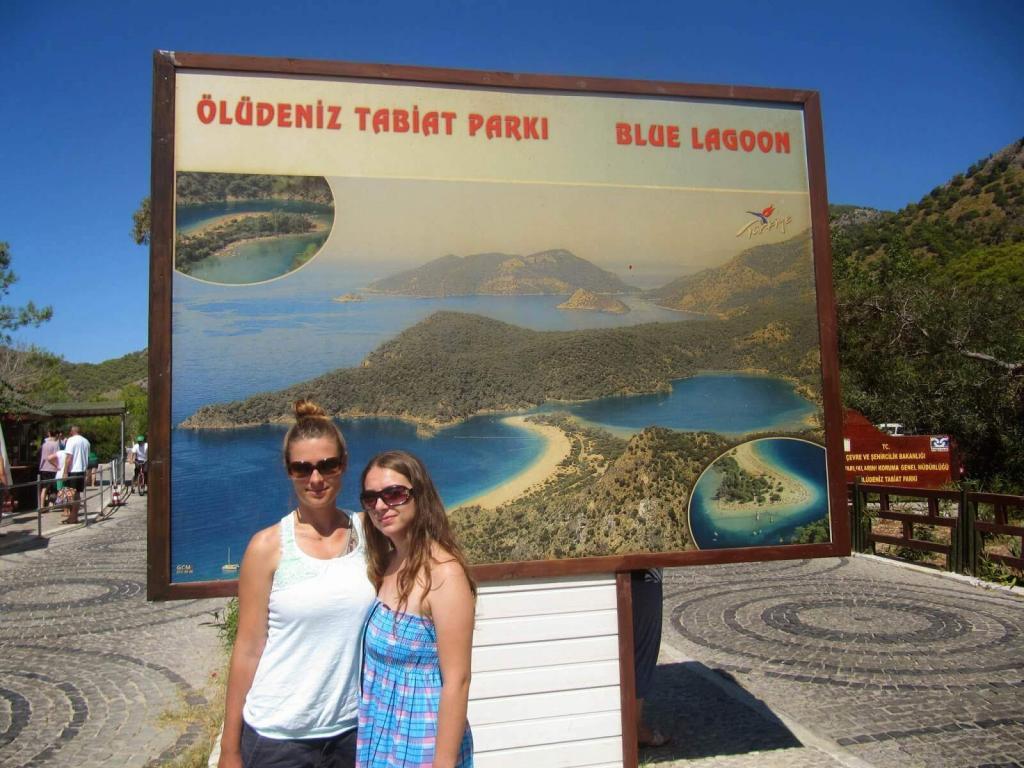 Babadağ Mountain
It can also be called sport and activity point of Oludeniz. Babadağ Mountain is preoccupied with many activities, from paragliding to ATV tours, from camps to nature walks. At the same time, the magnificent view of Ölüdeniz is literally never-forgotten place from Babadağ hill.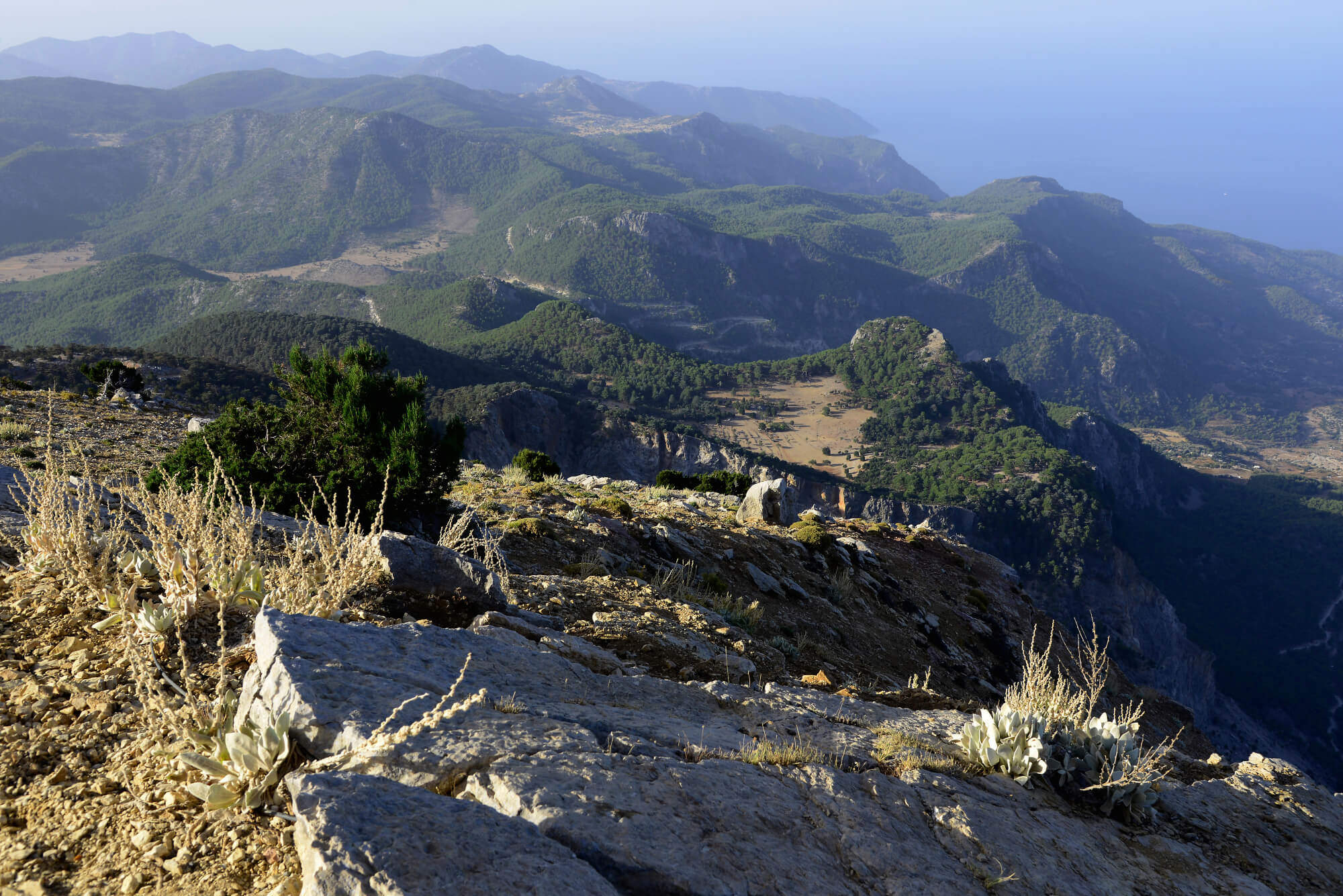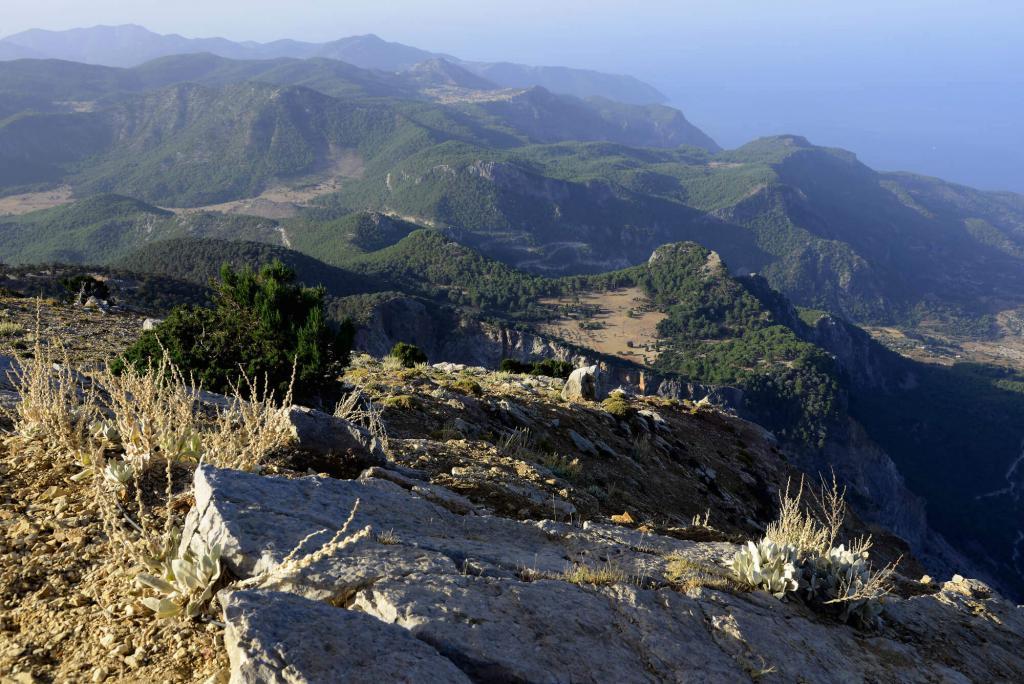 Butterfly Valley
The name of Butterfly Valley comes from the butterflies emerging in the region during the summer months. It hosts a fascinating beach where the cliffs meet the sea. The colorful butterflies on the rocks cause an unforgettable view. Daily trips are available to Butterfly Valley from Oludeniz and Fethiye.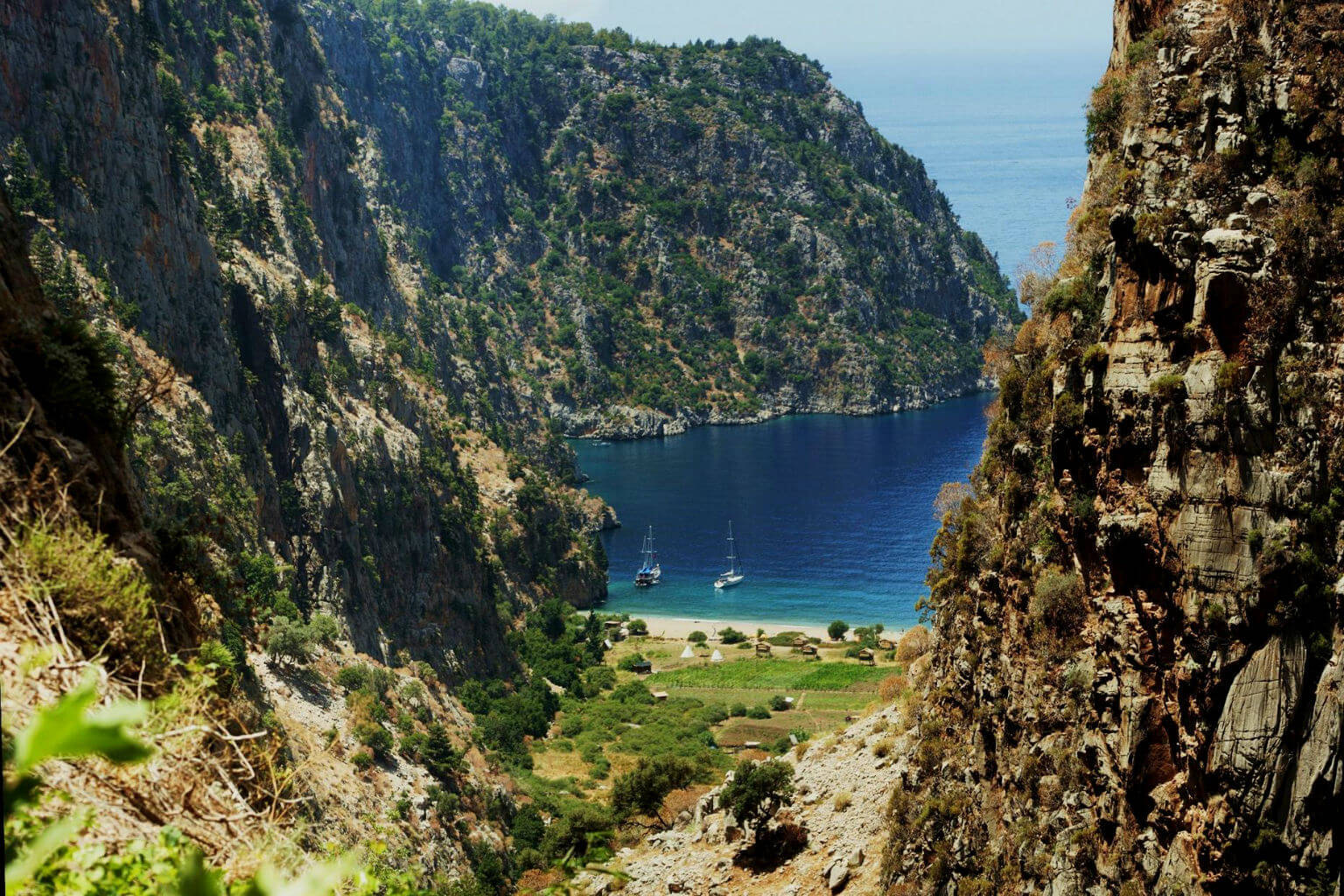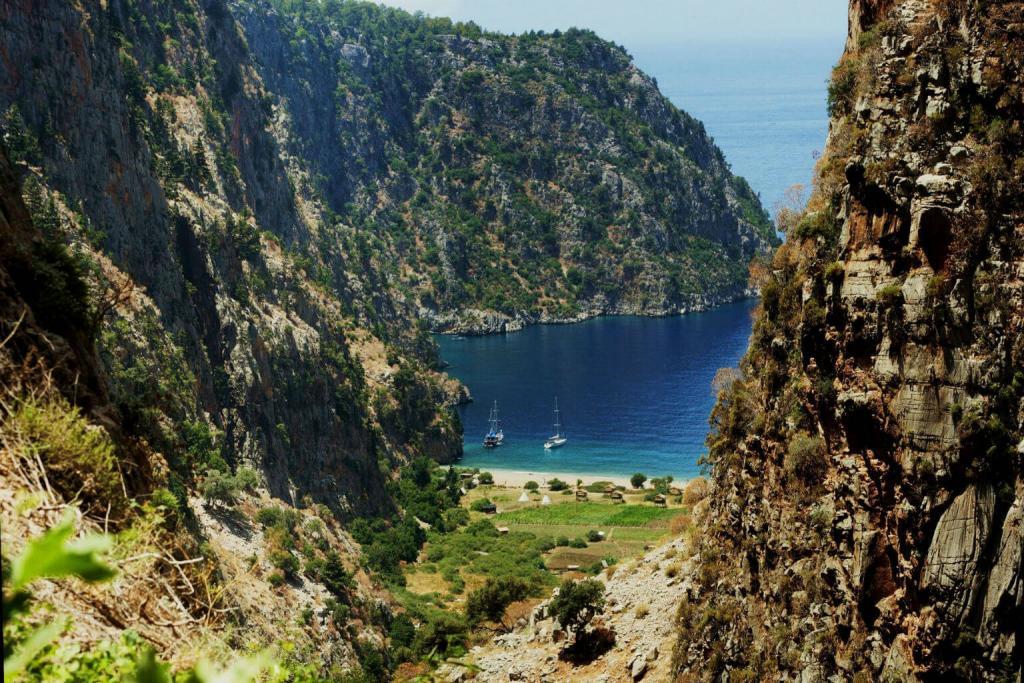 Hisarönü Town
Hisarönü Town constitutes the majority of the summer population especially for British tourists. In the daytime you can swim in the blue sea and sunbath. It stands out because it is a seaside town where you can appreciate the nightlife beautifully in the evenings. You can reach from Ölüdeniz by the highway. Do not forget to add Hisarönü Town to your places to visit in Ölüdeniz.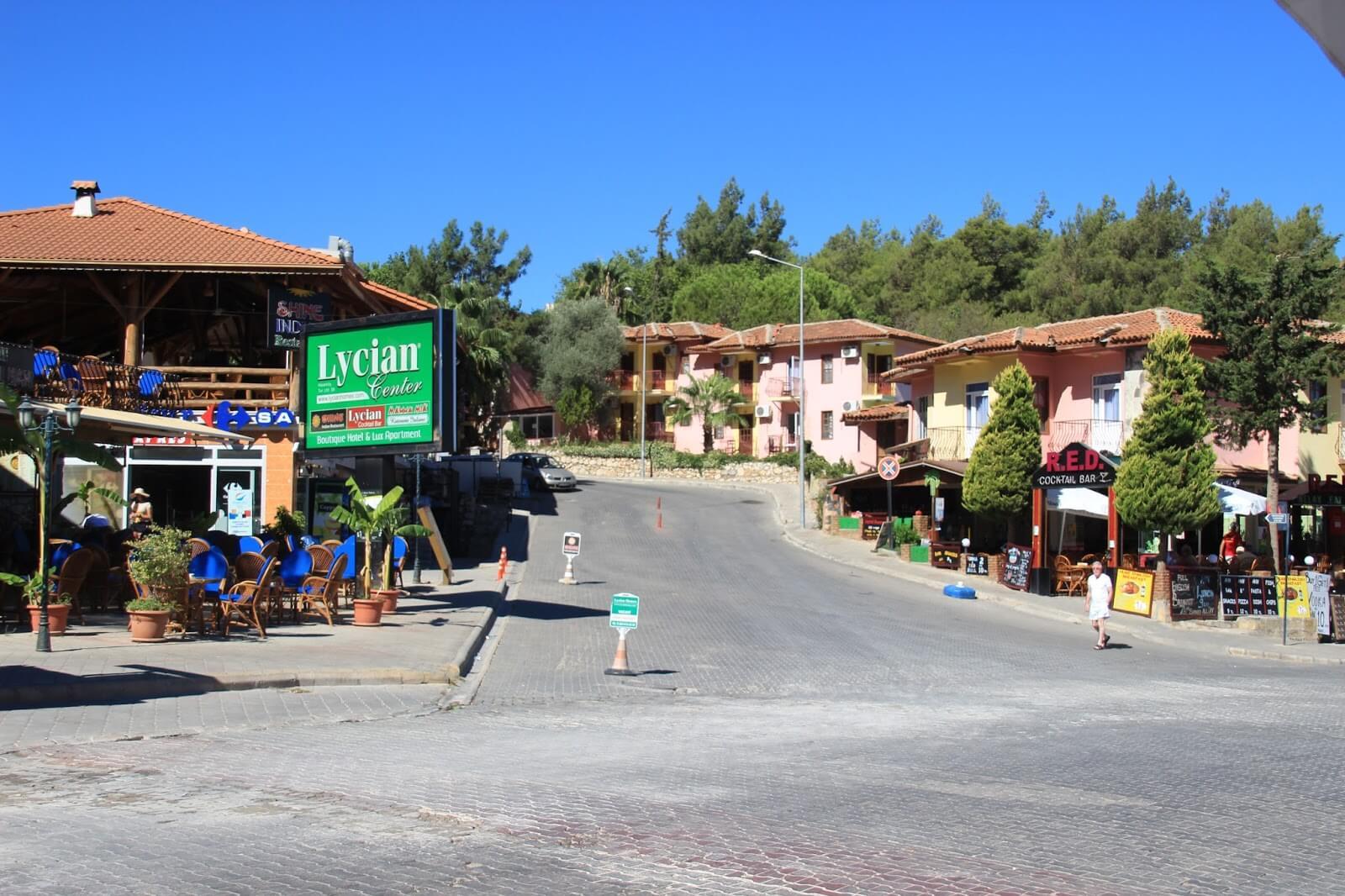 Patara Beach
Patara Beach located near Ancient Cite of Patara. It is known that it is a beach area which is frequently preferred in its surroundings. After cooling off at Patara Beach, which is a common meeting point for both domestic and foreign tourists, you can visit the Ancient Cite of Patara, which will take you on a short journey in history.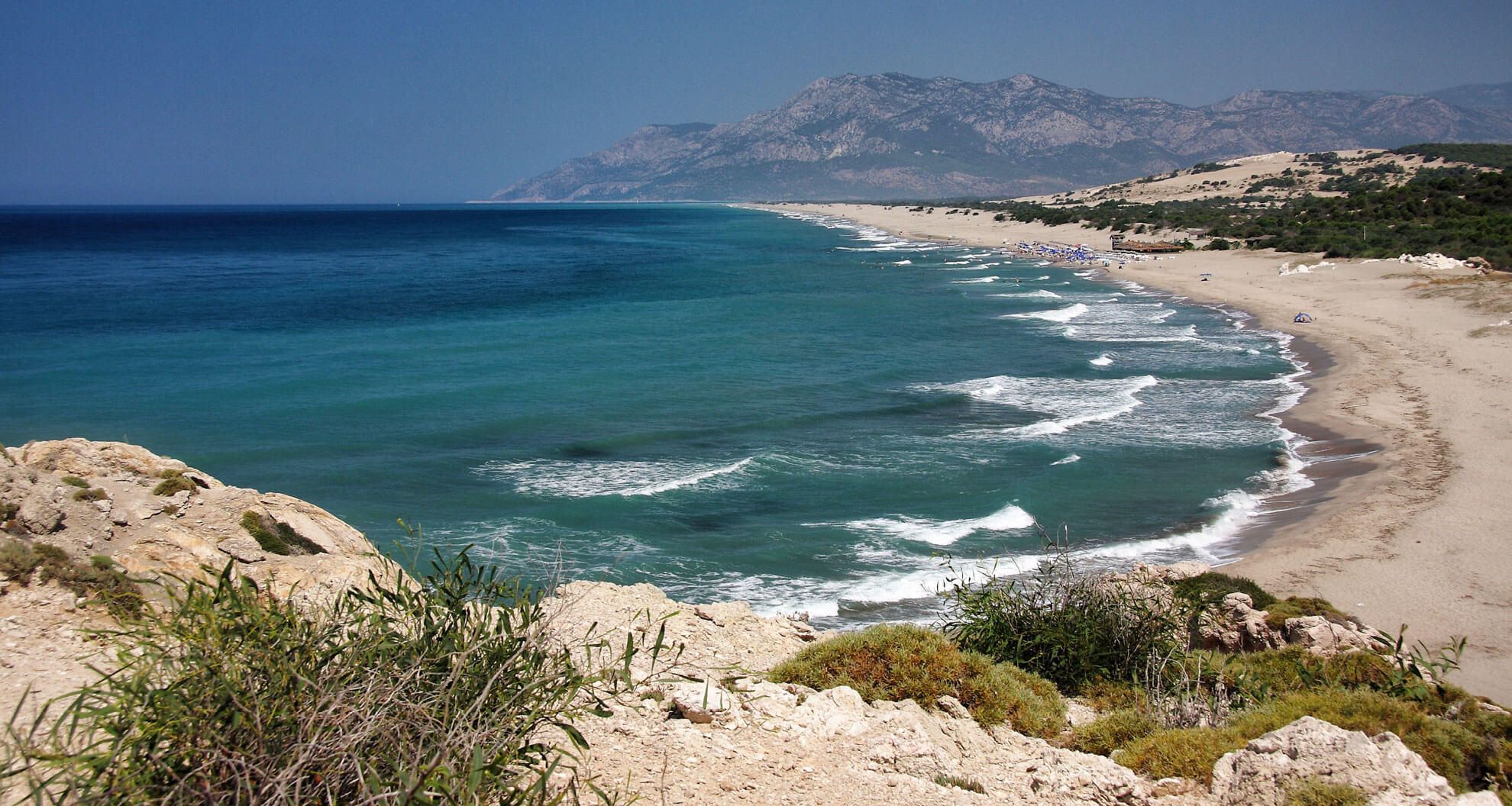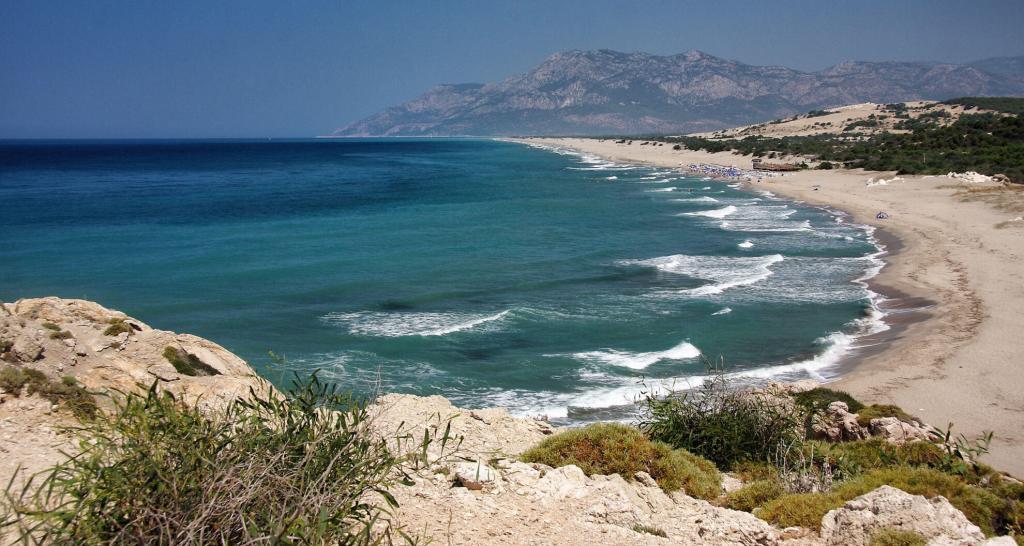 Water World Aqua Park
Water World Aqua Park has many alternatives for entertainment, from large slides to wave pools, from rivers to children's clubs, from markets to restaurants. It addresses both children and adults. Enjoy the aqua park fun with your family or group of friends for unlimited fun. You should absolutely try in Oludeniz!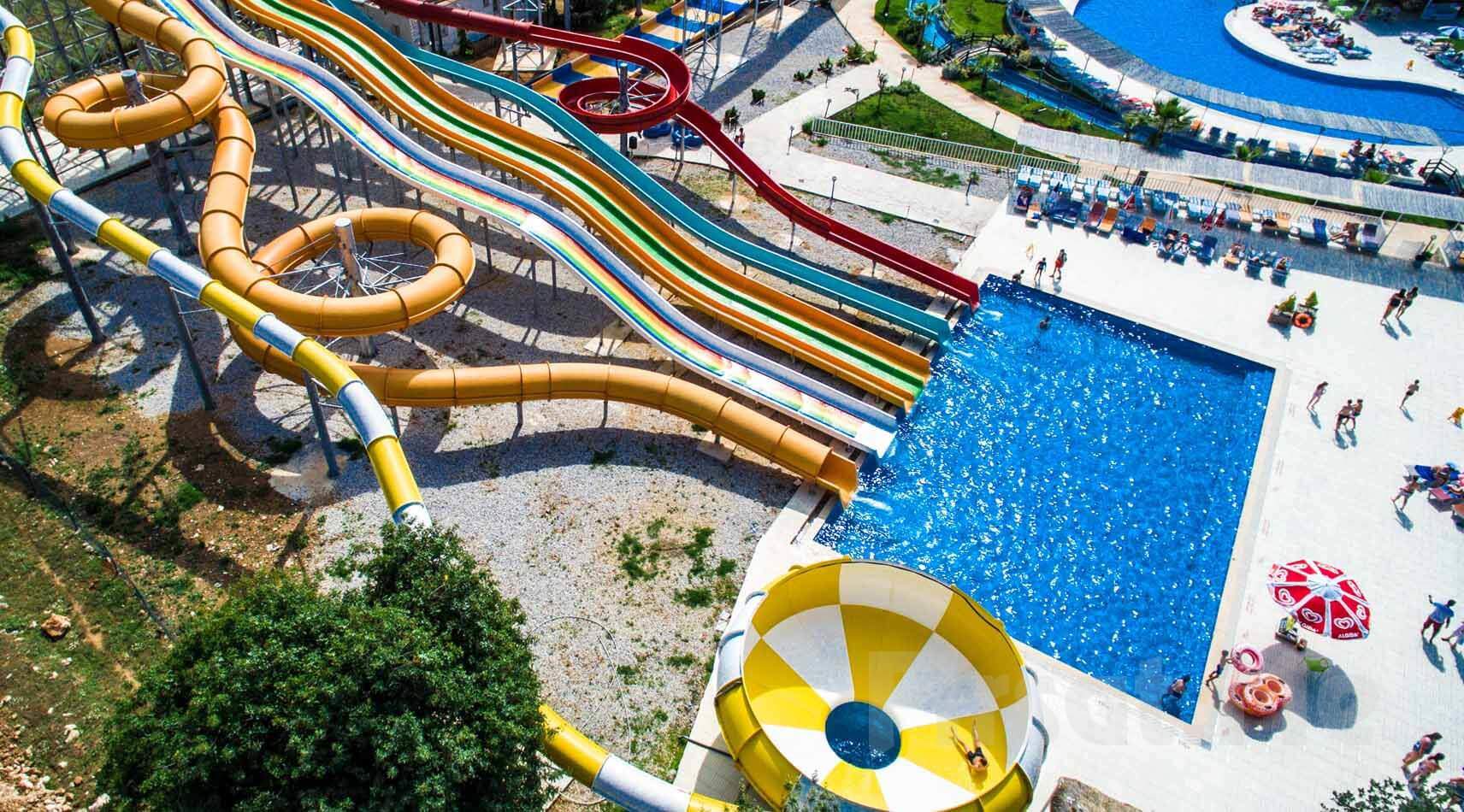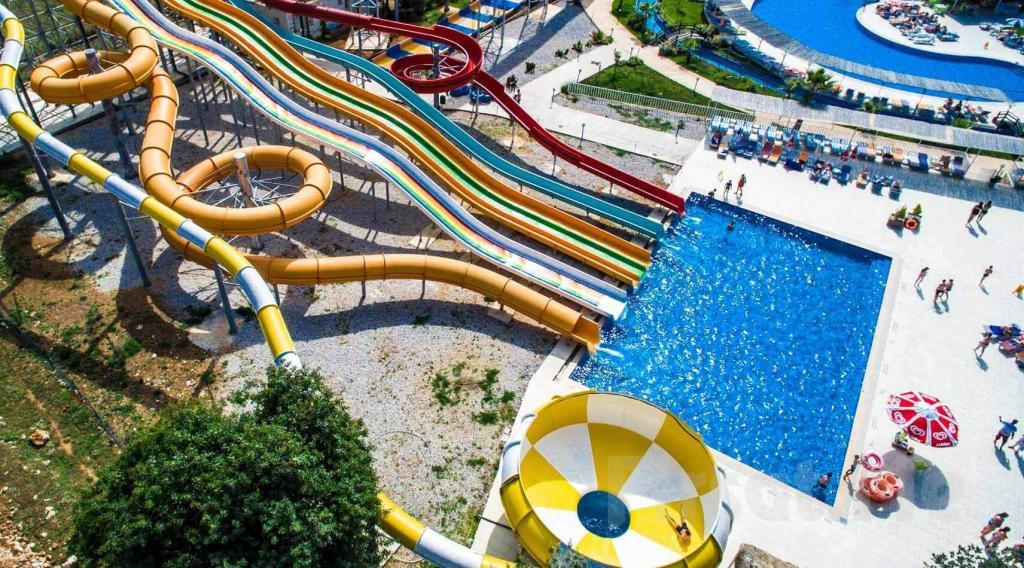 Saklıkent Canyon
Saklıkent Canyon is only one of the brilliant results created by strange natural events. The canyon is 18 km long that it took its geographical shape as a result of collapsing. It draws attention with clear water of about 6-7 degrees. At the same time, the terraces on the canyon are an ideal alternative for eating with the calming sound of the water in this beautiful view. (You can reach Saklıkent Canyon by participating in daily jeep safari tours from Ölüdeniz and Fethiye.)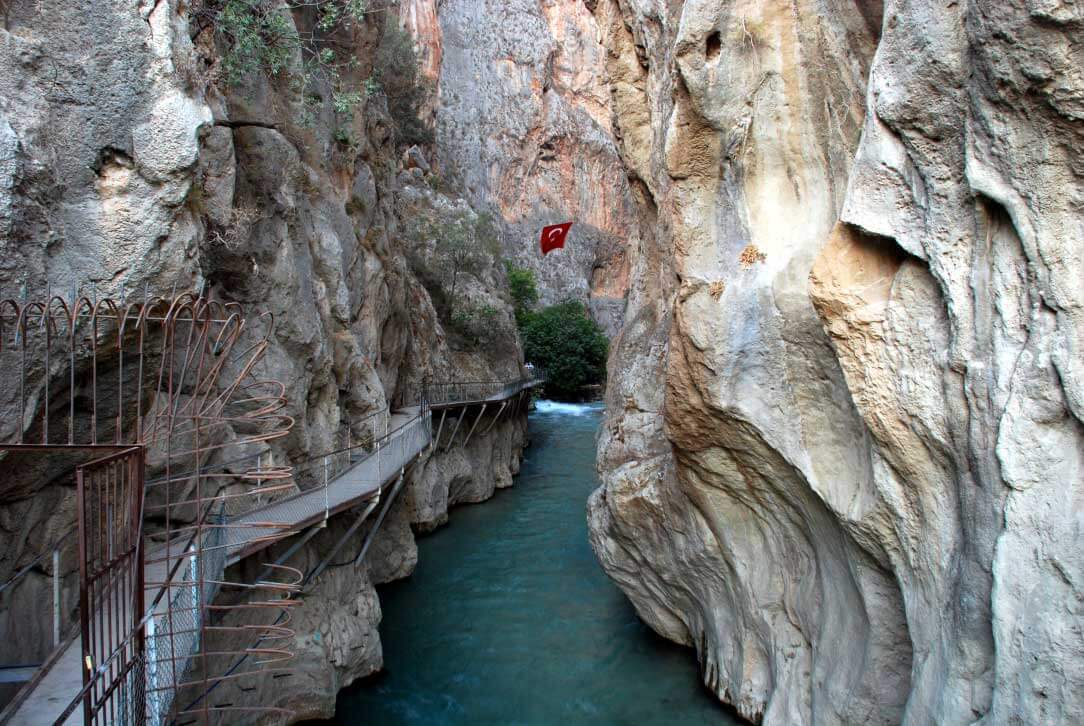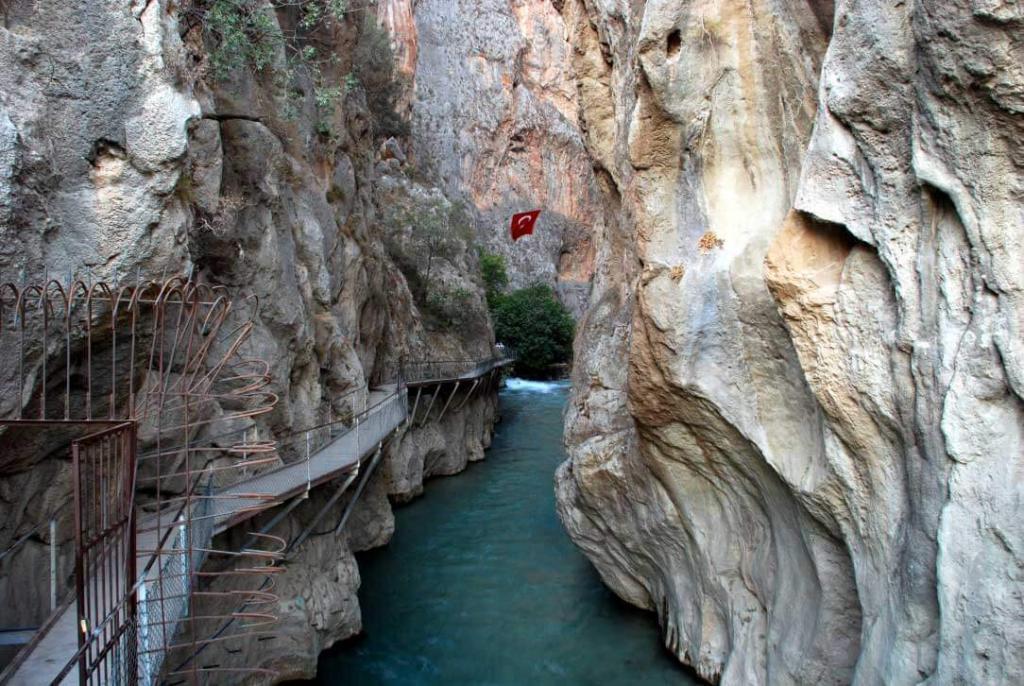 Likya Yolu
Lycian Way is a place where you can meet many domestic and foreign tourists. It is an ancient way you can hike in nature to the view of Oludeniz. Along the way, you meet nature sounds like animal sounds, springs, and water flowing along the length of the lake. If you are a traveler who loves to wear a backpack, you should know that the Lycian Way literally should be the first address for adventure lovers.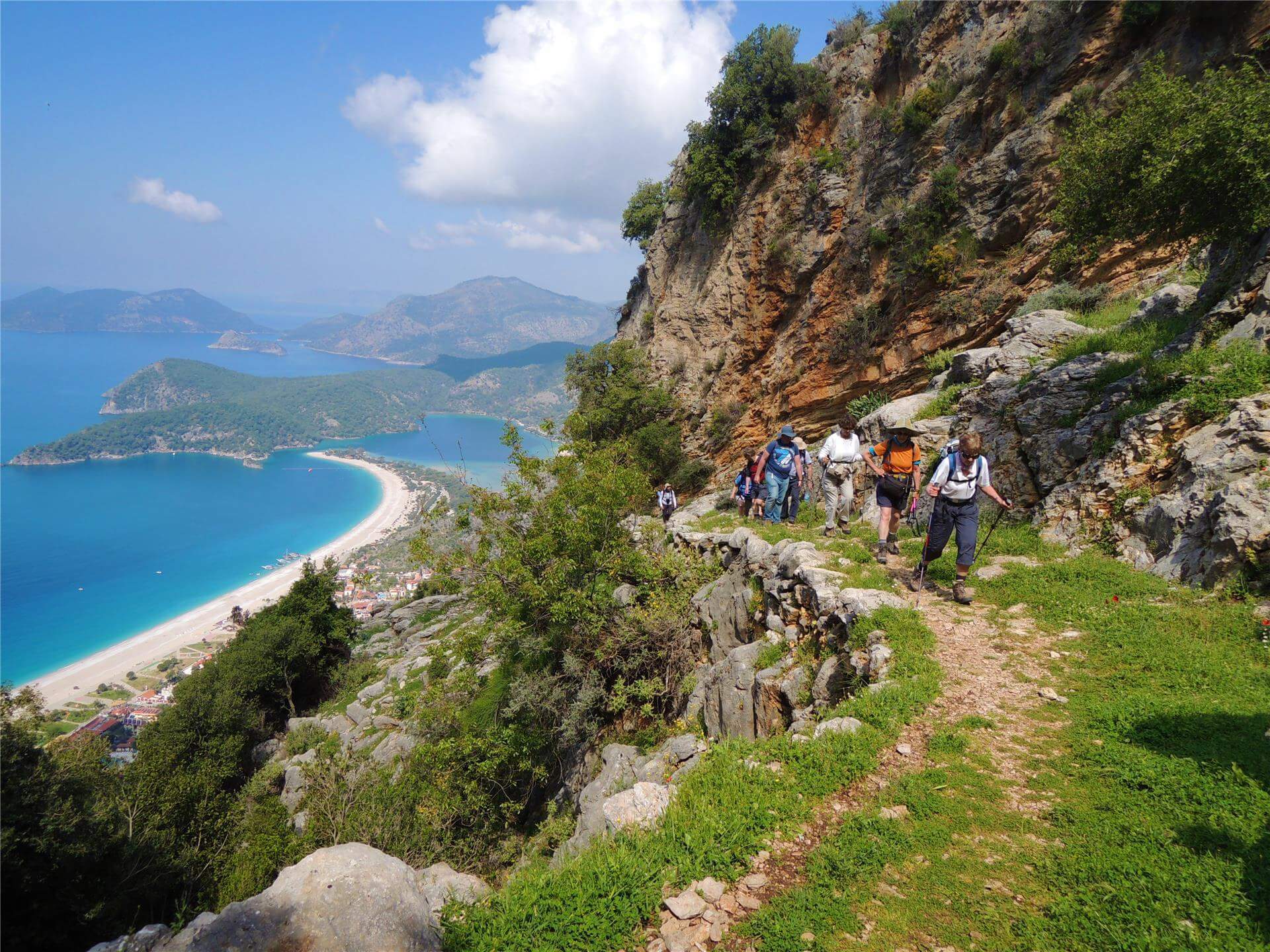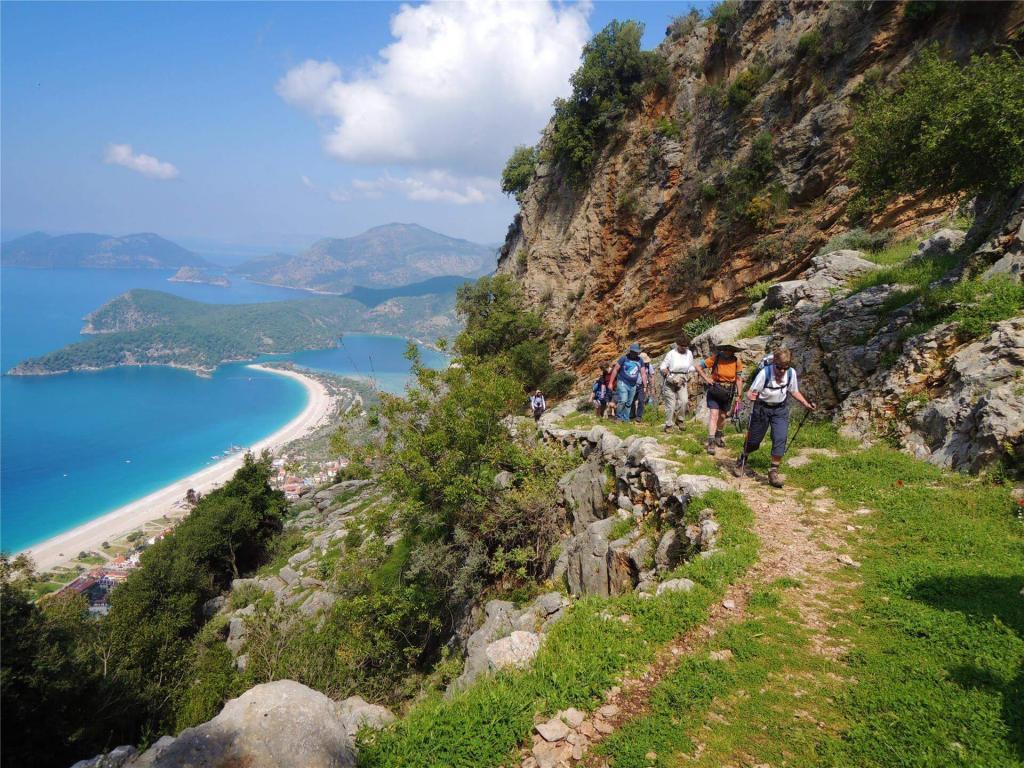 Gemiler Island
It is also called Aya Nikola. Gemiler Island is a wonder of nature with nature sports like trekking, marvelous beaches, and sea, as well as historical traces from the Byzantine Empire. This place hosts many tourists especially with the church ruins from the Byzantines, the tunnels, and frescoes that connect these ruins.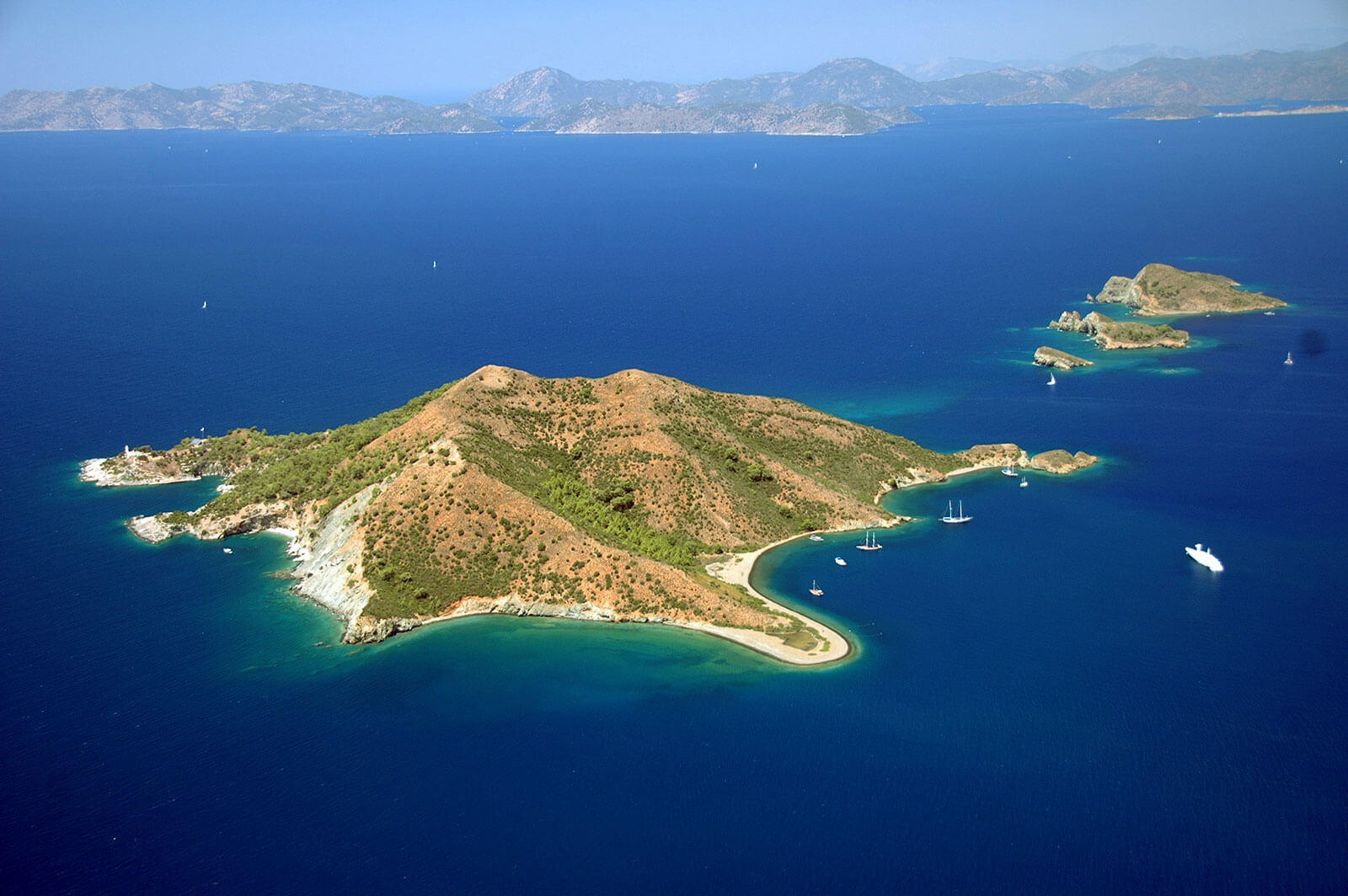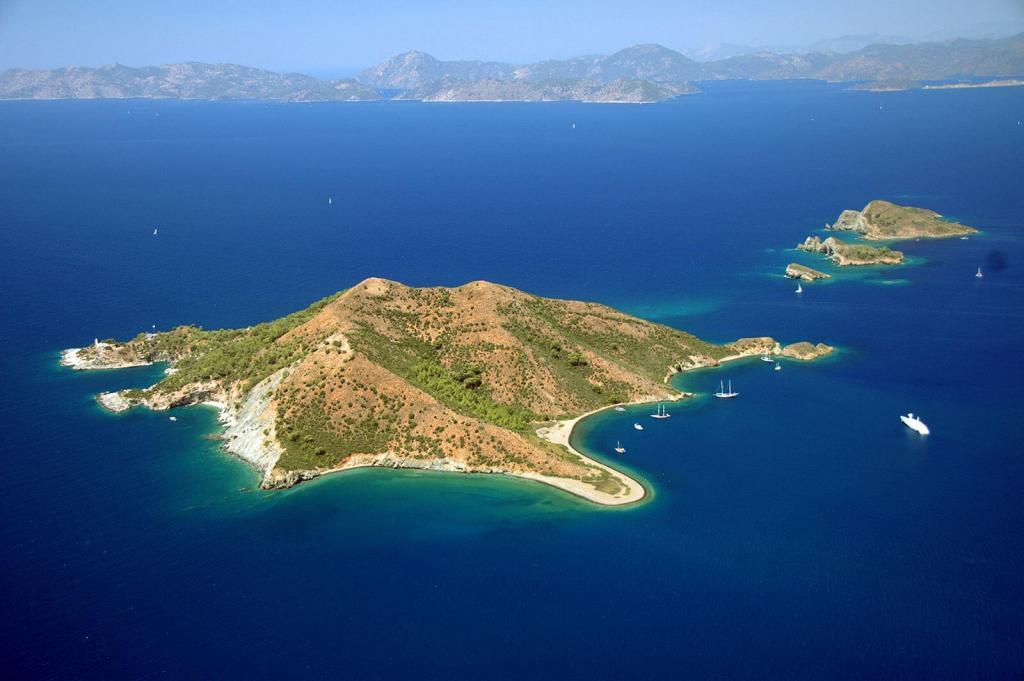 Ancient Cite of Patara
Patara is a seaside town in the history of the Lycans. Today, it locates in Ölüdeniz with the ancient city extending to this day from this civilization. To visit the Ancient Cite of Patara with its history based on the 8th century BC will fulfill like a puzzle the list of places to visit in Ölüdeniz.