Cappadocia Hot Air Balloon Guide
Cappadocia is one of the most special areas to be seen in the World. The region is located in Turkey's Nevsehir province. Historical and natural values of the region are very popular.
Millions of people come to Turkey for the Cappadocia experience and to see fascinating Cappadocia fairy chimneys. While they're in Cappadocia, they never want to miss Hot Air Balloon Tour in Cappadocia at the moment of sunrise, which they will not forget in their lives.
I will tell you all my experiences about the balloon ride and the details of the Cappadocia balloon ride one by one in this article.
Let me give you some information about Cappadocia Balloon Tours. Read below.
What is Balloon Tour in Cappadocia?
Hot Air Balloon Ride in Cappadocia is one of the best activities to do while in Cappadocia. Hot air balloon flights are a unique experience that adapts to the authentic atmosphere of the Cappadocia Region. Many tourists prefer balloon tours in order to watch the vast landscape of the region and have an enjoyable time.
Have you looked down or into the sky without a window when you were flying so high? Many travel enthusiasts are eager to sit by the window when they travel by plane.
Their personalities, who are already free, want to see the World's beauty from the sky. Because of the restricted view on dirty windows on airplanes, we often want to go out and wipe that window from the outside.
At least I do it. But is that like this in the hot air balloon?
Of course, it's not. Because you rise in the sky with a windowless aircraft, you feel the breeze touching your face; you see thousands of fairy chimneys under your feet and an undefinable sunrise.
Where Does Hot Air Balloon Tours Exist?
Hot air Balloons exist in many places in the World. Cappadocia Turkey is one of the best places for ballooning in the World. It has great valleys and interesting rock formations like fair chimnies. Balloon tours are running in Turkey's Cappadocia region.
Many tourists who come to Turkey would like to visit Cappadocia and experience balloon rides in Cappadocia.
Usually, Balloon tours are operated in Goreme Village and Urgup Village. That's why agencies prefer these villages for accommodating their guest for this event.
In order to offer the best view in balloon tours Cappadocia, travel agencies organize this event in places with open areas like valleys.
Recently, hot air balloons are started to be organized in Ihlara Valley also. Especially during the high season, balloons are fully booked up. Due to overbooking, some agency organizes balloon tour in Ihlara Valley Cappadocia.
Nowadays, Hot Air Balloon flight is organized in Pamukkale as well. Pamukkale is one unique place famous for it is Calcium Terraces. Day by day, Pamukkale Balloon Tours is getting popular.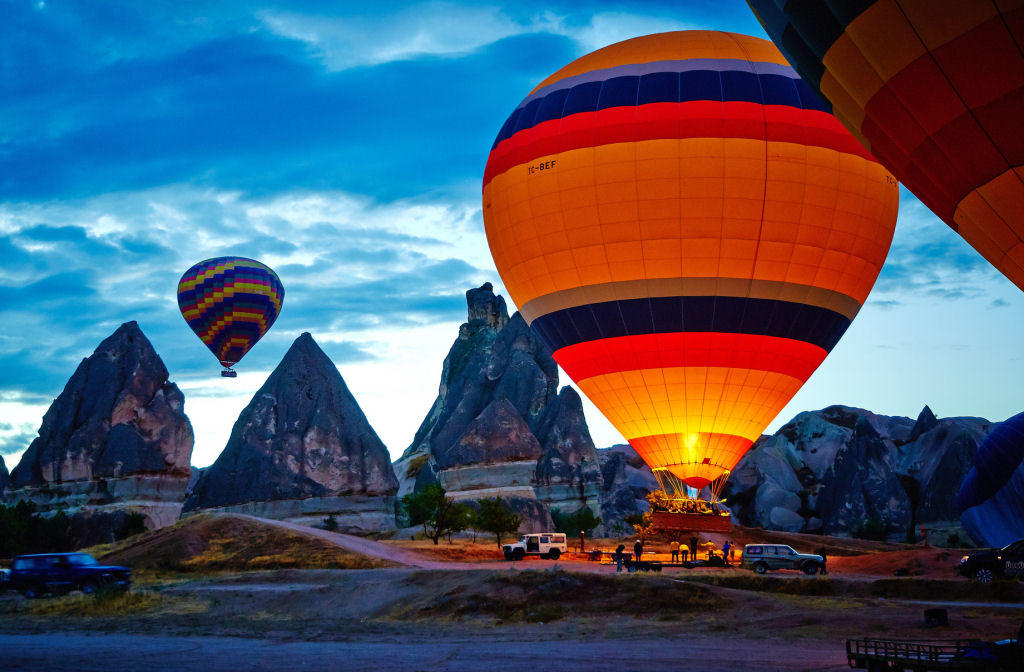 Hot Air Balloon Ride over Cappadocia
What Is The Best Time to Fly a Hot Air Balloon in Cappadocia?
Balloon tours are organized in Cappadocia as a tourist activity. Many tourists prefer this event both in winter and in the summer months. Therefore you do not have any seasons limitation.
However, to participate in the hot air balloon tour, you should call your travel company at least one day in advance and make an appointment. Otherwise, you may not find the available.
Especially in the summer period, Cappadocia is very crowded, and many tourists and local people travel to Cappadocia. Because of the high season, it isn't easy to find availability on the balloon flights in Cappadocia.
Balloon tours usually take place in the morning. They are made before sunrise or when the sun is stillborn. The reason for this is to catch the optimal heat level.
At an optimal air temperature, the hot air balloons can be ventilated healthily and remain under control. Of course, it is also very important that there is no wind in the process of joining this event.
Because hot air balloon flights are canceled during windy periods. The reason for this is that the wind disrupts the balance of the balloons.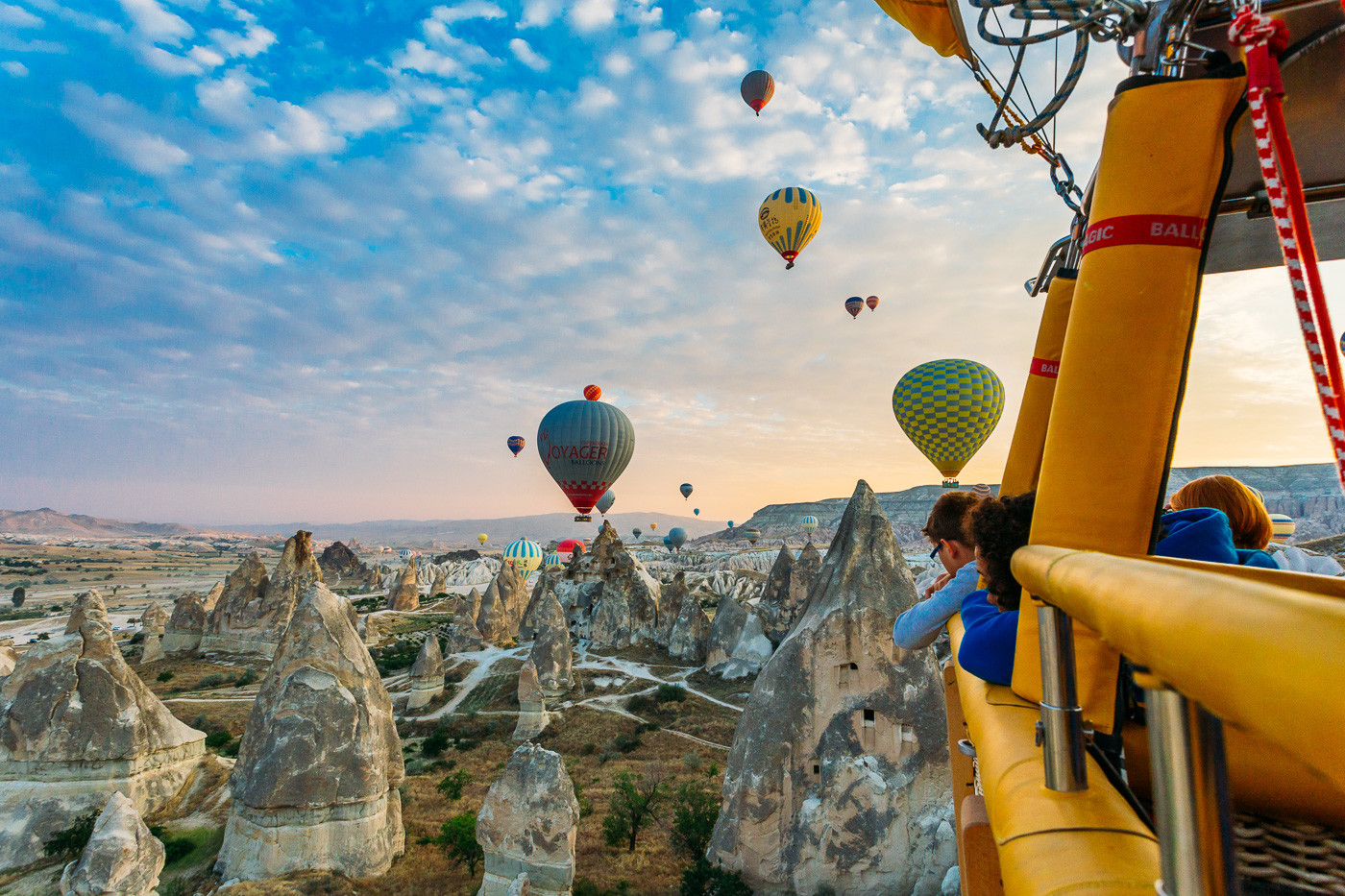 What To See During the Balloon Tour in Cappadocia?
Cappadocia consists of 7 different regions. The names of these regions are respectively Ürgüp, Göreme, Avanos, Üçhisar, Derinkuyu, Kaymaklı, Ihlara. You will be able to see all of these areas, with about 20 kilometers of space, during a hot air balloon tour.
You will also have a chance to see some of the most symbolic structures. For example, The Tree Beauties (3 Güzeller) or The Castle of Üçhisar (Üçhisar Kalesi) are just two of these structures. Of course, you will be able to watch the fairy chimneys in the Cappadocia region during these hot air balloon tours.
How Much Is Hot Air Balloon Cappadocia Price?
Balloon tours in Cappadocia are one of the most special tourist activities offered to local and foreign tourists. Therefore, the price of this tour is also slightly higher. But the unique scenery and unique balloon flight experience in Cappadocia are definitely worth this price.
Standart flight is approximately between 150 Euros and 200 Euro for tourists in the summer period. In the winter period ( low season) their prices are between 60 and 100 Euros.
FAQ About Cappadocia Balloon Flight
What time do the balloons fly in Cappadocia?
Flights have at 2 different times in the non-high season: sunrise and after sunrise. You can be sure that it will be worth the trouble even if you have to wake up at 3:30 am.
The transfer car will pick you up from 04: 00-04: 30; change the location of your hotel if you choose the sunrise balloon tour. So, you will see that beautiful view, even your sleep a little less! Believe me, and it is worth it.
Also, in low season pickups usually between 05:30-06:00. Pickups and balloon departure times change according to season ( sunrise).
How long is a hot air balloon tour in Cappadocia?
A standard Hot Air Balloon Ride over Cappadocia takes between 45 minutes and 1 hour. It all depends on wind and other weather conditions.
Of course, there are longer flights called Deluxe flights that take between 1,15 minutes and 1.5 hours. But their prices are different and almost double the price. The only difference between a standard balloon ride and a deluxe balloon ride in Cappadocia is duration.
Is a hot air balloon in Cappadocia safe?
Official institutions have approved all balloon tours in the region. Therefore, each activity is fully audited. If you want to take this balloon tour, your travel company will provide you with flight insurance. In this way, you take a precaution for your health.
Flight insurance is mandatory for this activity in the area. So it is necessary to ask your travel agency to have one. On our tours, we give you the flight insurance in the package for free.
How Many People Will Be In My Baloon?
There are different sizes of baskets. Baskets are 16 people, 20 people, 24 people, and 28 people on each balloon tour. Having too few people in the hot air balloon can cause problems in terms of low weight. Therefore, it is very important to have at least 10 people in the balloon.
Also, there are some private balloons in Cappadocia for 2 people or 4 people. As you can realize, when we say private flight, the cost will be high.
When to book a hot air balloon flight in Cappadocia?
We strongly recommend booking your balloon flight in Cappadocia in advance. Ideally, before arriving in Cappadocia, via the Internet. In some cases, it takes an advance payment; in others not. UPD: now everyone works only with 100% payment.
Although there are a lot of companies launching balloons, in the high season, from May to September, there are even more people who want to fly, so not everyone can come to Cappadocia and book a flight the next day.
Prices are usually about the same as if you buy online through the services above, so a significant benefit is unlikely to get. So we highly book your Balloon Tour in Cappadocia online to get a reasonable price.
How old are the ages to join Cappadocia Balloon Tour?
Under 6 years old, children are not acceptable for a balloon ride. Even they are over 6 years old, but they are not enough physically, hot air balloon pilots do not accept.
How should I dress for a hot air balloon ride?
You should wear comfortable shoes and dresses for acting easy when you are getting on and getting off. Also, it would help if you took some warm clothes. Because the weather can be cold or chilly at the time of balloon take of time. As you know, take-off time is very early in the morning before sunrise and just after sunrise.
How many days do I need in Cappadocia for Hot Air Balloon Ride?
You must stay a minimum of 1 night in Cappadocia because Balloon Tours starts very early in the morning. That's why not that early flights to Cappadocia from anywhere in Turkey. But it is better to stay 2 nights if the balloons are canceled due to weather conditions; you will have a chance to try it for the following day according to availability.